It was just over a year ago that I first discovered both Things and Ink Magazine and Atomica Gallery after seeing their 'Under Her Skin Exhibition' advertised on Twitter, proving that my social media addiction does sometimes pay off.
The exhibition was tucked down in a small yet thriving industrial space in Hackney Downs, filled with workshops selling everything from bikes, to vintage, to beautiful shoes. The compact space housed art from 12 different female tattoo artists and was put on to celebrate Things and Ink magazine's first birthday.
This was the first time I had picked up an issue, and have not missed one since. For me there is no publication like it: concentrating on the artistry and inclusive nature of tattoo culture, displaying tattooed, pierced and modified females in an elegant way as well as pages and pages filled with intelligent and meaningful articles. Over the past year it has been much more than just a pretty magazine to flick through, but also an inspiration (even featuring in one of my mood boards).
I feel that with each issue the magazine progresses and though they have changed their tagline from 'Embracing Female Tattoo Culture' to ' Independent, Tattoo, Lifestyle' (so as not to alienate), I feel that their foundations in representing female tattooing in a well informed, unique and classy manner has lead to its ever expanding popularity.
Atomica Gallery has also grown over the past year taking over a much larger two story space in Central London. The gallery is not your typical space and champions unorthodox artists, such as some of my favourites Ramon Maiden and Angelique Houtkamp.
As well as displaying walls of art I would love to have in my home, it also incorporates a quirky gift shop and beautiful selection of books. Never knowing quite what to expect (like the pop up Tiki Bar for London cocktail week) it is a place I love to swing by when I am in town.
I am so happy to see both magazine and gallery going from strength to strength, embracing the untraditional and celebrating its beauty.
Although the latest exhibition by Things and Ink was entitled 'Miniature Ink' it was on a much grander scale than the previous year, with over 100 artists from across the globe contributing postcard size pieces in a variety styles, which could be made yours for the the bargain price of £60.
This was not only an awesome opportunity to pick up some beautiful one-off art but also to support Sarcoma UK, the only UK  cancer charity that focuses on all types of sarcoma, rare cancers that develop in the muscle, bone, nerves, cartilage, tendons, blood vessels and the fatty and fibrous tissues.
With such a busy month with trips to both Scotland and New York, as well as normal London life and a full time job I only made it to the final weekend of the exhibition. Understandably by this point most of the pieces had already been sold, a wonderful success for the Magazine, Gallery and Charity but sad for me.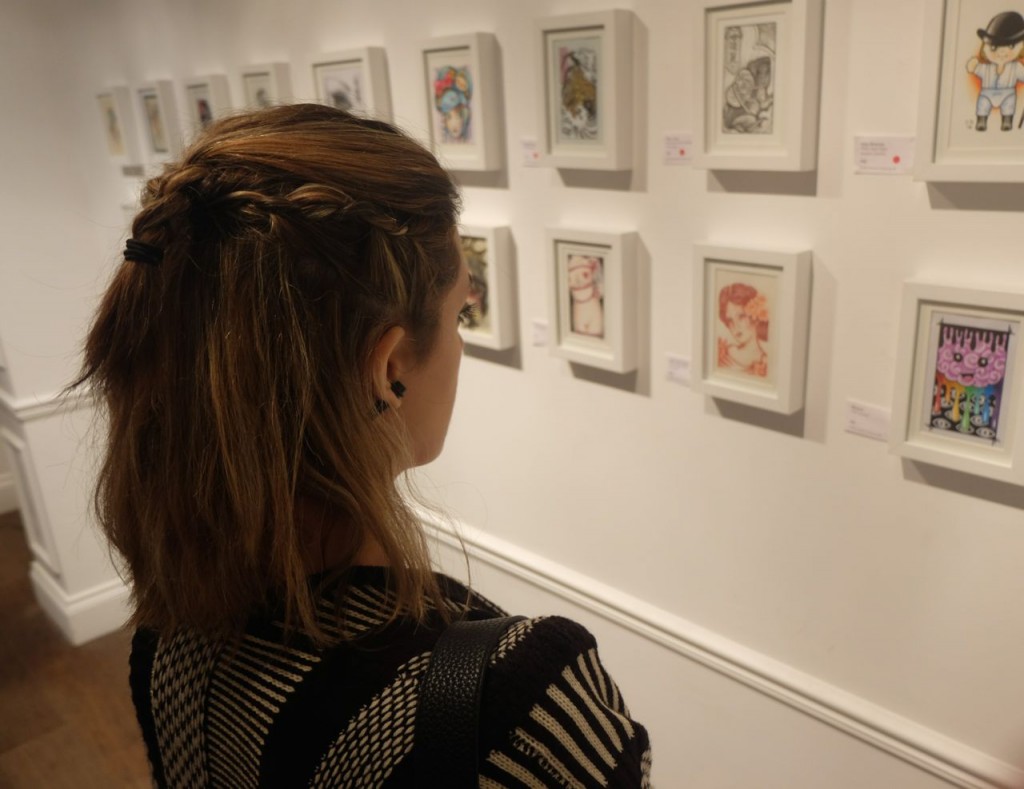 Despite not being able to take a piece home it was still a brilliant display, once again encapsulating the true talent that goes into creating tattoo art. Here are just a handful of my favourites.
 Cally Jo
Dawnii Fantana
 Anu La Luna
El Nigro
Anthony Flemming
Uncle Allan
 Lal Hardy
Though the exhibition is now over I would urge anyone who is interested in either tattoo art or the unusual to either swing by Atomica, pick up a copy of Things and Ink, or both. I promise that you will not regret it. I hope that the pair continue in their success not only because I am such a fan but also because I for one cannot wait to see how they celebrate their third birthday!