As with most trips I set out on, this Bank Holiday weekend did not exactly go to plan. Our initial itinerary was to leave the big smoke behind on Friday afternoon for a weekend of cycling, hiking and beach fun at the Pembroke coast followed by Snowdonia.
In reality, after 6 hours in our fragile Mazda Bongo we gave in and parked up at a campsite in Bristol. A cheap pint at a Holiday Inn bar near the airport wasn't exactly the getaway I had envisioned but we had not yet had to call the AA so were off to a better start than the last time we ventured out of London.
On waking we scrapped our rather ambitious plan and changed it to "lets just get to Wales", which after 5 hours of slowly plodding along country roads we achieved! Having made it to Upper Portclew Farm (a rustic campsite with sea views run by the lovely Margaret) I was ready to get out of our sweaty van and explore.
Parked up, roof  popped and a couple of beers in hand and we were ready to hit the beach which was scattered with people, swimming, kayaking, and catching some waves on boogie boards.
After spending a few hours watching the world go by we packed up our belongings and took a stroll along the coastal paths which, conveniently, brought us out at a pub.  The Lake View had a sunny beer garden with picturesque views out over the sea, so we stopped to sample some local ales before heading back for a BBQ.
After a few pints and settling into our surroundings we made the decision to stay another night at Pembroke rather than attempt to make it to Snowdonia mainly because we had been won over by the mix of country charm and surf style of this little village, but also because there was little chance of poor Vinnie (our van) making it all the way to Snowdonia.
Day three of the trip we were rudely awakened by dark grey skies and a ridiculous amount of rain, it looked like the early morning cycle was off so we headed into town to have a look around town. Pembroke's sleepy fairy tale setting was beautiful but there was not much open on a Sunday so we took shelter in Food at Williams – a cafe providing high quality, seasonal, locally sourced, food and amazing homemade cakes.
Still no sign of the skies clearing we ventured up to the Castle (which I was actually really excited about). Ever since I was a child I have had a weird obsession with castles and used to carry a pocket sized book around with me so I could look up if there was one to visit anywhere we went.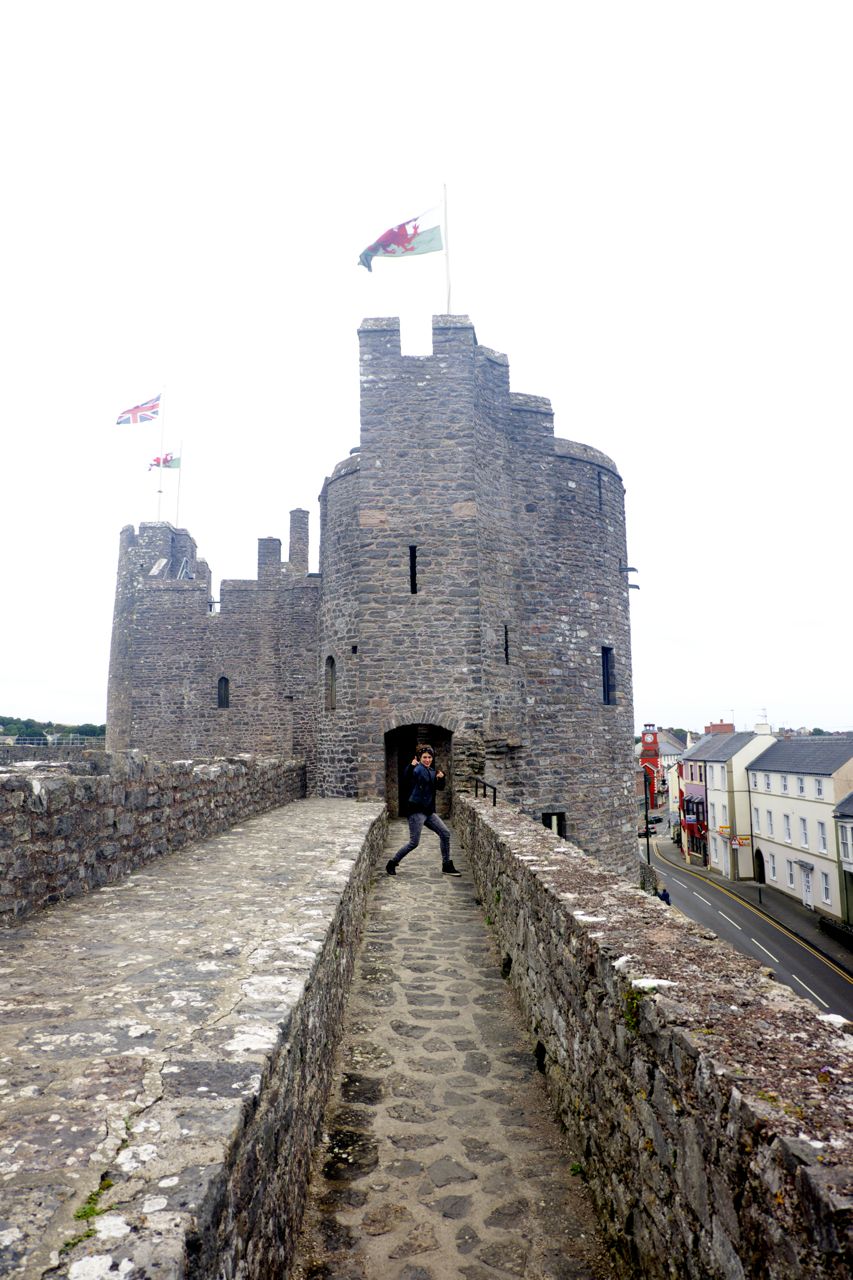 There was only so long I could play at being Arya Stark; running along the castle walls, creeping into small rooms and clambering along battlements. With no sign of the rain ever ending it was time to stock up on supplies, head back to the van, get drunk and eat crappy camping food.
Our action packed country escape turned into mainly drinking coffee or beer in the Bongo, but it was still an awesome first trip to Wales and a much needed break from big city life.