Tucked under the University of Westminster, Ambika P3 a warehouse space for contemporary art and architecture held a special preview of Primark's Spring Collection.
The expansive concrete venue was decorated with projected and hung images creating anticipation of what the rails of clothing below had to offer.
As always at these types of events I was a little nervous and took my time to get aquatinted with the surroundings. In amongst the clothes, accessories and makeup there was also a large table with tea party style food, cocktails, coffee and prosecco. Settling my anxiety with a gorgeous pomegranate cocktail I took a look at the pick and mix makeup bar where bloggers were invited to take home a selection of cosmetics – a bunch of girls and free makeup meant that the selves could not be stacked quick enough.
I have never tried Primark makeup so took a few items to try out at home, if these truly are a bargain I will share them on here or my social media.
Paper bag rammed with products I ventured over to take a proper look at the clothing, which were all inspired by the spirit of Wanderlust. Separated by trends I was automatically drawn to Rave Camper, a vibrant collection with loose cuts and a sportswear feel.
Nomadic Glamour's laid back fringing, loose cuts and embroidery also appealed to my wannabe nomadic spirit.
For the more glamorous traveler Asia Nautica stuck with staple spring stripes mixed with blossoms, in simple tailored cuts.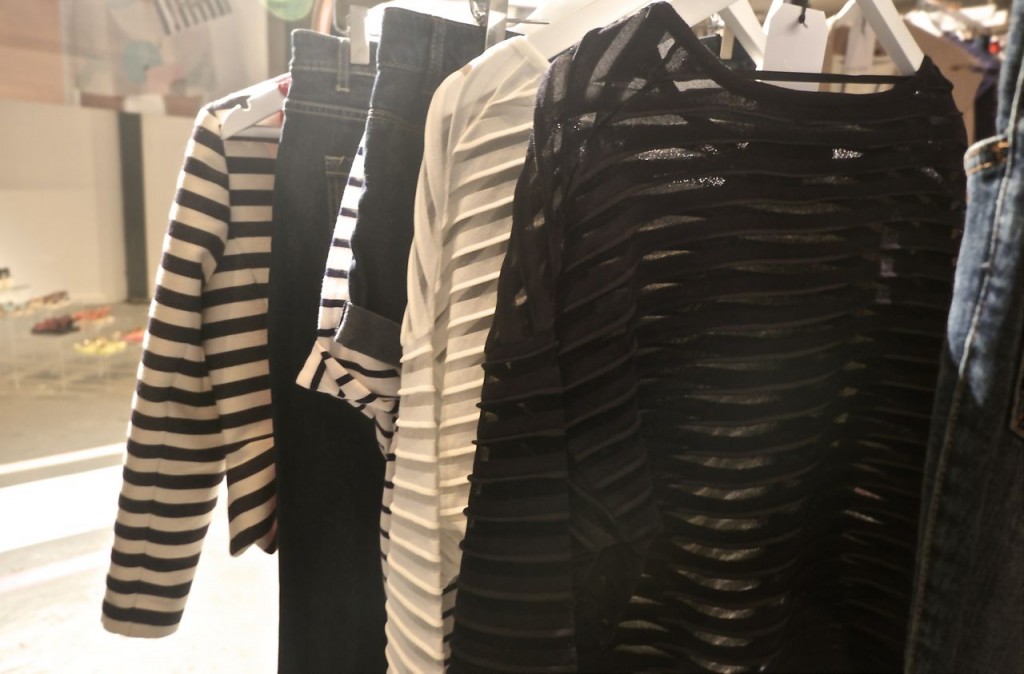 White Out is a trend that I need to stay well clear of due to my inability to stay clean but again were some nice items for those classier than I. White also made its way into the Miami Memphis trend but was complimented with pops of powder blues, coral, orange and yellows. This trend, though a little pretty for my personal taste had some beautiful soft stylish pieces.
Each trend had accessories and shoes to match, with metallics being a key feature, perspex also made a return, as well as more practical staples suited for a night out, day trip, weekend away or longer adventure.
The wide range of shoes correlated with many of the handbags for those who like to coordinate their accesories.
As always, Primark had a large variety of statement footwear including a reappearance from popular sliders (not my style but a marmite trend loved by many), sandals, metallics, heals and colourful trainers.
Though Primark's spring '15 collection mainly stuck with hugely successful fast fashion, I feel that they have expanded on making some multi seasonal staples, with care taken on cuts and colours – creating lasting items rather than solely trend focused fashion.