This little outfit kind of sums up my feelings at the moment. After a relaxing time catching up with friends and family back in Scotland I was excited to return to my East London home, yet felt a certain longing to stay in the country that I was raised in.
I love Scotland and I  am proud to come from such a stunning and vibrant land, I have lots of friends and family there and would have a better standard of living than I do in London. These are the thoughts that ran through my head on our drive back down south but the minute I saw the big city lights in the distance I was once again hypnotised by its allure.
Though my London life is a little crazy, and I will never have any money whilst I live here, I am just not ready to slow down my pace to enjoy the luxuries that returning to my homeland would offer.
Saying this, however, as I took a mid week wander into Beyond Retro I was weirdly drawn to these tartan trousers, they differ from my usual skinny jean style but I just had to have them.
It was not until I was putting this outfit together that I realised that my new nana pants (as I like to call them) would not look out of place working in the National Gallery in Edinburgh, this subconscious selection made me smile as it reminded me that even though I don't live in Scotland I will always be connected to my roots.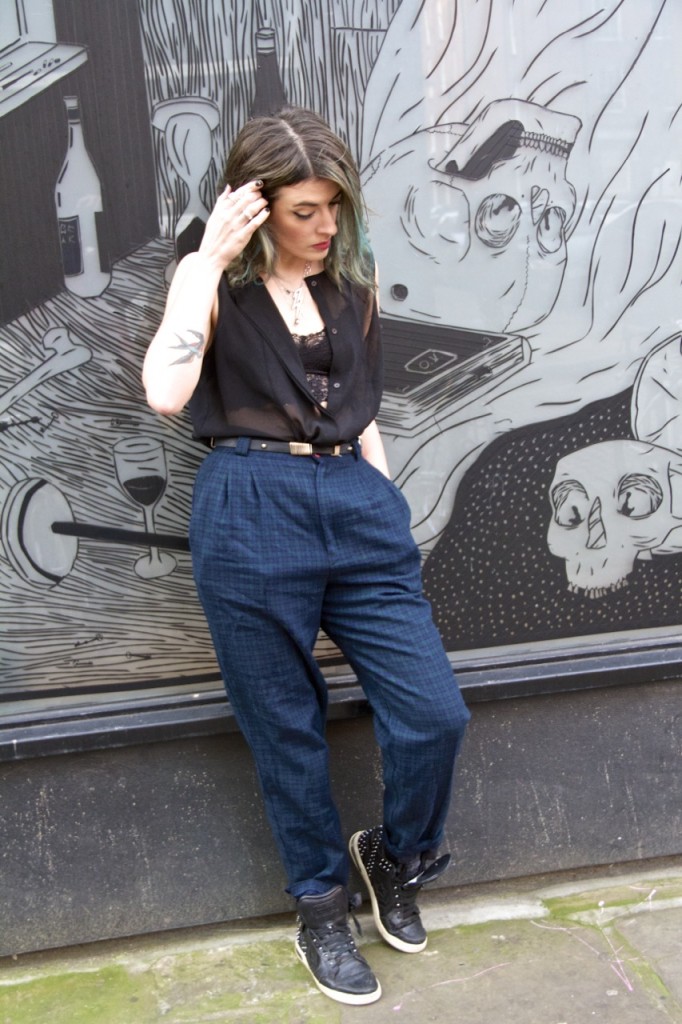 Between the blue rinse and trousers I didn't actually want to transform into a grandma so went for modern styling with, a racy lace bralet, see through open shirt, studded converse and leather jacket to add a little rock edge.
(Bralette – Monki, Shirt – Weekday, Trousers – Beyond Retro, Shoes – Converse)
I shot this look in Shoreditch as a pint here was what made me decide to move to London 4 years ago. I know this area has started to get a bad reputation as a pretentious place teeming with hipsters but I don't see myself getting bored by the changing shops, markets, restaurants, bars and art, like the Benjamin Murphy piece behind me anytime soon.
Do any of you live away from where you grew up and wonder if it was the right choice?
*photos by Pablo de la Peña of Shed Collective