London Edge is a trade show that represents 'The New Alternative : a new era of subcultures, fashion trends and emerging markets, all forged in the fires of the underground, and cultivated on the blogs and social networks of the world wide web.'
After stalking their Instagram last year, and being thoroughly jealous of all those involved, I knew I had to at least try and get my hands on tickets for the 2015 show. This event was for trade and press only so I thought it was highly unlikely that I would get to come along, but soon after applying for a ticket I got an email from the lovely people at Jawbreaker and Voodoo Vixen to ask if I would like to join them not only as a guest, but as a VIP blogger!
I first started dressing the way I do (alternatively?) as a teenager; most presumed it was a phase and I was also harassed by my peers who sometimes threw stuff and often shouted 'Cheer up, goth' – thanks for that, marketing geniuses at Irn Bru.
Though it was nice not to be judged for my wardrobe choices, when I dressed 'normally' I never felt comfortable. As a naturally awkward person I  found it hard to articulate my thoughts, so for me clothes and make-up were a way to express myself and was a manifestation of my personality, the sub cultures, music and movies that inspired me.
Moving onto to 2015 and, as you can probably tell from my outfit posts, my style has not really changed so getting the opportunity to be in a room filled with brands and people who also have a less 'conventional' view on style was not one I was willing to miss, despite the fact I was pretty poorly on the day of the event.
My boyfriend dutifully agreed to come along and be my official bag carrier and photographer since I wasn't on my A game. This came in handy at the first event of the day which was a blogger talk by Kat Williams. On entering the press area I was asked  to pose for a quick picture, it was moments like this it was handy to have my own paparazzi with me as  I think that he managed to capture my cringy awkwardness perfectly.
I am actually quite shy so was nervous to join the sea of rainbow haired bloggers; thankfully I soon settled in thanks to lovely Stephanie from Blood, Sweat and Heels who made me feel incredibly welcome.
Sitting on the floor like a bunch of obedient school children we chatted amongst our selves, sipping on champagne and looking through our amazingly generous gift bags as we waited on Kat to take to the stage.
For those of you who don't know Kat is a hugely successful blogger who not only created  Rock and Roll Bride (the ultimate go-to guide for alternative wedding parties) but has also collaborated with Gala Darling and Shauna Haider to create the Blog Academy, a place where they empower bloggers by passing on knowledge and experience of the blogging business.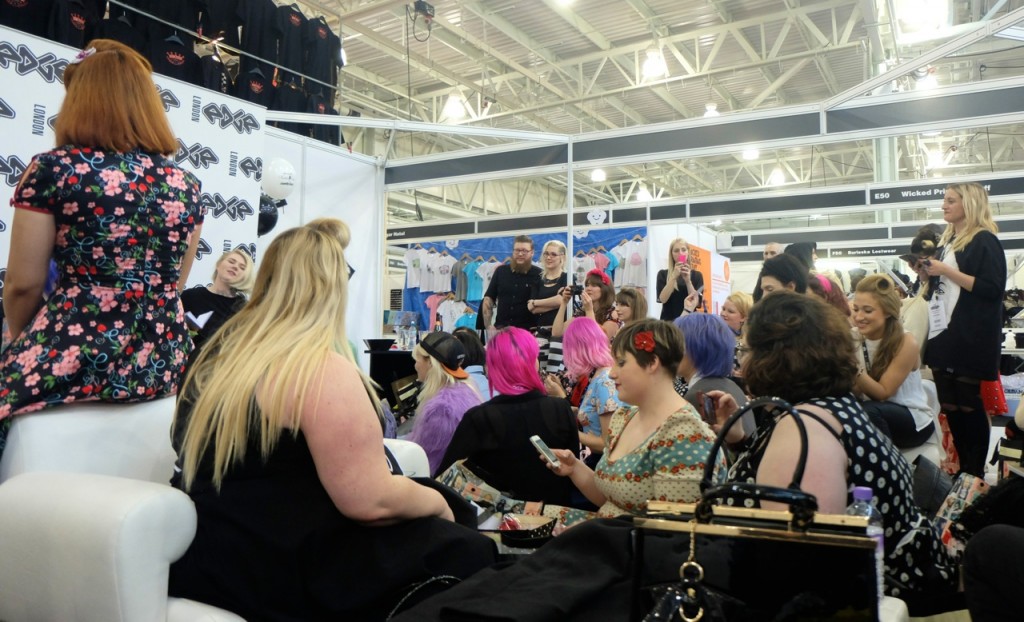 Feeling a little more confident, I went to explore the huge range of brands. I have made such a massive mental shopping wishlist from both brands I already love and those that I discovered on the day. This blog post would be more of a catalogue if I shared them all with you so here are just some of my highlights;
Killstar – A brand that is a firm favourite of mine and that I have featured previously on Emma Inks. Founded in the UK in 2010 they offer clothing with a twist of darkness, channelling emotional power and raw energy into every thread.
Disturbia – According to the brand they were established in 2003 in the wake of several alien abductions, six tabs of acid, and the time that they found Kurt Cobain's ghost on their beer froth.
Hell Bunny –  Is a little more rockabilly than my usual style but has some amazing pieces, like this swimsuit that I desperately want get for my summer trip to Croatia.
Too Fast – Starting as a DIY operation in a small, unheated basement Too Fast have grown but stayed true to their punk rock roots. I am already the proud owner of the Ouija scarf but think that I need this bat hat to cover up due to the recent freezing temperatures.
Yummy Gummy – Bespoke and fun, this may well be my first step into the world of latex fashion.
Bésame Cosmetics – A vintage inspired range created by artist, cosmetic historian, and designer Gabriela Hernandez, that come in amazing true-to-the -time period shades.
Manic Panic – Created in 1977 by NYC sisters Tish and Snooky who brought their Rock 'n' Roll lifestyle to their colourful array of hair colours and cosmetics. The girls (including founder Tish) were so friendly and enthusiastic about the brand that they 100% have a new customer.
Actually speaking to the exhibitors and many of their creators was a really great opportunity to fully understand the merchandise, brand ethics and back stories. If getting the inside scoop and seeing many products before they even hit the shelf was not enough they also put on a fashion show highlighting the variety of styles and subcultures that where represented within Olympia.
After the catwalk it was time to visit my last brand, Jawbreaker, the East London based alternative company that took such wonderful care of me on the day. Heading over to the busy blogger area I picked up the dress that they were kindly gifting me and was treated to a wine.
Next up was to transform my grungy locks into something more fitting to my rocking new dress.
Nicola Abraham created a mega cool punky look in a matter of minutes that I will try (and probably fail) to recreate at home.
After getting pampered and meeting up with Claire I took a quick turn for the worst and had to head home instead of taking the vintage double decker to the after party, which I was truly gutted about. Since I did not do get the chance to take my new dress out for a spin I will feature in an outfit post very soon!
Despite my dreaded lurgy I had an awesome day at London Edge and left with so much inspiration for my blog, outfits and hopefully made a few new blogger buddies too.
I know that this post had been a little gushy but I would like to give a massive shout out to Things and Ink (my favourite tattoo magazine) that sponsored the blogger chat, Jawbreaker for making me feel like an actual VIP, all those that contributed to the massive gift bag, all the brands and bloggers that made me feel so welcome as a first timer! (oh yeah and my boyfriend/manslave for carrying me and my bags home after all the excitement).
What do you guys think of alternative fashion, is it becoming too 'mainstream' or simply being embraced by wider society? Do you have any brands that you think I should check out?
* As mentioned I was invited to this event and gifted however as always all opinions are honest and my own
Photos by myself and Pablo de la Pena