It is always nice to receive an invitation but for me there is something even more special about getting one from another blogger; a little pang of excitement waves over me and in my head there is a proud whisper of 'they think I am one of them'. So when I received an email from Lauren inviting me to a blogger meet up that her Amy  and Tamsyn were organising I of course RSVP'd with a resounding YES!
Held in Bitter Sweet, a cocktail bar just off Carnaby Street, I felt confident that I knew where I was going… until I got lost in the rain.
Feeling less cocky I approached a blonde who looked equally confused, thank God it was Jenny from Dream In Pink and not just a random shopper that I accosted. Together we made to the bar which was nestled down an alley, underground.
We were greeted by a friendly, but understandably stressed, Lauren who was still trying to pull things together after the venue completely messed her and the other girls around by opening 1.5 hours later than arranged. Grabbing a glass of bubbly we sat in a low lit alcove to get out of the way and meet some of the other guests before starting the rest of the events.
After our initial glass of fizz and introductions I headed over to learn about environmentally friendly MooGoo, a brand originating in Australia who have such a passion for natural skin care that the ingredients are all actually edible.
My first thought, like I sure many of yours was, why the name?  MooGoo was first made when the founder adapted a cream used in dairy farms (it all makes sense now) to help a family member with a skin problem; since then their line has expanded but they have stuck to their roots, creating products full of natural ingredients that they trust.
I was gifted the Rosehip Oil and can honestly say that it has been a God send in this cold weather for sensitive skin like mine.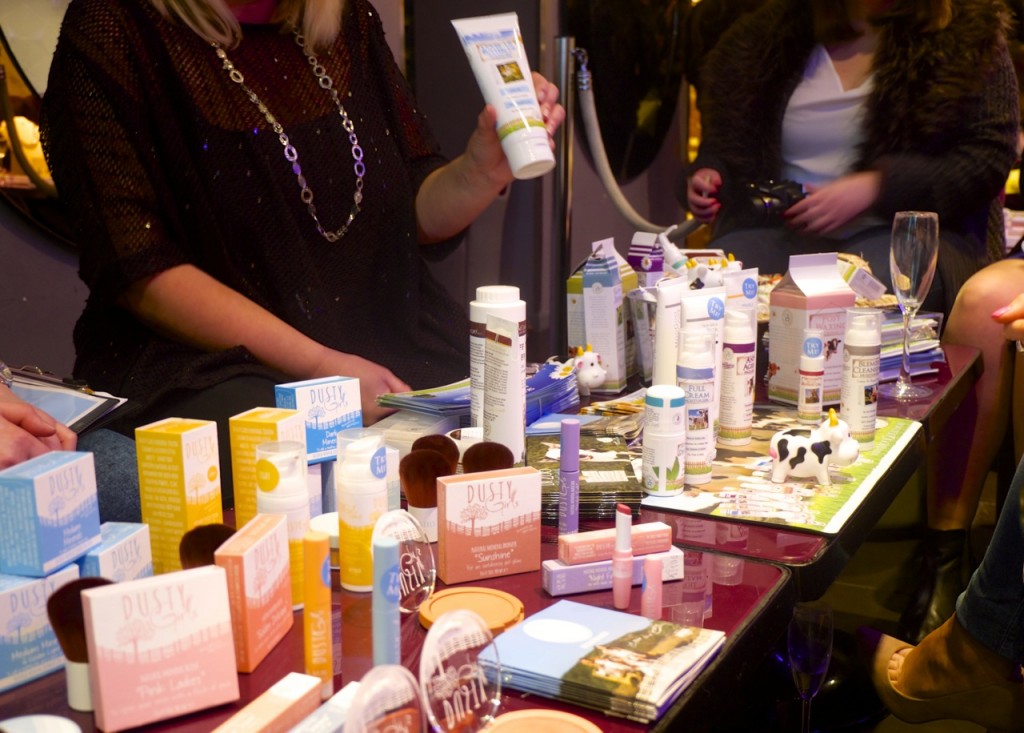 We then became the first people in the UK to be introduced to Dusty Girls, the make up range by the same company following the same principles.
This brand is all about a natural healthy look that does not damage skin. I am personally not a fan of powder mineral foundations however their 'Golden Delicious' blusher was gorgeous, and I am also excited to try their red lipstick which will be released soon.
I was then whisked off to my cocktail master-class and though I made a drinkable Pinstripe (similar to a raspberry cosmopolitan) I am definitely more suited to the other side of the bar. As you can see by the picture of Christine and Bella we did have a good laugh, though I don't think any of us will be packing in blogging to become a mixologist anytime soon!
As if cocktails, make up and skin care wasn't enough for a girly get together there were also, hairdressers, a manicurist, a henna artist and Stella and Dot jewellery to keep us entertained.
I skipped out on the hairdressers because I had not washed mine in 3 days, and the manicure because my nails look like a teenage boys, so went straight for the henna to try and make my hands look a little more feminine.
(theses are not my paws)
Keeping my hand completely still as not to smudge the beautiful work by Designed by Henna I decided the best plan of action was to stuff my face with propercorn and popchips – two of my favourite low cal snacks.
Last up was the raffle which was raising money for Look Good Feel Better a charity dedicated to improving the wellbeing and self-confidence of people undergoing treatment for any type of cancer. The seemingly never ending prizes were epic and though I didn't win, my money went to a great cause and I was given a consolation gift bag, which I enjoyed perusing through later in the pub.
I couldn't stay for a Byron burger after as I had a friend's birthday but as with most blogger events I left with a 'Signing in the Rain' kind of spring in my step after meeting some more lovely similar minded ladies that I will hopefully see again.
Obviously we did not put Tasmyn, Amy and Lauren off organising another shindig as they have just created a Twitter account @LDNmeetup where they are conjuring up more blogger events which, judging on their first venture, is going to be hugely successful.
A massive thanks to the girls for organising the afternoon and for all the ladies that took time to talk to me and make me feel welcome.
*Picture credit for the feature image goes to Christine
*Though I was invited to this event, and gifted, all opinions are honest and my own.