As I discovered on my last visit to Brighton, this seaside town was not all about your traditional fish, chips and ice cream but was also a haven for vegetarians.
Wanting to make a good choice on my little getaway to Brighton Tattoo Convention I went to my ultimate source of knowledge and asked Twitter for advice on where I should eat. Lilla of Lilla Loves was soon on hand with some helpful suggestions, including highly raved Food for Friends and Wai Kika Moo Kau, though both stellar options the stand out was Terre à Terre after Lilla told me that even though she is not a vegetarian it was some of the best food she had ever eaten!
With high expectations we entered the restaurant to find it already jammed packed, though there was a little space for me and my other half. The decor was classically elegant with a hint of the farm to table mentality with their own colourful products proudly lining the walls.
Terre à Terre state on their website that they aim to create a positive environment, this objective was certainly met by our wonderful waiter, Andre.
I always think it is polite to ask an establishment if they are comfortable with me taking photographs, the answer is usually "yes, why?" I tell them I am a blogger which is almost always followed with an "erm ok". This was not the case here, Andre cheekily said, "No" proceeded quickly by "Of course you can take as many pictures as you like, we are very proud of what we do here and would be extremely pleased if you shared our food with the world".
Every other question we asked him was answered in this same friendly, yet informative manner, not only was I impressed by his demeanour but also his incredibly attentive ninja like service.
The menu, like the decor, was elegant yet unintimidating with flamboyant dish names to ease any overwhelming feelings. With such interesting food to choose from I of course wanted to try everything so my boyfriend agreed to swap our meals half way through so I could sample more without over ordering.
We started out with Hot Smoked Tofu, with capsicum pickle, mustard seed & sweet ginger relish and wasabi. I am always impressed with anyone who can actually cook tofu as I have tried and failed miserably so many times that I now only eat it out.
This tofu tasted like no other I had eaten. It had lost its often unpleasant jelly-like texture without being dry and was served on a picture perfect plate of artistically drizzled sauces.
Next was onto the mains courses, since I was beside the sea I went for their upscale version of fish and chips, Better Batter and Lemony Yemeni Relish, which consisted of soft buttermilk soaked halloumi dipped in chip shop batter, served with vodka-spiked preserved plum tomatoes, bright fresh pea mint hash with pickled quails egg, sea salad tartar and chubby chips, finished with lemony Yemeni relish. I only stopped eating fish last year, and sometimes miss being a pescatarian, so this was an extra special treat for me.
Though battered, fried and pickled they somehow managed to create an airy dish that tasted healthy and hearty without being stodgy or greasy like traditional chippy food.
As recommended I ordered the Fresh Young Leaves with green apples, smoked almonds and sherry dressing, as a zingy, crisp accompaniment.
My date choose the Aubergine Dengaku, a dish made up from slow soft sake baked aubergine sizzled with tahini, sesame and white miso finish served with edamame, wasabi and yuzu pesto, sesame ginger dressed arame wakame vegetable thread salad and an amchur, nori salt dusted puffed rice seaweed cracker.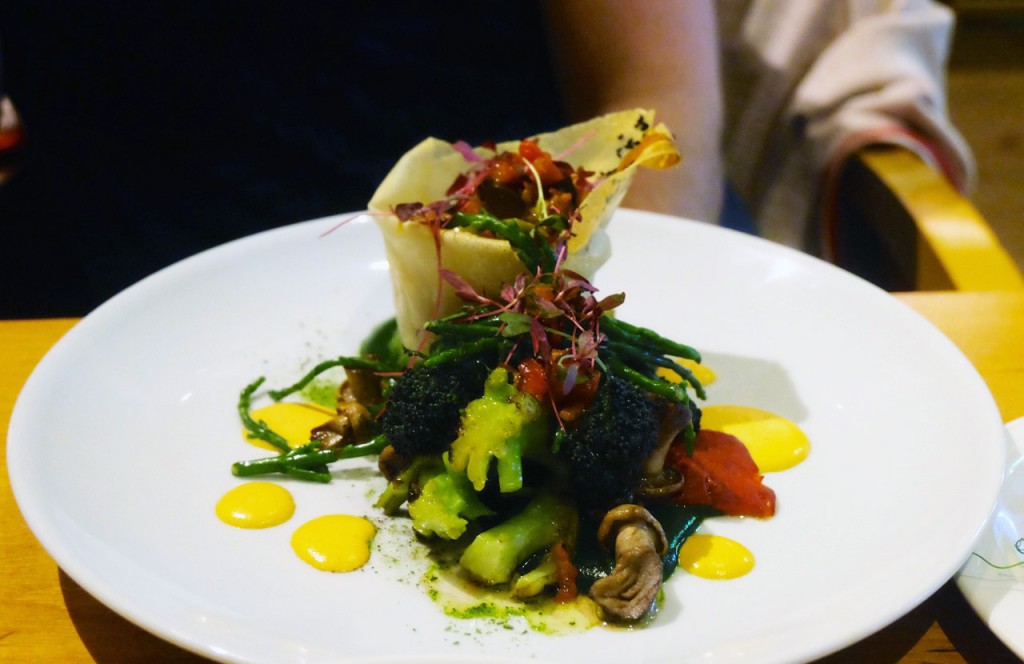 I am simply not eloquent enough to be able to explain the unique flavour combinations  in this dish, but please trust me when I say it was truly delicious.
Too full for dessert but still wanting more, we finished with the Truffle Shuffle Roulette which perfectly summed up the evening's vibe: serious food equally balanced with fun, making for  original yet comfortable dining.
Whether a vegetarian, vegan or carnivore this was an fantastic food experience, Terre à Terre is way more than just a meal out and provides a full package, of indulgent cuisine, social responsibility, outstanding service and an awesome atmosphere.
If you like this post an want to save it for later why not pin it?
Terre à Terre 
71 East Street
Brighton
BN1 1HQ
01273 729051