I know that this is quite a sad confession, being in my twenties and living in London, but I was really looking forward to a night in with a bottle of red wine and a movie a few Friday evenings ago. That was until over lunch my twitter came alive with notifications including #TeamEmma.
Best British Bloggers had announced that they had a last minute ticket available for Ladbrokes' James Bond themed floating casino, and my lovely blogger friends Charlie, Katy and Emma were nice enough to champion me getting my hands on it.
How could I turn down such enthusiasm and the opportunity to transform my night from watching a movie to pretending to be in one. After the initial excitement I bounded home from my office and the realisation struck that I am more pond girl than a Bond girl; resorting to ripping open bin bags meant for eBay to find something even remotely glamorous to wear.
Styled in a slightly crumpled dress, with my usual smudgy (rather than smokey) eyes, and in shoes instead of trainers of biker boots I headed to the tube content that at least I looked like I had tried to dress up.
Arriving at Temple Pier we clambered onboard The Golden Jubilee, our venue for the evening, ad were greeted with a glass of Prosecco and a fake £100 note. After a quick introduction to #LadbrokesPartyLife we were whisked down the Thames, passing some of London's iconic attractions whilst being entertained by magic.
The river is one of my favourite ways to view the city and though I think Ladbrokes may have wanted us go down and make the most of the casino, I simply could not be lured away from upper deck as the sun set over the capital.
As night fell, the wind kicked up and the I remembered the promise of food; we gave up on the picturesque night views and headed downstairs to try our luck at the tables.
I am not much of a gambler myself, and could not even be tempted by the bright lights of Las Vegas last year, so passed my money onto Emma and Charlie who were already on their way to becoming blackjack professionals.
After the majority of the room had lost most of their fantasy fortune, we headed back to the upper deck to celebrate (or commiserate) with a little boogie on the dance floor.
Before we disembarked, Ladbrokes generously handed out prizes to the top three gamblers who had managed to hold onto their cash. I was so happy when Lucy was announced the winner as she was one of the lovely guests who I had had the pleasure of hanging out with most of the evening.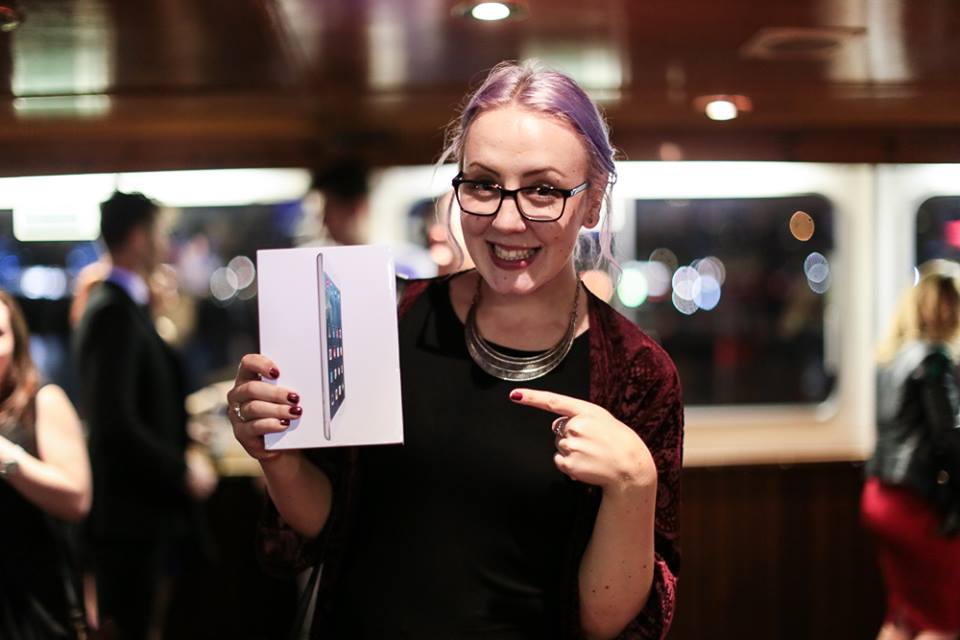 Plastic cups of wine and finger sandwiches are not what immediately springs to mind when I think of James Bond, however, with gambling, dapper gents, glamorous girls, magic and a party with one hell of a location, I think Ladbrokes did 007 proud.
I was invited on the #LadbrokesPartyLife cruise by Best British Bloggers (with the help of #TeamEmma) for free however, as always, all opinions on the event are my own and honest.
* pictures 4 and 13 are from Ladbrokes  and 15 was pinched from Little Miss Katy whose hair I have desperately have been trying to copy since setting sail.