Having been a vegetarian for almost 10 years, I have become accustomed to not having a large variety to choose from when eating out; because of this I now find it intimating when I am faced with an entire veggie menu.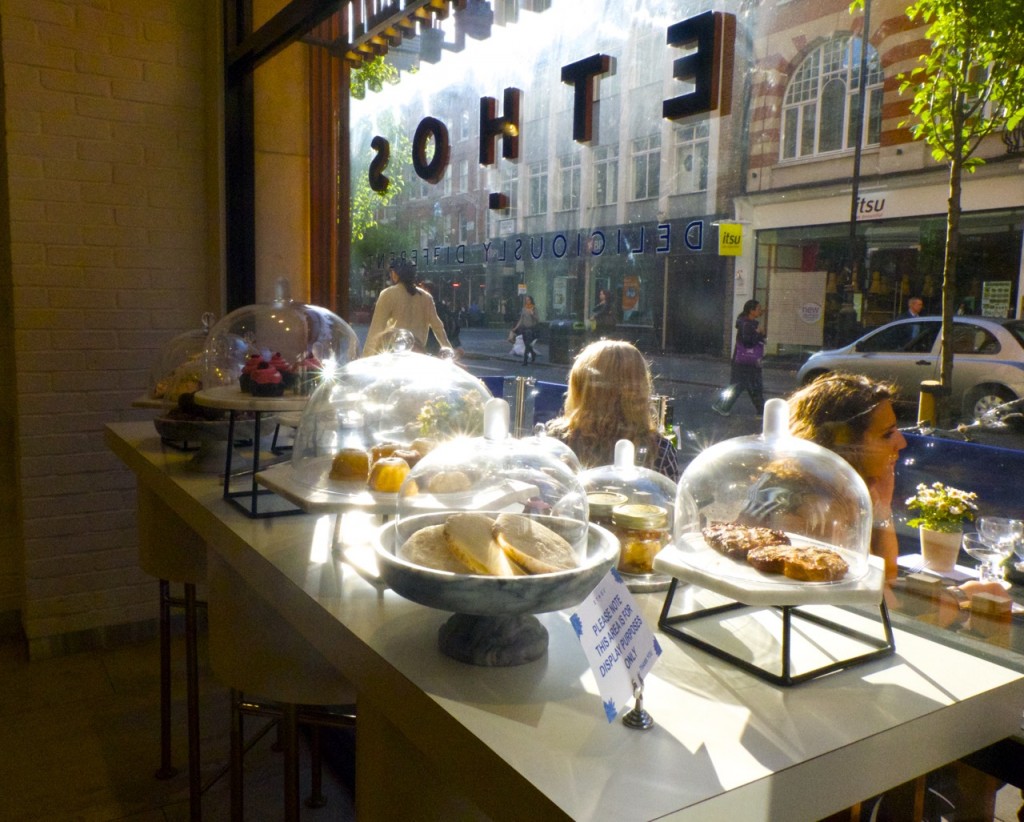 That is why I love places such as Ethos –  there was no menu to get flustered over and they let you pile your plate with a variety of dishes.
I know that this is also the standard premis for your average buffet but this restaurant was so much more. Like Tibits that I previously blogged about Ethos focuses on serving uptop notch, meat-free cuisine.
The eatery was conveniently located just off Oxford Street and was a nature inspired haven in the pandemonium of central London. Arriving just after six we managed to grab a seat outside in the sunshine, which was glorious on such a warm day.
Entering the restaurant one at a time my friend came bounding out with a plate stacked high with healthy food, she exclaimed that I 100% had to take my camera inside.
Walking in I was greeted by a well dressed staff member who explained that I was to simply choose whatever I wanted from the beautifully displayed dishes, get my plate weighed, then pay.
Though it all sounded simple enough she reassured me that it was no problem at all to ask questions about the food or to ask a member of staff  for a hand if I needed one.
I had no questions as the food was all clearly labelled, but before I could even begin to make my choices I had to take my friend's recommendation and get some pictures of the surroundings.
The small space was exceptionally decorated with modern wood, marble and glass within an indoor mini urban forest.
The food was displayed on three round marble and wooden counters split into: hearty hot dishes, cold colourful salads and delectable deserts – making it incredibly simple to navigate around.
I walked round in awe of the available selections before picking up a plate and getting a small amount of almost everything.
Dinner is priced at £2.70 per 100G and mine came to a reasonable £14 so I accompanied it with a glass of  the vegan malbec wine.
Taking my seat outside, we eventually tucked into our healthy food mountains and both concurred that the cuisine tasted as good as it was nutritious.
I am not one of these preachy vegetarians that try to convert others however, I am an advocate for encouraging people to try new things. I hope that restaurants like Ethos which are simple, welcoming and high quality help to shift outdated preconceptions of health foods being, 'hippy,' 'pretentious' or 'bland'.
Even if you are not part of the currently cool plant based diet food movement, I would encourage you to pop into Ethos and take a look, it is definitely one of my new favourite central London finds.
Like this post why not pin it for later?
Ethos
48 Eastcastle Street,
London
W1W 8DX