Along with eating, another favourite pass time of mine whilst on holiday is stepping off the well trodden track and heading to where the locals like to hang out. The combination of both of these is why I was eager to try out Brother Hubbard, a cool little owner run cafe, with rave reviews tucked on Capel Street, on the opposite side of the river from most of Dublin's major attractions.
Finding the little grey cafe with a queue out the door was a positive sign, however, I was in desperate need for food after having far too much of a good time at Temple Bar the night before. I could not have been happier when instead of making us wait, the hostess took us next door to be seated in Little Brother their smaller coffee shop style venue. Sitting up on the mezzanine the place was buzzing with brunch chatter and had a great, welcoming vibe.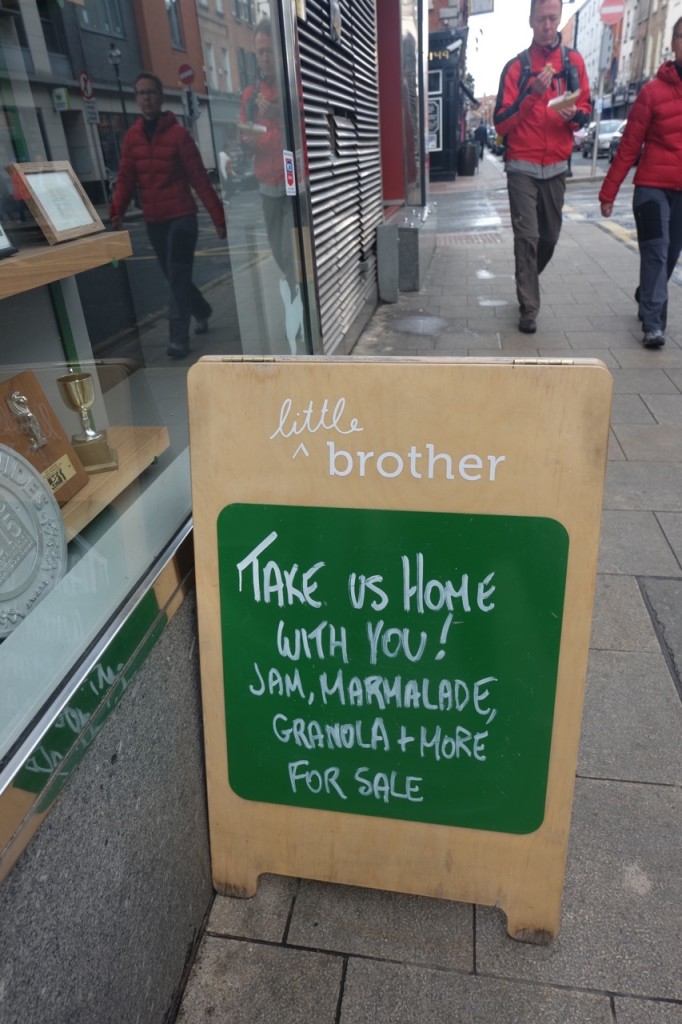 After doing my research online I already knew that I was going to order the much hyped Brother Hubbard Beans Classic, then also selected the Breakfast of Champignons (mainly because I Love a pun) and a side salad to share with my favourite travel buddy.
Whilst waiting for our food to arrive I studied the menu and was incredibly impressed to see that all of their suppliers were listed, proving to me that their take on food was not simply because local and seasonal are in style, but because they truly had a passion for the food they were serving. Despite the fact the place was packed out and everything was freshly made, the food was speedily served up.
I started with the Breakfast of Champignons, which was made up of thyme-based mushrooms with a walnut crumb on caramelised onion, sourdough toast with 2 soft poached eggs, roast tomatoes, baby spinach and a creamy blue cashel cheese sauce.
Though the cashel sauce was strong in flavour, the quantity served up was just the right amount to enhance, rather than over power, the super fresh earthy vegetables.
Then it was onto the Brother Hubbard Beans Classic, encapsulated in a rich & lightly spiced tomato sauce, topped with a soft fried egg, whipped feta yoghurt, a drizzke of herb oil, sumac, za'atar served with sourdough (which can also be served with overnight pulled pork).
I am not knocking a cupboard classic but these beans were so beyond your average tinned version, light, sumptuous, and a sweetness that was perfectly balanced with the creaminess of the feta yoghurt. The thing I loved both about of these dishes, apart from their obvious freshness, was the use of textures and flavours creating a complex twist on breakfast classics.
If neither of these are your your type of brunch there are plenty of other made-from-scratch options to choose from; including pastries, pancakes, sandwiches and specials.
Though I know I have sold you on this menu, it might not be there when you pay a visit: Brother Hubbard takes seasonal seriously and if it is not in or local, it is not featured. This means that the produce is as fresh as possible and they continue to excite their customers by continuously coming up with new creations.
Another major plus point was that they took just as much care in their coffee, with two shots of direct trade coffee in every cup as well as employing a head barista who came second in the 2014 Irish barista championship. If you are not a coffee fiend like me then there is also 8 different teas to choose from and highly raved-about hot chocolate, as well as a variety home-made cold drinks in fruity flavours.
Independent eateries are where I spend a lot of my time, not only do I like to support local businesses but also feel that they have more personality and flare in their food than competing chains. This little neighbourhood hotspot reminded me of the food scene in San Francisco, and made me wish I was a local as this is absolutely 'the cafe I have been looking for'.
Like this post why not pin it for later?
Brother Hubbard
153 Capel St,
Dublin 1, Ireland
+353 1 441 1112