Enjoy al-fresco dining in summer but can't, like me, be bothered packing a picnic or organising a BBQ? Dinerama, the latest food popup by the hugely popular Street Feast, may just be the place for you.
Located just around the corner from Shoreditch High Street Station, a former bullion vault and armoured truck depot has been transformed into a colourful foodie haven holding up to 1000 people.
This is the third venture from Jonathan Downey (founder of Milk and Honey) and his new partner Henry Dimbleby (the man behind Leon). They have once again used their bar and restaurant experience to put together an eclectic variety of eateries to suit every taste including six street diners, five street food shacks, six bars and street food trucks serving up a high quality cuisine inspired from around the globe. These include BBQ Lab, B.O.B's Lobster, Duck 'N' Roll, Chuck Burgers, Rainbo (one of my personal favourites), Busan BBQ, Smoketak, Breddos Tacos, Yum Bun, Shack Tandoor, Bird Box and Fundi Pizza.
Strolling past the vintage van that is Chuck Burgers into the main arena, I was hugely impressed with the design of Dinerama, they had not simply parked up a few vans in an old yard but had transformed it into a two story social hangout.
Sitting in the shadow of the City of London, this place could not be more different from the glossy skyscrapers, with scaffolding, platforms, barrels, shipping containers, rainbow and neon lighting creating a vibrant place that was perfect to transcend from picnic to party.
This style of beautifully put together industrial is completely to my taste and very much reminded me of NDSM Werf, one of my favourite areas in Amsterdam.
I was so upset to just have eaten before meeting the boys from Shed Collective as there were so many phenomenal food choices. After walking around and taking in the sites and smells (at least a couple of times) they settle on Smokestak for some serious BBQ buns which seamed to go down a treat from what I could tell from the silence then grunts of approval.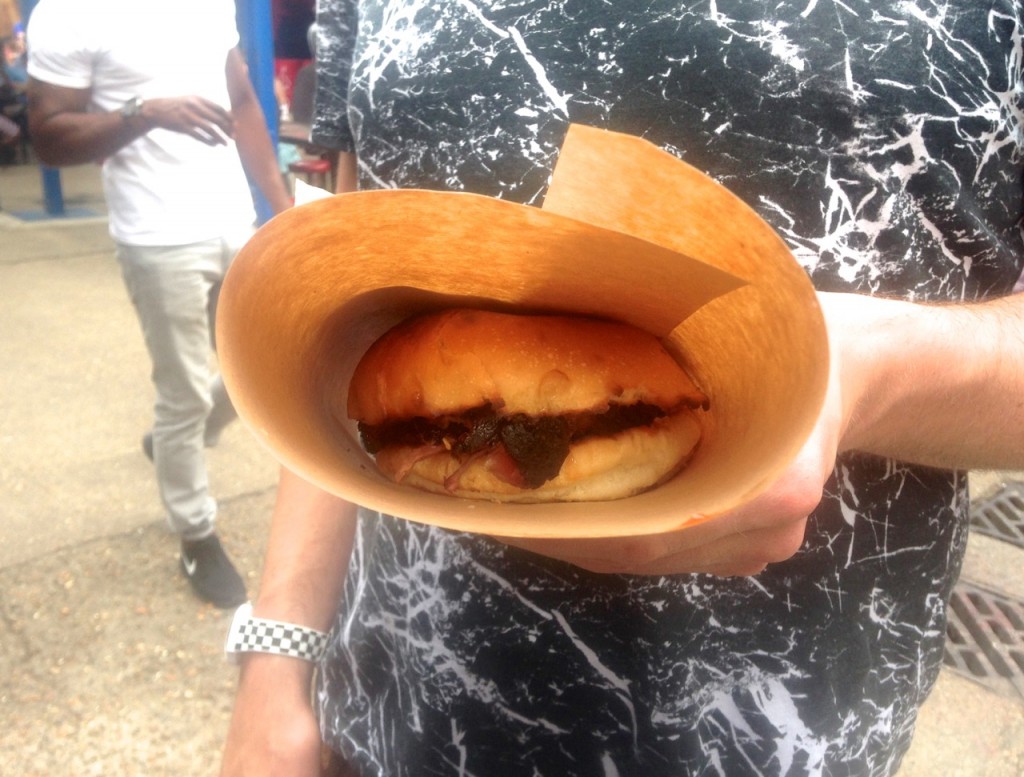 Next up was to check out one of the 6 bars, opting for a frozen piña colada from the upper platform. The tropical flavours and little umbrella made me feel like I was on holiday instead of my home city.
Even after only one visit I can tell that this is going to be one of my top summer hangouts.
The market is open every Thursday, Friday, Saturday and Sunday until 4th October and is Free before 7pm and £3 after on Thursday, Friday, and Saturday.
Are you guys a fan of street food? Are there any places I should check out?
Dinerama
19 Great Eastern Street
Shoreditch
EC2A 3EJ
* Sorry about the picture quality, it was a last minute plan and I only had my smashed up phone with me but I thought it was too good a place not to share!