One benefit from my lack of Glastonbury tickets this year was that in my fit of despair I went on a Googling binge for an alternative and came across 2000 Trees, a small rock festival located only a couple of hours outside of London at an absolute bargain price of £72 for weekend tickets. Though I clicked the buy button, it all seemed so good that I honestly worried that it was a scam.
I am please to share with you that after a wonderful weekend that the festival is very much real and is now one of my must go to music events. Despite the train strikes, 2000 Trees was a relatively easy journey, hopping on a train to Cheltenham Spa from Paddington, then onto a coach that only took about 15 mins and was £12 return.
The biggest hassle was, as always, carrying our bags, and even though I packed lightly the festival, like Glastonbury, had no separate arena and no restrictions how much alcohol you want to take in (as long as you are not selling and it is not in glass containers) which brought up the dilemma of: save money or save my back!
We took just the right amount, however, alcohol is really heavy! Luckily with only a 5000 people capacity the location was so compact that it was only about a 15 minute walk from the bus drop off point to our camping spot which was right at the far end of the site.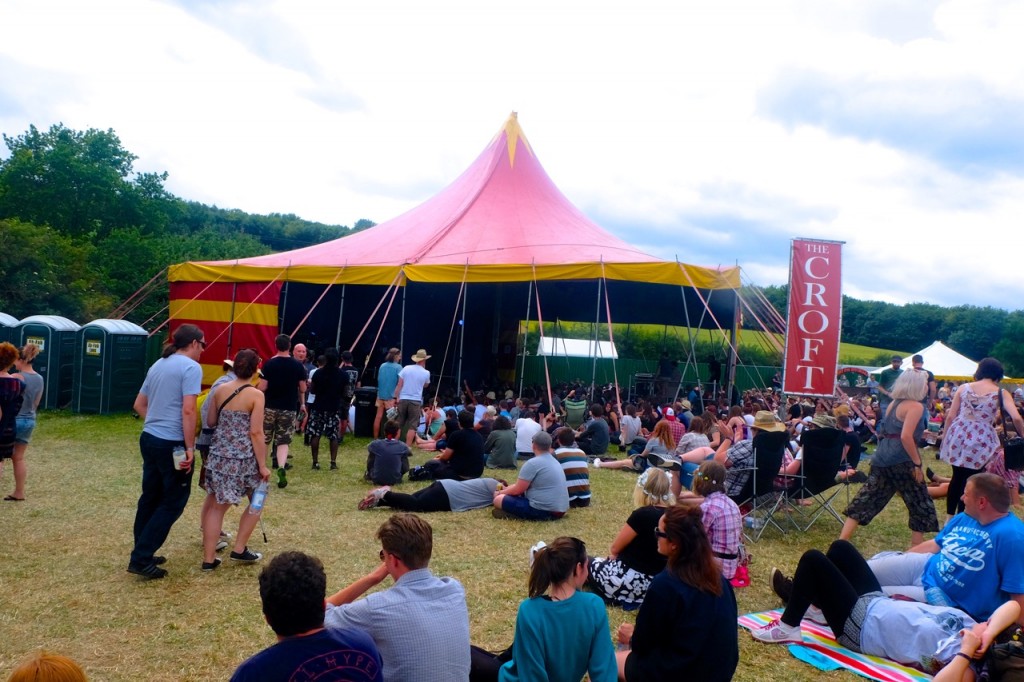 We pitched so close to The Croft stage that I felt like I was inside the yellow and red tent, the booming music made me even more eager to dump my stuff, grab a beer and get going.
One of the first things that struck me was that our fellow festival goers were incredibly friendly. On the short walk to the main stage we had already received two hugs and a high five, people's spirits were high and it was contagious.
The first band that we caught was Feed The Rhino, whose set was so amazingly energetic people took to flying through the air in admiration.
I know this might sound a little intimidating for a Friday afternoon, but everyone was happy to do their own thing, if you wanted to crowd surf and get thrown around, or simply observe the chaos, it was cool by the crowd.
Next up was the band that sold me on getting tickets in the first place: Pulled Apart By Horses, who did not disappoint. Loud and raw they were exactly what I hoped for. Once again the crowd got fully involved with a couple of eager teenagers managing to come out red faced and with only one shoe.
The headlines for that evening were Deaf Havana who made it obvious that they were genuinely grateful to be back on the main stage after a turbulent couple of years, the set was so emotionally heavy that even the skies opened up in an almost poetic moment during one of their more touching songs 'I Am My Father's Son'.
The amps were shut down at 11pm but the entertainment did not stop with the options of picking up headphones for either silent disco, silent cinema or, if more music was what you were craving, the small busking stands came alive with acoustic sets.
We went for secret cinema as, unlike me who is a bit of a film fanatic, my boyfriend has seen almost nothing, so since the festival was 50% based on The Big Lebowski I thought it was about time for his well overdue intro to The Dude.
The great weather meant waking up incredibly early to join a sea of people with dodgy sunburn lines in a ridiculously long queue for the toilets. After half an hour of waiting my need to pee grew along with my frustration and I braved walking past the people waiting for the one 'good' toilet and checked out the 'disgusting' vacant options, maybe I have zero standards after starting my festival experience at T in The Park but to me people were being far too picky. Yes, it was an unpleasant experience hovering over a full bowl but I don't think I have ever left a porta-loo being like 'That was the best wee I have ever had, I may even install one of these bad boys in my house'.
Baby wipe shower completed it was now time to go foraging for some food, the stalls were conveniently spaced out and there was a cute little coffee shop only a few steps away from our tent where I picked up a strong black coffee and a veggie sausage and egg roll.
I was really impressed by the variety of food for such a small space, being a veggie I go to festivals prepared for surviving off chips and beer but this weekend I was definitely catered for; managing to wolf down, a vegan chilli dog, pad thai, stuffed veggie burrito, 2 wood fire pizzas and an amazing salted caramel ice cream.
On the Saturday I had no burning desire to see anyone in particular and instead was focussed on finding some new music.
During our first cider of the day we accidentally got tangled up in the  registration queue for the fancy dress competition, it was highly entertaining to see the amount of effort and creativity that had gone into many of the costumes.  My personal favourite was a film crew who 'directed' unsuspecting victims to star in their cardboard production.
The rest of the day was a little less surreal wandering mainly between acoustic sets in the forest and The Croft stage where I made the brilliant discovery of Bare Knuckle Parade, who belted out modern Celtic- folk style music with little punk edge.
The sun setting and alcohol kicking in we felt lively enough to brave the tents once again and see Glasgow band The Twilight Sad, watching James was mesmerising as he looked like he was off on a spiritual journey to a higher plane whilst performing.
To finish the evening we caught the end of classic Chicago punk band Alkaline Trio. The crowd, getting fully involved, chanting along to Radio was an awesome end to a chilled out day.
Discovering that my boyfriend also had not seen Spinal Tap it is was off to silent cinema again to give him a further education in some of the movies that inspired my life.
Catching a few buskers it was time for bed nodding off to a collaboration of acoustic crooners.
2000 Trees is my kind of festival; it was small, welcoming, raucous yet respectful and though there were glitches like the cinema screen not inflating, not enough headphones, and all the gas in the beer pumps ceasing to work, the staff were all upbeat, friendly and got straight onto fixing the problem.
For me this was a perfect place to spend a weekend and I thrived in being  part of a chaotic collective of rock spirit.