My typical style of holiday is very fast paced, usually staying 2 nights at each destination then moving on to the next; but since I had previously made the beautiful trip from Zagreb in the north of Croatia, to Dubrovnik in the south I was happy to let my companions take the lead on this one, and go for more of a relaxed vibe.
Already having done a fair bit of exploring in this beautiful country, settling on a location was a little more difficult but, after some discussion (and lots of Pinterest planning) we settled on Makarska, a small city on the Adriatic coast sandwiched between both mountains and sea.
The Drive form Dubrovnik airport to our villa took around 2.5 hours, but hugged the coastline most of the way; having such breathtaking views made the time fly by.
The website images of our holiday home looked liked something from Grand Designs so I expected that there had been a bit of photoshopping and didn't want to have too high expectations, however, to my delight, the place was exactly as pictured except for a few pylons that obstructed our view from the pool to the sea – which I could deal with.
Sometimes I take a step back from my life and can't believe that it is really mine, having always being somewhat of an oddball with no obvious talents, somehow I end up in situations that feel like a scene from a movie.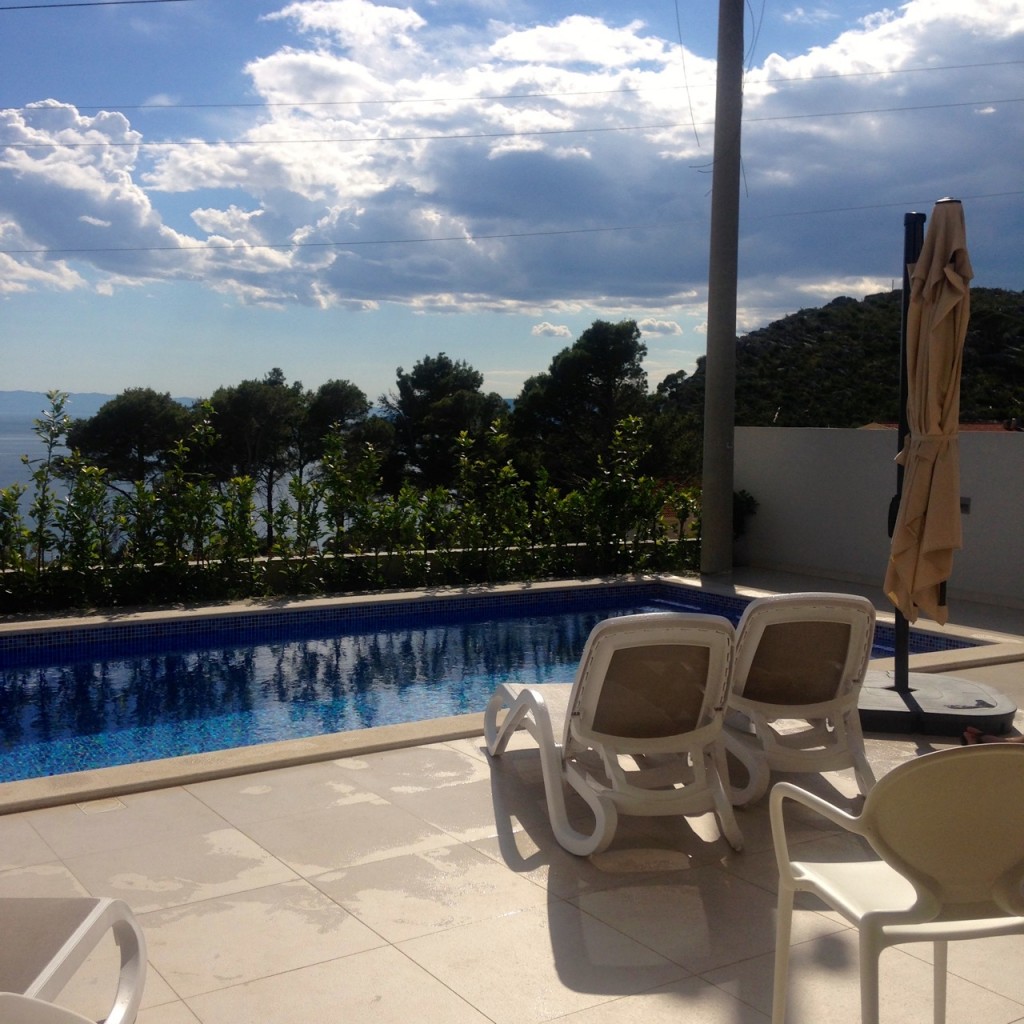 This was one of those times – six friends in a modern glass villa, carved into a mountain with sea views all seemed a little too sitcom like and made me feel that I perhaps was part of a reality TV show or an experiment like The Truman Show.
Whatever the reason for me being in such a place I was happy to roll with it and after a mammoth shopping trip to one of the many supermarkets we were prepared for a week of what can only be described as slothery.
The prospect of this much relaxation made me feel anxious and in my head I had a planned daily activities that I was sure I could convince someone to join me on.
In actuality I was so exhausted from my normally hectic schedule that once I stopped I had no desire to move from our little mountainside sanctuary.
The only major trip that we did was to KRKA national park, which was so stunning that I am going to share it in a separate post. Apart from that, we were completely content with taking the short 5 minute drive to explore the local area.
The city centre was a perfect balance of old charm with winding streets and a crystal clear harbour, and modern with the convenience of many shops, bars and excursions to the surrounding islands.
During the day the city is quaint and sleepy, with people relaxing on the pebble beach or enjoying an ice-cream by the harbour, whereas in the evening it transforms with boats docking from the days sailing and turning into floating bars; live music also booms from the central square which can all be watched from one of the many restaurant patios.
The only other 5-minute-adventure we took was further up the mountain to a restaurant called Grill Panorama, which offers views across the entire city.
As the sun began to disappear we thoroughly enjoyed the friendly hospitality of our waiters who were happy to accommodate every taste and chat through the food and wine with us.
Trusting in their recommendation, us fussy vegetarians had a fresh vegetable platter accompanied by risotto, whereas our carnivorous table mates were brought a fish platter so fresh it was caught that day.
The waiters were incredibly attentive, even giving us blankets as the sun set, yet were not intrusive salesmen. I felt like any advice that they gave was to sell us the best evening possible instead of squeezing us for cash, which often happens abroad.

This meal was the perfect conclusion to our effortlessly wonderful time in Makarska, a destination that I would highly recommend for a chilled out holiday before the other tourists catch on!
Have any of you been to Croatia, if so what did you think? Any tips on where I should go next?