I am not usually an advocate for chains, preferring to support independent businesses, however I am a fan of Jamie Oliver so when I was asked to review his Italian venture I was more than happy to check it out.
Before I get into the evening I should explain my admiration for Chef Oliver; I was brought up in a household where adventurous food was not a priority, however after traveling and opening up my taste buds to so many possibilities I wanted to try and create my own recipes.
I got books and looked up endless hints and tips online but felt lost in the list of ingredients and methods. I understood the words but they somehow seemed like a foreign concept to me, that was until the Naked Chef came along. His straight talking, energetic approach to food appealed to me and I could actually follow along with recipes, giving me confidence in the kitchen and helping me find my love for cooking.
Now, back to a rather typically wet summers evening in Greenwich, hoping off the DLR I bumped into the man friend on the same train, the timing was like a scene from a bad romantic movie, except in this case it was purely convenient . The restaurant was located only a couple of minutes from the station, however we still arrived looking like a couple of soggy stray cats.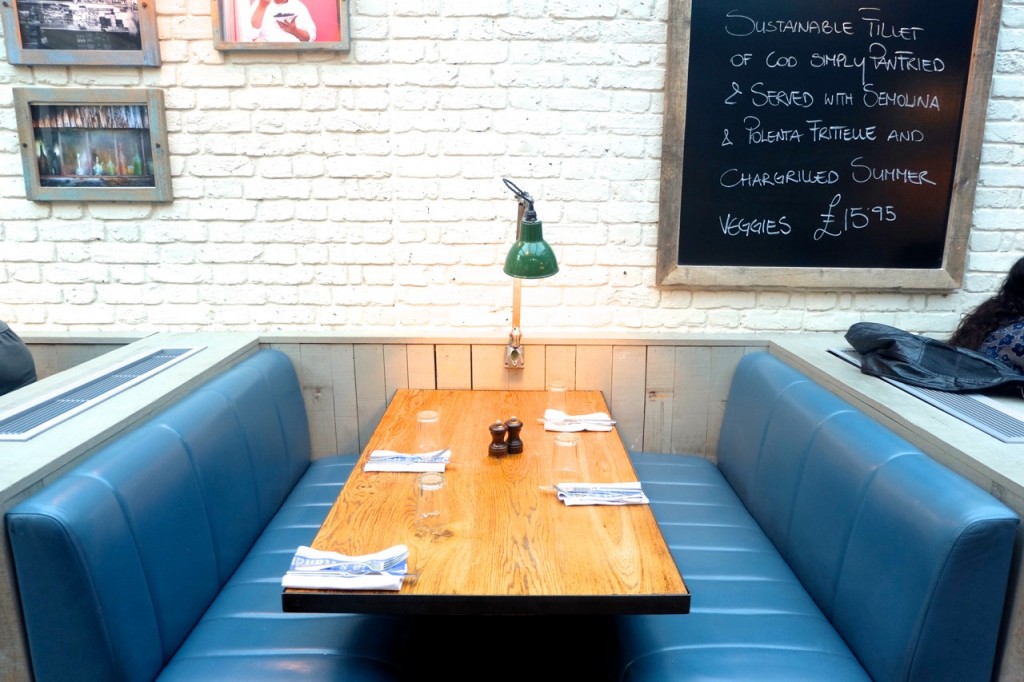 Greeted by a cheerful hostess we dripped our way through the bar to our light blue leather booth where our other dinner companion, Susie (a fellow foodie with a drool worthy Instagram account) was already waiting with a glass of prosecco in hand – I love this lady's style.
We were seated at the back of the restaurant looking out onto the garden, which would be a lovely place to eat alfresco on a more pleasant evening. Despite the grey skies, the glassed roof, conservatory style dining room allowed natural light to pour in, creating a feeling of openness. Though the space was large the segmented layout made the room feel busy enough to create a lively atmosphere, yet was spacious so that you were not intruding on your fellow diners evening.
My first priority was to grab a drink to kick start that Friday feeling, I was so pleased to see that the restaurant had embraced its local surroundings and had Meantime (brewed in Greenwich) on tap. The beer selection changes monthly but luckily for me, in July, my favourite IPA was on tap.
It is not just this branch that embraces its location, each Jamie's Italian is uniquely designed to create an environment that is complementary to the style of the area and building it is housed within.
The three of us had not caught up in ages so it took us quite a while to get through the large paper menu. The waiter was understanding and gave us space to enjoy chatting, checking in to see if we were doing fine without being intrusive.
There were a large range of dishes to choose from including antipasti, nibbles, sharing boards, pasta's, mains, specials and sides; eventually we decided to share a selection of the Artisan Breads which include a mix of freshly baked focaccia, ciabatta, seeded cracker bread, sourdough, grissini and, for dipping, extra virgin olive oil, balsamic and a sun-dried tomato & olive tapenade.
I sometimes find bread a bit bland but the mixture of types and textures, complemented with the rich tapenade, was so moreish I ate way more than I should before my main.
Intrigued, we also shared the World's Best Olives On Ice served with more black olive & sun-dried tomato tapenade & crispy music bread. Although I am not sure if they lived up to their bold title, the mild, plump, green olives were a refreshingly different way to start a meal.
Now already pretty full after a pint and bread, I was glad that I ordered the Superfood Salad. I know it sounds like an unadventurous selection, however I love a good hearty salad especially when it has a combination of my favourites healthy foods avocado and broccoli, which were also accompanied by candied beets, pulses, grains, cottage cheese, pomegranate, smashed nuts, seeds and harissa.
Now, I am admittedly a bit of a sucker for anything that uses the term 'Superfood', however this time I was not disappointed. Packed with a great variety of fresh vegetables and grains it was earthy, filling and fresh. If the plant based combination was not enough to tantalise your taste buds, you also have the option of adding grilled chicken, feta, or hot-smoked salmon.
I also could not resist ordering the chunky polenta chips as an additional side which was complete overkill but so worth feeling uncomfortably full.
Susie choose the Fritto Misto, a mixed seasonal flash-fried fish and shellfish plate served with lemon and chunky Italian tartare sauce which was served on a scrunched up bed of newspaper to give it a traditional seaside look.
Pablo also went for fish, opting for the day's special: Cod on a bed of aubergine, courgette, peppers and tomatoes served with polenta balls, which was light and a perfect pick for summer.
Feeling utterly full after two courses and sides we skipped out on dessert but enjoyed finishing up our drinks over some lovely conversation.
The thing that I think makes Jamie's Italian stand out from similar chains is that it manages to get the balance just right in all aspects. The menu was inspired by Jamie's love for rustic Italian cuisine and though he encapsulates traditional flavours there was also a modern twist in each dish, making the food current yet retaining authenticity. The ingredients were also carefully selected and this knowledge passed onto staff members who in the Greenwich branch were professional yet had personality creating a relaxed, enjoyable, atmosphere. Also, within the restaurant the decor was simple, yet stylish, focusing on the food with an open kitchen, and displayed ingredients.
The restaurant does not rely on simply having a celebrity name over the door and with attention to detail has achieved in turning a well known brand and chain into a cool neighbourhood eatery.
Have any of you visited a Jamie's Italian? If so, what did you think. If not, have I tempted you?
*I was given a voucher to try Jamie's Italian, however all opinions are my own
Jamie's Italian Greenwich
17-19 Nelson Rd, London SE10 9JB
020 3667 7087