Barcelona is one of those places that everyone seems to have visited except me, so when my family announced that this year's group trip was going to be in
Madrid
I insisted that I had to take a detour to see for myself if Barcelona was worth the hype.
The high speed Renfe journey from Zaragoza was once again an absolute pleasure and this time even came with a free meal and beer. On arriving into Barcelona I felt fully refreshed and was pleased to see the station was packed and, unlike sleepy Madrid, was way more similar to the city vibe that I am used to. 
First order of the day was to find our Airbnb apartment, which was only a short metro ride away. Hopping out the train at Plaça de Catalunya we were greeted by swarms of people and chain stores running down both sides of La Ramblas, Barcelona's equivalent of Leicester or Times Square. Finding out that our flat was only spitting distance from this tirade of tourists was not how I planned ending our Spanish getaway.
Dumping our bags, we realised our apartment was smaller than we thought but was surprisingly quiet for being so central.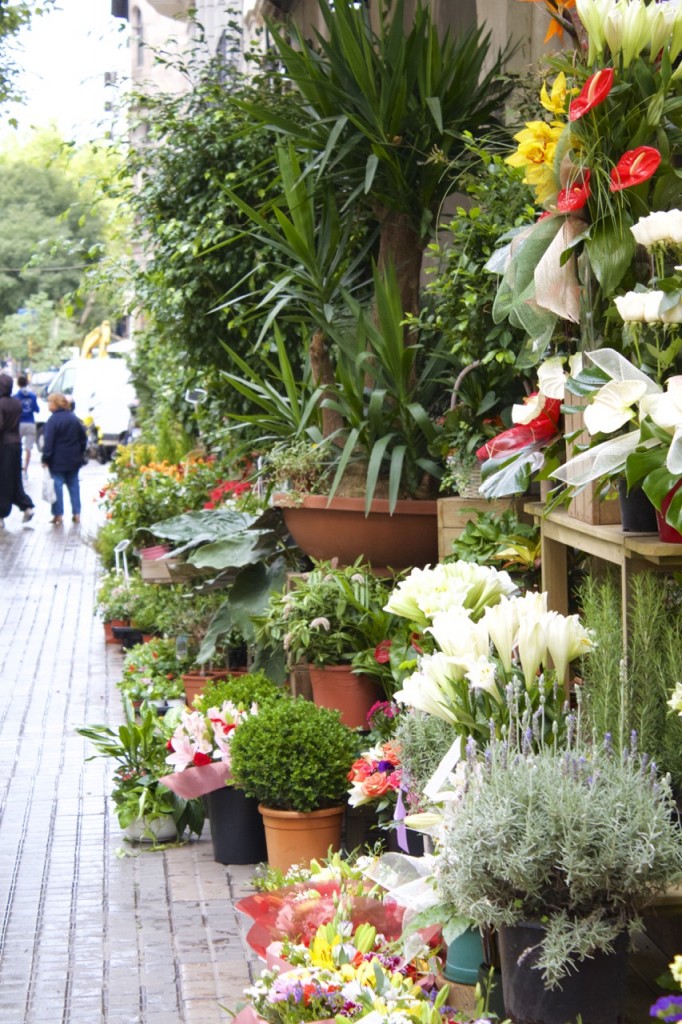 Deciding to shun the tourist trail we took a right out of our front door and explored the narrow streets heading away from the central strip.
Along here things began to look up, with lots of alternative shops, street art, skateboarders, tiny restaurants, and food markets.
We took a relaxed approach to our first day because I was feeling a bit poorly but I still enjoyed taking in the beautiful surroundings.
This slow start meant that we had our bearings and were ready for a full day of adventure.
Getting up early I felt completely recovered and bounded out of the flat early – to be greeted by rain! Not letting it dampen our spirits we headed for some breakfast before hitting some of Barcelona's most momentous sights.
Arriving at Brunch and Cake there was a large queue, however willing to share a table meant that we grabbed a seat straight away. This place served exactly what it's name stated but with such an interesting and modern menu our decision on what to eat was not easy.
The staff whizzed past us continuously busy but still managed to stop for a quick chat and brought our food out swiftly.
The dishes were not only amazing, but also organic and locally sourced, which could definitely be tasted in the freshness. We shared a giant green seeded bagel with slow cooked French style scrambled eggs, coconut chia seed pudding, with a wedge of brioche bread, layered with almond butter & sliced banana and an organic black coffee.
This is the sort of place that I would like to spend every morning: atmospheric, simple and exceptionally high quality.
Having such a successful start to the day I was ready to get my walking shoes on. I much prefer to explore a city by foot so that I can discover lesser known places on the way to main attractions.
We decided to start big with Sagrada Familia, an extraordinary place of worship and architecture. Despite being warned by Charlie to buy tickets well in advance we were left standing outside with the swarms of anorak and bum bag wearers.
Standing looking up at such a gigantic ornate structure I felt a childlike amazement, it was like a bizarre and undeniably impressive sandcastle standing in the middle of the city.
After much more walking it was time for some well deserved tapas.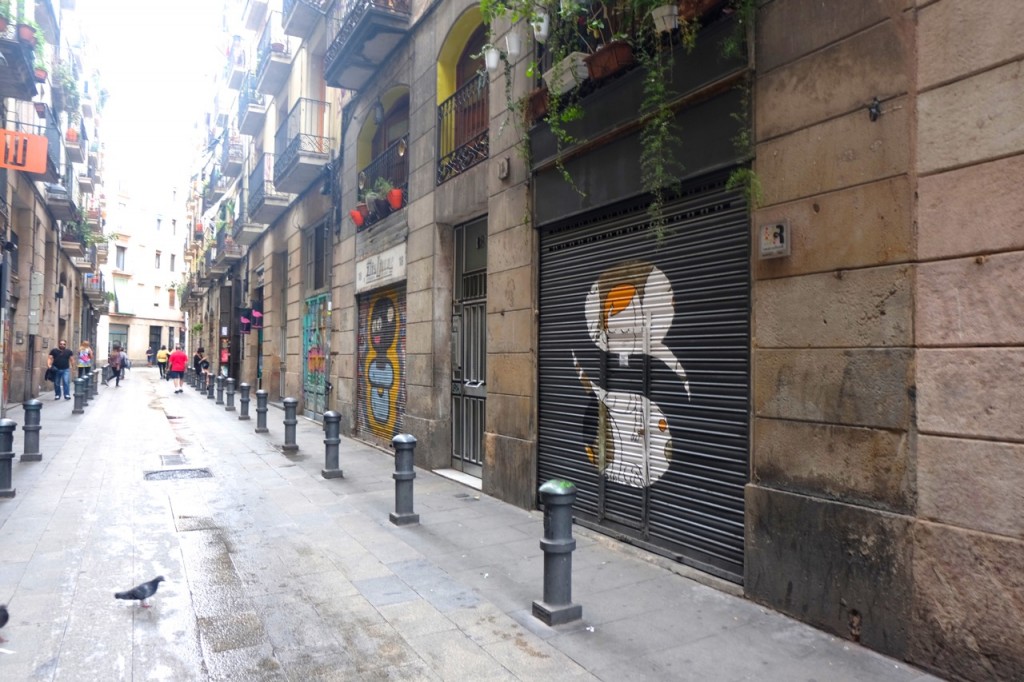 Navigating the crowds along La Ramblas I was not enamoured by any of the glossy restaurants, but thanks to FourSquare we managed to find Lo Pinyol, a tiny local spot serving up a huge variety of wine and tapas, as well as art and books.
Sitting at the bar surrounded by locals the quaint little café was a dream location for our final night.
Though thoroughly satisfied, the evening was not yet over and it was time for our second Gaudi experience of the day: a closed door night time tour and light show at Casa Milà.
Though I would like to have seen more of the house, the tour was interesting and an unusual psychedelic way to be entertained.
Our final day and the sun graced us with its presence just in time to lug our bags around. Planning our day at El Colectivo (a small and inviting coffee shop) I realised that I had a tiny bit of space in my bag that had to be filled.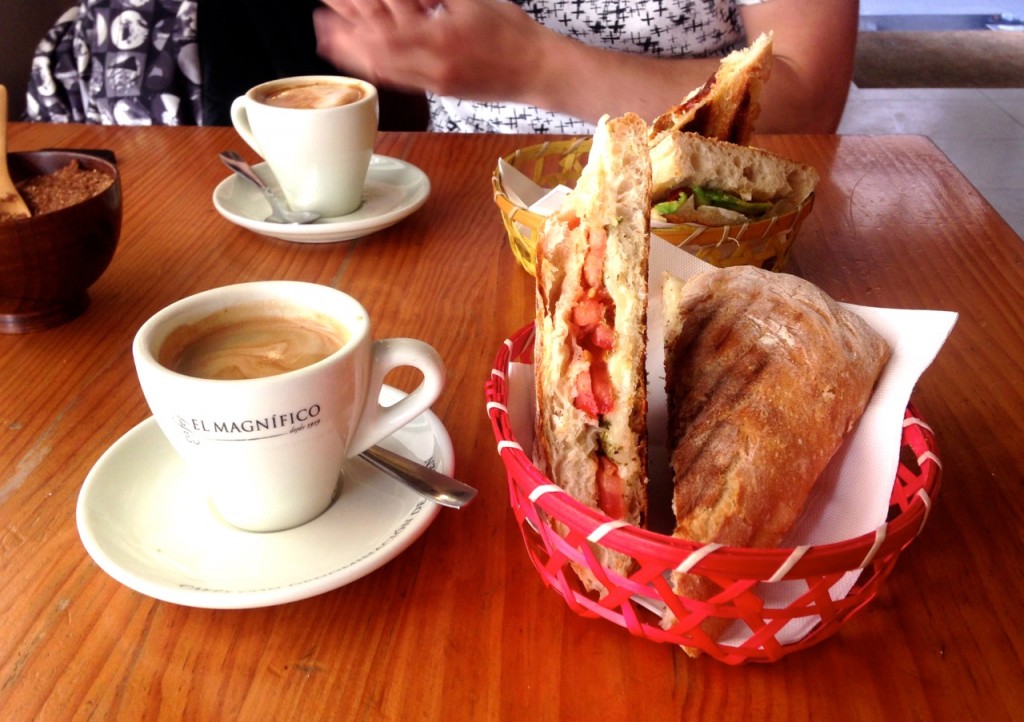 Barcelona had a great selection of independent and chain stores to choose from, and in under an hour I picked up a vintage jumpsuit from Holala, a handmade necklace and a purse from Trashion.
Running out of time to go to Park Guell meant that we did not complete our Gaudi hat-trick but it did mean that we got to hit the 2 mile long city beach.
We discovered pretty quickly that the beach was not the ideal place to hang out fully dressed, in scorching heat, with bags; so we made our way back to the city centre. Stopping at BlackLab Brewhouse on the way, we took a craft beer break and spent time watching holidaymakers walking, cycling and segwaying by.
Feeling completely in the holiday spirit sadly it was time to pick up our bags, and catch a our last views of gothic buildings before heading for the airport bus. The effortless journey to the airport was only £5.90, included wifi and phone charging facilities.
Overall I loved Barcelona and felt like it was a city that truly had something for everyone, with history, shopping, plenty of bars and restaurants. It also left me wanting more, which is what I expect from a city.
Have you been to Barcelona? Would you like to go? Do you have any recommendations for my next trip?