I believe that a home should be lived in, inviting and represent the people that life there. That is why my pad is an eclectic mix with no particular theme but filled with personality and memories.
Though my decor style is far from a show home there is one theme running through each room, and that is travel. This is why I was so excited about  Asda's George Home Autumn/Winter collection. They have drawn on inspiration from around the globe to take you on a journey through Asia, Canada, Scandinavia, the Arctic, and America. Each collection has its own unique and equally appealing style, however it was Luna, the Nordic inspired range, which really caught my eye.
I visited Olso in winter last year and was captivated  by the harsh, yet hauntingly still, scenery and pitch black skies. Many of the natural element have been captured in the Luna collection with wildlife, woods and stars all represented.
George have also taken into account the harsh climate, with warming textures in wool and fur for bed and living room, perfect for those chilly winter evenings.
They have also added Instagram-worthy copper elements to every room bringing a warm glow to contrast the stark blacks and greys, just as can be seen in the Nordic landscape.
The entire collection is simple yet oh-so-stylish, paying perfect homage to the cool Scandinavian atheistic.
Travel is a huge part of my life and is something I constantly dream about so it seemed appropriate to add these globe trotting inspired  items to our bedroom.
This is the only place in our house where my laptop is banned. For me, the bedroom is a place to disconnect and relax, which often involves reading about far off lands to help me nod off, dreaming about my next adventure.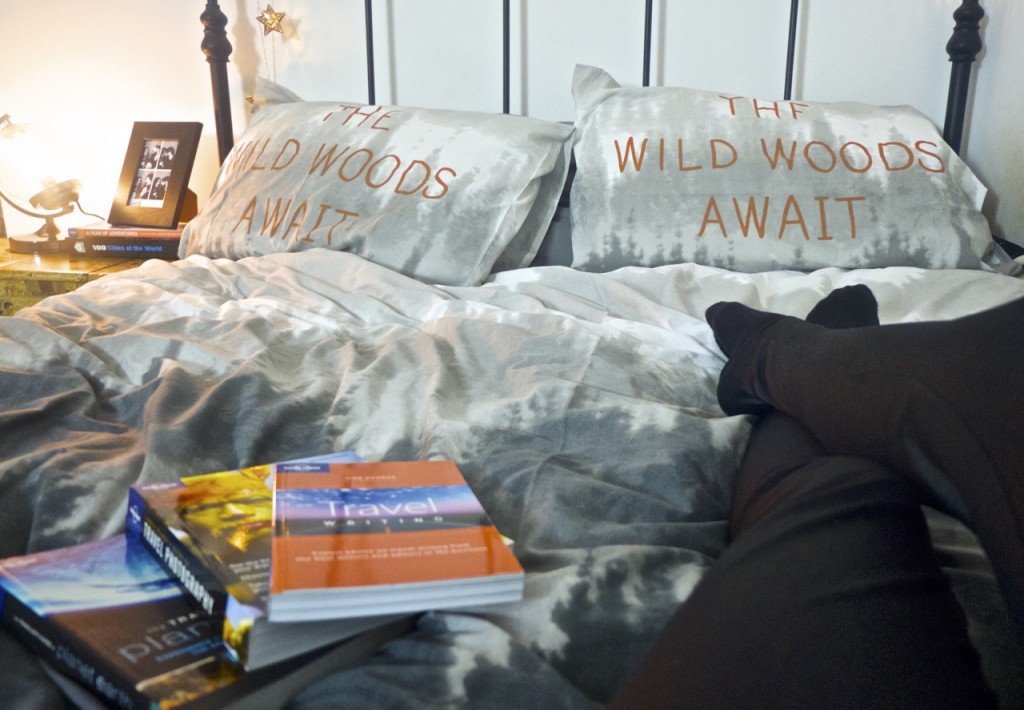 The bed covers with 'The Wild Woods Await' completely appealed to my current state of mind: looking forward to quiet cold months and all the adventures they bring with them.
Currently I am planning a trip to New York which, though urban, also suffer from hard winters, making the city seem even more stark yet stunning. Then it is back off to the homeland, spending a Scottish Hogmanany with friends in a remote area, most likely surround by wild forest made for exploring.
Also, coming into winter means snowboarding season is almost upon us leaving me looking forward to snow lined tree runs and mountain views.
Though this may seem like a lot of travel for one season I am always looking for further inspiration. Choosing to flick through books instead  of glaring at a screen, my reading means that lighting is a vital bedroom element.
The globe lamp and constellation shade are both items that remind me of how large the world is and how much of it there is still to see.
Whether well travelled, a dreamer or a homebody this collection can add a touch of the exotic to brighten any home.
Globe Lamp £10, Double Duvet Cover £12, Constellation Light Shade £15
What is your home décor style? Are you Pinterest perfect, self expressive or a mixture of both?
*Disclaimer: This post was in  collaboration with George Home but as always, all opinions are honest and my own.