My only previous experience of Birmingham was scooting down the toll road to miss traffic on the way up north. So I was really looking forward pitching up at our central Travelodge to spend some actual time in the city instead of simply whizzing past.
Like almost everything I do I waited until the last minute to book a train, which meant that to fit our budget we had to hop on a long but cheap West Midlands train that took around 3 hours from Euston. In contrast to our carriage (which had seen better days), the station we pulled into was incredibly modern and looked more like a shiny shopping centre.
Dropping off our bags we ventured out briefly for a bite to eat but decided to take full advantage of our king sized bed and stayed in our room for the rest of the evening.
Feeling pretty spritely after a relaxing evening, we paid for wifi and caught up with a bit of work before heading out for some brunch. My usual tactic when visiting somewhere new is to hit up Twitter in the hope that one of my blogging buddies have advice, but after no response I turned to Google.
After amalgamating a few lists, Yorks Bakery Cafe came up as the top option. Placed on a corner between the station, Piccadilly Arcade, Bullring shopping centre and the Christmas markets it was the perfect place to plan the day ahead.
After some debate whether we should make the trip out to Cadbury's world, Pablo and I made the decision to stay central and join the crowds trying to tackle Christmas shopping.
Birmingham has a huge choice of shops: the massive Bullring centre, high street and the visiting German christmas markets; but I had my eyes set on Selfridges after seeing the quirky bubble-like building from our hotel room window.
Though distinctive, the department store is technically within the shopping centre so we had to squeeze through the crowds to make our our way to my desired destination.
Starting out at the food hall we were offered samples of Krispy Kreme donuts, which we watched being freshly glazed. Wandering around the entire store we saw lots of things for ourselves and got to meet Santa, but only managed to do minimal shopping.
Persevering for a while, we soon released that not even Birmingham's cheery retail staff could help us with our disastrous approach to shopping and called it a day. Though we only had very few gifts, our Travelodge was just across the street so we took the opportunity to drop off our bags before hitting the Christmas markets.

The rows of wooden huts selling trinkets and festive food drew in the crowds but we made a b-line for the main attraction: a bar selling stiens of beer under the shelter of a revolving Santa Claus.
Feeling pretty jolly afterwards (skipping lunch in favour of beer) we went in search of dinner. Comparing results from Yelp, Zomato and FourSquare we had a firm list of options. Unfortunately each one we turned up at insisted that we needed to have reservations in advance despite most of them being completely empty.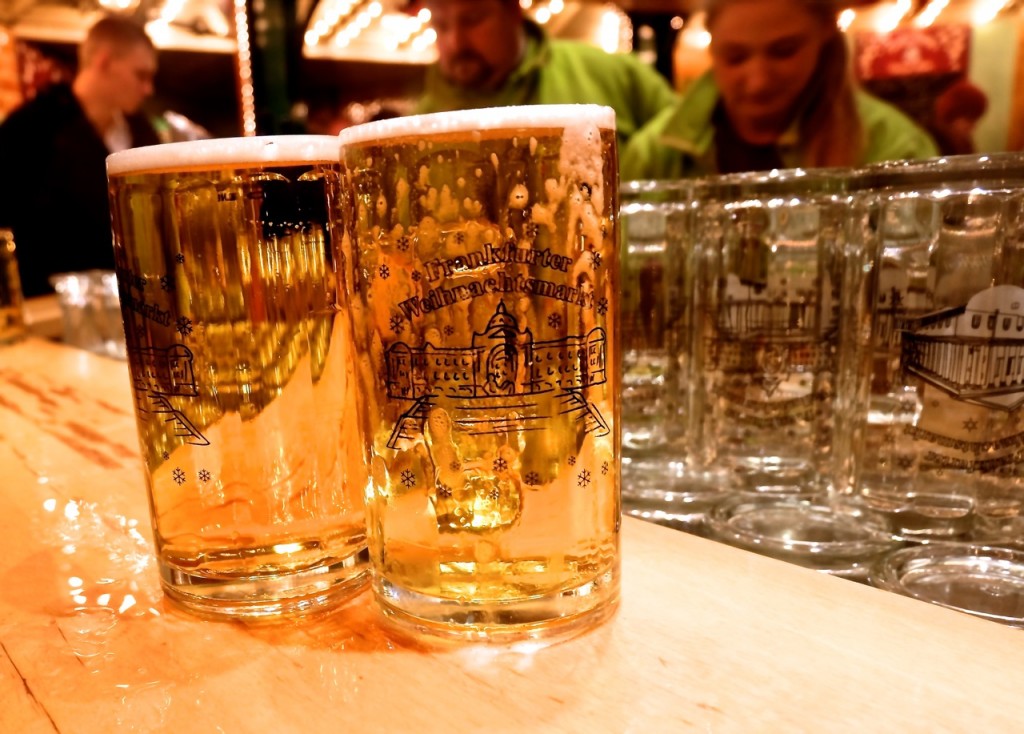 Eventually, we found a local Indian place that would let us take shelter but with poor service and average food it wasn't the best experience. Feeling tired after our city wide search to find food we once again opted to spend a night in our Travelodge instead of seeing what Birmingham nightlife had to offer.
Since we had a late 12 0'clock checkout we took our time to pack up, leaving just enough time for another brunch. This time we took the short walk up to small chain Boston Tea Party, a modern, large, coffee shop style eatery that serves breakfast all day which seemed extremely popular with locals, with the queue barely clearing for the entire hour we were there.
Overall our first trip to Birmingham was a success, the hotel could not have been any closer to the city centre attractions, there were plenty of shops, friendly locals and brilliant brunch spots. The only thing I wish was that I could have come across was more independent businesses, so if you have any suggestions please leave them below.
If you want to see a little more of my trip, I vlogged the whole thing, including a room tour here, here and here.
*Our accommodation was paid for by Travelodge as part of their #Bloggerlodge campaign however, as always, all opinions are honest and my own.