Social Decay are an edgy Brooklyn-born brand that represent the underground rock culture of today, a mantra that I automatically connected with. I first stumbled across the brand when scrolling through one of my favourite tattoo artists, Cally-Jo's Instagram, as soon as I saw her modelling one of their sassy slogan shirts I had to find out more.
Clicking through to the tattoo boutique Grit n Glory's website there were so many tops that were not only cute, but which also matched my sense of humour and attitude – it was tough to choose my favourite. The only reason I did not scoop up a whole basket full was because, unfortunately, I have been burned by a few alternative brands who are were all attitude and no quality and didn't want to make the same mistake again. Though not an instant purchase the brand did make it to my must see in New York list and my fashion Pinterst board.
Thankfully I didn't have to wait until my next trip to the states to check out their merchandise as Social Decay were making a trip to my town whilst exhibiting at London Edge, a trade show which hosts brands from around the world and celebrates alternative style.
If you are a regular around Emma Inks you will already know that this is one of my favourite events of the year as I love finding new brands, meeting similarly minded people and, of course, getting a sneak peek at next season's looks.
Fashion events can be pretty intimidating to go to alone but on finding the Social Decay stand I was made to feel  instantly welcomed by Melissa and Samantha. Though they were undoubtedly cool, both were extremely friendly and passionately talked me through the brand. Happily chatting away we moved onto the topic of our hometowns and exchanged email addresses so we could pass on some local tips, and perhaps hang out.
Often at exhibits people are super enthusiastic to your face on hearing you are a blogger but after a quick Google of your social media following and releasing you are not the next Zoella all communication comes to a halt. Despite knowing this was a possibility I like treating people as people instead of just opportunities so sent them a list of my favourite places in London. From the Social Decay Instagram it looked like they had an awesome time exploring the city.
Roll on a few months and it was time for me to be the tourist taking my first trip to Brooklyn, though it had been a little while since our first correspondence I dropped Melissa a quick email asking where she liked to hang out. A few hours later a comprehensive list of Brooklyn hot spots landed in my inbox.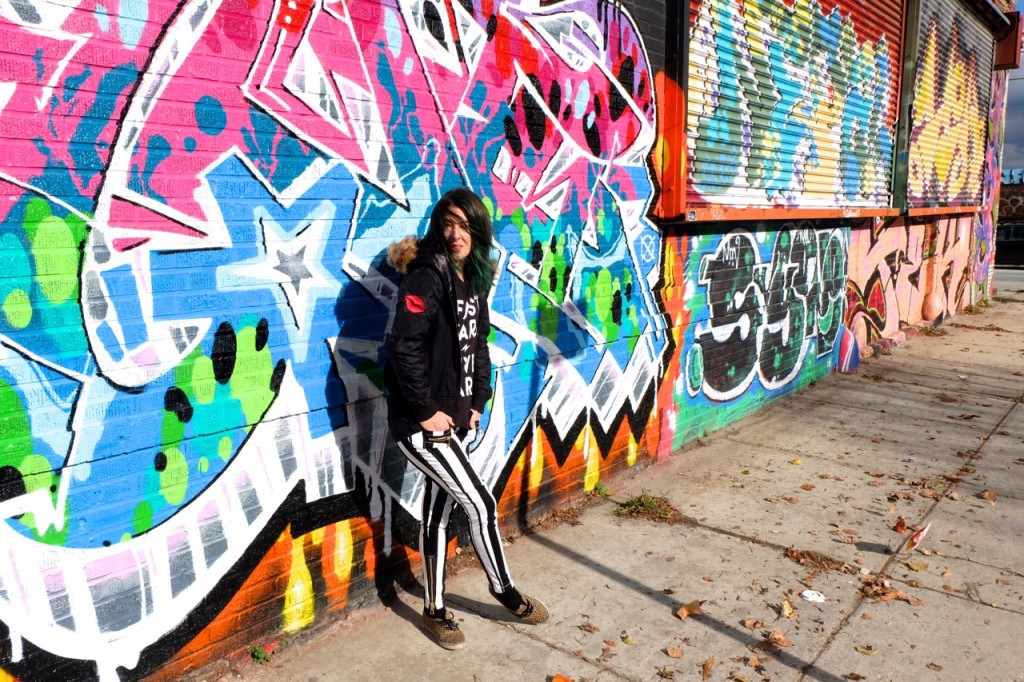 First place that we checked out from the list was Tutu's, where Pablo and I devoured an amazing brunch, from there on out we pretty much planned our entire week around her recommendations. Throughout our visit we stayed in touch and though were both too busy to meet up the cyber hospitality shown really made our trip something special and allowed us to hang out in truly local spots which we would have otherwise walked straight past.
There is no doubt that as a blogger working with brands is hugely important, there are many different approaches to this: some people will collaborate with as many brands as possible to make contacts and gain promotion, other are pickier and choose to only work with brands that they are truly passionate about.
In term of moving my blog forward I am not sure which one of these ways of working is best but I like to play the slow game and go for the latter. My blog is a snapshot of my life and I feel that for me it would be inauthentic to accept collaborations that I did not feel connected to. Though I may not progress or make as much (or any) money from my style of working it has many unexpected bonuses.
This collaboration was not a business one but was a meeting of similar minds and made our first visit to Brooklyn so much more memorable than relying on TripAdvisor. Not only does Social Decay sell high quality, rock inspired clothing but I also got the opportunity to meet some amazing kindhearted and kickass girls. It is reasons like this that I will always be driven by connecting with people and passion over numbers.
(Top – Social Decay, Jacket – Married to the Mob x Burton, Trousers – Balmain x HM (sold out), Trainers – Vans (similar)
Are there any brands that you love and would like to connect with or that you have had an exceptional experience with?