After five years of blogging and organising events, The Bike Shed finally have a Motorcycle Club to call their own. The term clubhouse might conjure up images of intimating dives bars but The Bike Shed have taken a modern approach to this East London biker hangout.
Since this place opened I have pressed my grubby little face against the window longly staring at the custom bikes, but never had the time to actually go in until last week when my friends and I had a well overdue catchup.
The Bike Shed is a members club but welcomes the public who are either bikers or interested in bike culture until 8pm. After this time they limit the consumption of alcohol to those eating a hot meal and prioritise members on busy evenings.
This motorcycle aspect of this eatery is not just a gimmick; with 25 bike spaces in a private car park down the side of the restaurant as well as many non-alcoholic options making sure that bikers stay safe as well as feel welcome.
Inside, The Bike Shed maintains a garage like feel with brick walls and polished concrete flooring and, of course, bikes scattered throughout. This might sound a little too industrial a surrounding to relax and enjoy a meal or drink in, but the place also has homely touches with leather sofas and artistic accents.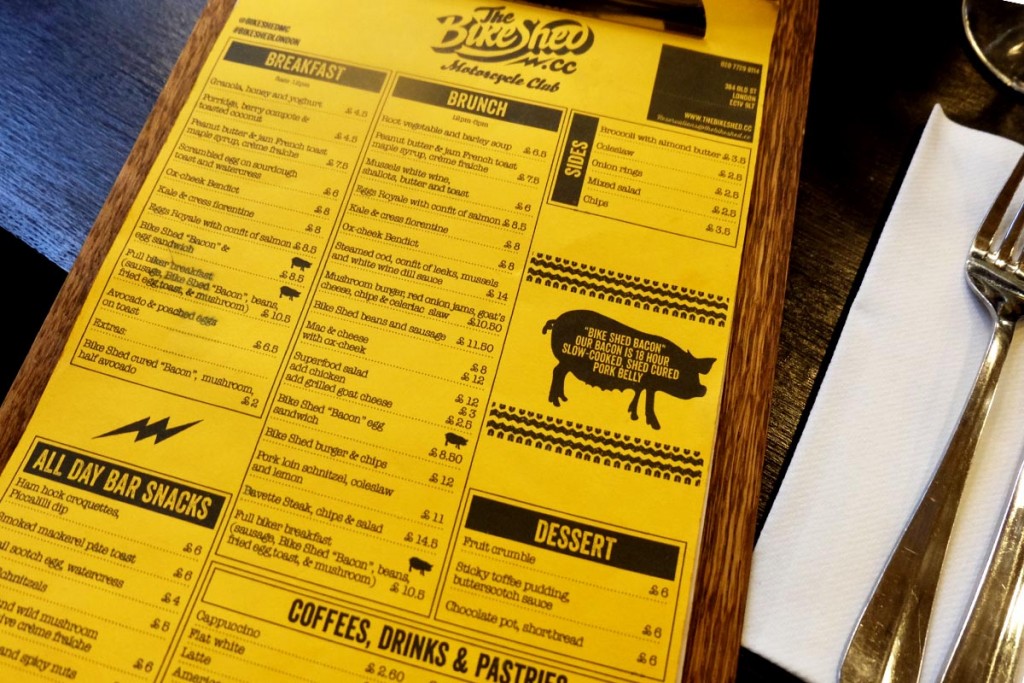 I think mainly because people were still feeling the pinch from the festive period the large restaurant was pretty quiet and were easily seated at a long table opposite the open kitchen, which was the length of the entire room. Some of our party were delayed and others couldn't make it but our disorganised style was not a problem for the young, welcoming staff who, though seemed timid, were very accommodating.
For me it wouldn't be Sunday brunch club without a drink and though they had nothing on draft The Bike Shed had an impressive selection of craft beers. I was feeling a tad tender so started out with the Kernel table beer at 3.6%, one of the tamest on the menu.
For my meal I ordered the polenta and wild mushroom fritters served with chive crème fraiche and a side salad. Though the polenta balls were rich and delicious I was surprised at there spherical shape rather than being a traditional fritter.
On the arrival of Pablo's veggie burger (which contained stacked mushroom, red onion jam, goat cheese, chips & celeriac slaw) I got food envy and made the suggestion that perhaps we should share our meals. As always he dutifully agreed; the burger was fresh, the goats cheese was not overpowering and was held together perfectly by the bun, my only criticism would be that the crispy fries were only luke warm.
The most popular dish at our table was the eggs royale with confit salmon, when it was first dropped off at our table there were concerns about the portion size thinking that it had only been served with half a muffin. Thankfully, after a bit of exploration, we discovered that it was a full portion and the muffin simply had not been split and served open! Panic over, everyone gave very positive reviews on their meals and some enjoyed them so much they also went for desert. The main menu offered classic Crumble, Sticky Toffee Pudding with Butterscotch sauce and a Chocolate pot with shortbread but there were also cheaper options displayed on the kitchen counter which the staff where happy to serve at the table.
We turned up a different times, made strange order combinations and sat around catching up for ages but at no time were made to feel like a nuisance and enjoyed a very leisurely lunch.
After sitting next to such a beautiful customised Ducati I was itching to have a wander around the rest of the club house. A couple of us ventured through the huge area where there was a barbers shop, comfortable sofas to enjoy a coffee on, a shop stocking both biker essentials and fashion merchandise but, my favourite, was the exhibition space.
Through the final brick archway housed a room filled with custom bikes, in a variety of styles, manufacturers and prices representing the diversity of the biking community.
There are so many faceless places opening up in East London because of it's rise in popularity; businesses think that having craft beer and wifi will automatically make them part of the neighbourhood but they often lack the edge and authenticity that make the area so incising. In my opinion The Bike Shed has the level just right – sure, it is stylish, but it is also unique and built with a passion which makes me want to be a regular.
So next time you want, a beer, juice, cocktail, coffee, cake, slap-up meal, a quick hair trim, to shop or simply browse the stunning bikes, The Bike Shed is high on my list of recommendations.
If you like this post why not pin it for later?
The Bike Shed
384 Old St,
London
EC1V 9LT