Sweet Chick was high on my list of places to check out whilst in New York, with friends raving about their Chicken and Waffles at both the Brooklyn and Lower EastSide locations.
A place whose menu centres around chicken may seem like an odd choice for a vegetarian but at Sweet Chick they don't leave us non meat eaters out of the fun, with their meatless chicken substitute and plenty of other homely options on the menu.
After a rather heavy night at the Brooklyn Bowl celebrating Pablo's birthday the night before, we were both ravished, a little tender and in need of some comfort. luckily for us this cool eatery was super quiet early on a Wednesday morning and we were seated straight away by the welcoming staff.
Not feeling ready for a hair of the dog (that usually comes as standard with my brunch order) I uncharacteristically went for an ice tea which came served in a mason jar.
Now feeling refreshed it was time to order; I decided to stick with the obvious (fake) Chicken and Waffles whereas Pablo felt a little more adventurous and selected Biscuits and Gravy. I have a feeling this decision was primarily made because I had been singing Jesus is a biscuit in the style of Latrice Royale from Ru Paul's Drag Race most of the morning and he had no idea what an American biscuit was, or a Latrice Royale for that matter.
Now, I am no expert on Southern Style Cooking but all I can say is this was comfort food at its best. The 'chicken' skin was well seasoned, crisp and the inside oh-so-succulent. I am not typically a fan of fake meat but whatever recipe Sweet Chick were using was a game changer.
The waffles themselves were also the prefect balance of crunchy on the outside and doughy inside. They held together after being showered in a vast amount of syrup without becoming soggy. If this was not enough to wet my hungover appetite the dish also came with a trio of butters, the herb, lemon, and blueberry flavours – were equally tasty and added a different flavour packed punch to every forkful.
As always, we swapped meals half way through. Pablo's choice was also a delicious option, light and beautifully layered biscuits served in a rich creamy mushroom gravy and topped with perfectly poached eggs.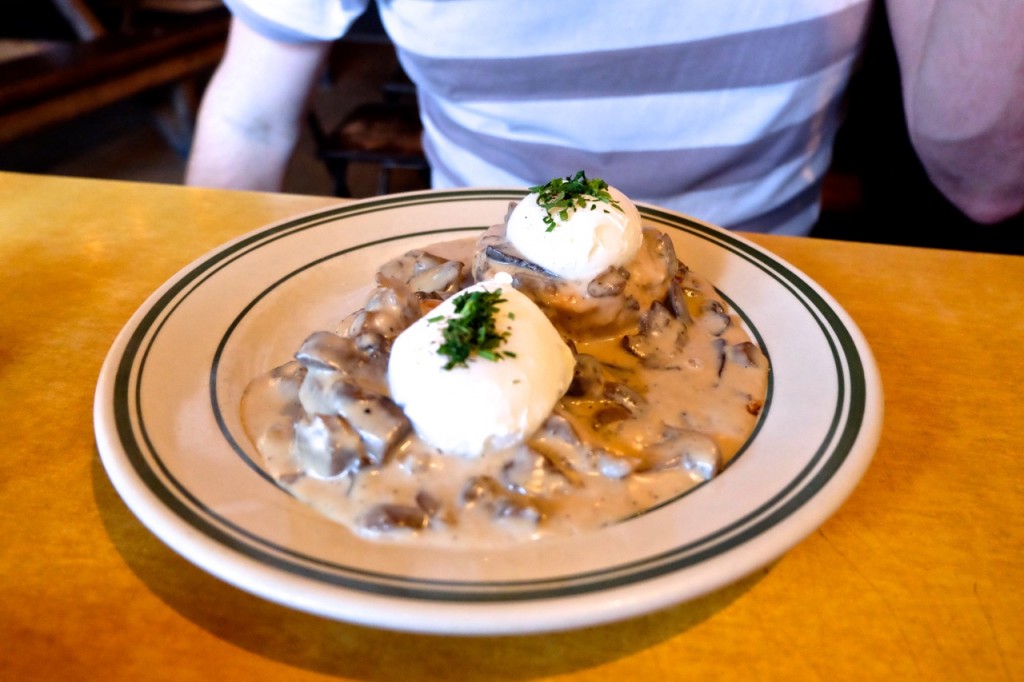 This is the sort of meal that is so good the memory of it stays with you and as I am typing this I crave Sweet Chick's waffles.
This is completely my style of place: easy going and serving up top quality comfort food with a twist on classic dishes. Next time I hope that I am feeling fresh enough to sample some of their equally raved about cocktails.
What is your style of eating when on holiday? Do you like low key but top quality like me, or do you prefer something a little more decadent?
If you like this post why not pin it for later?
Sweet Chick
164 Bedford Ave
Brooklyn
347.725.4793