Dirty Bones is tucked away on the top floor of Kingly Court a foodie haven just off, of Caranby Street and has been on my list of places to check out for what seems like ages. Arriving on a busy morning we were seated at the bar for a short 5 minutes before being offered a table beside the open kitchen.
The restaurant is my standard style of place: low key, cool, and serving up american comfort food. The decor was eclectic with old arcade machines, art, books, neon signage and lamps hanging from copper pipes. This sounds like a complete mishmash but actually suits the small space and adds a personal feeling.
I was feeling a little classier than normal and shunned my standard beer for processco, I only had the one glass at £6 but for £15 I could have taken the bottomless option. Pablo was feeling extra fancy so ordered the Dirty Mary, their version of a Bloody Mary which was light, but potent, and came with a sour cream Pringle dusting on the rim, which was a very palatable quirk.
The brunch menu offered up house specialities such as burgers, dogs, and bones (chicken) as well as more classic breakfast options. We opted for the latter choosing the avocado & poached eggs and fried eggs.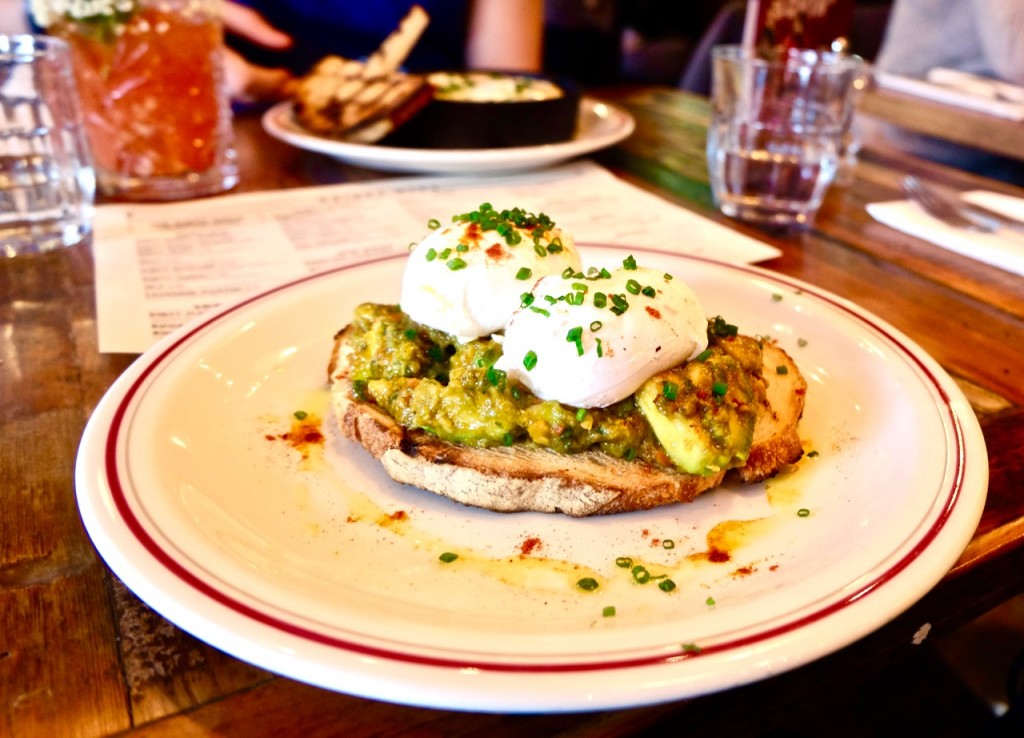 I started with avocado which was smashed the way I like it, creamy yet with chunks and was also seasoned with just the right amount of spice and lime, then topped with perfectly runny poached eggs.
The only disappointment the slice of sourdough that this winning combo was served on, although it  held the dish together was a little on the hard side and I think that for £8 one slice of bread seems a little stingy, or maybe I am just greedy.
The Fried Eggs came served in a cast iron skillet, which I love, the eggs were once again the right kind of runny and were served on a bed of smokey yet sweet peppers, tangy tomato and onion stew  which was super fresh but once again came with only one slice of borderline stale bread.
There were a few issue with our orders as staff seemed to share tables but were incredibly up beat and could not have been more apologetic when they brought over the bill, which came with a super cute guest book to sign.
As we sat and chatted the people seated next to us hotdogs arrived and I got severe food envy, our brunch was good but those dogs looked epic and come in a vegetarian version. A week later I returned to try them for myself and I am pleased to report that the weird but wonderful kimchi dog was not a let down.
Unfortunately both visits there were problems with both the food and service but the issues were defused by the waiting staffs charming personalities.  Overall the positives outweighed the glitches and I enjoyed the upbeat vibe and easy going american cuisine at Dirty Bones.
If you want to keep this post for later why not pin it?
Dirty Bones
Top Floor
Kingly Court
Carnaby Street
W1B 5PW