If you are a regular follower you will know that I am serious about pizza. So, when walking past what used to be the old sweat box music venue, Rhythm Factory, and seeing the inviting words Pizza, Pies and Cider scrolled across the window in gold writing I knew I had to check it out.
The Stable is a chain (but a small one) based on a passion for British produce and creativity.
Back in 2009, owners Richard and Nikki Cooper left the Big Smoke behind to bring an old hotel back to life in Dorset. Getting accustomed to the abundance of quality local produce, and with the help of Richard's chef brother, they created British inspired pizzas with unique toppings and a sour dough based.
The stable out the back of the hotel became the first restaurant and with it's success they spread their British take on the classic Pizza across the South of England.
The Whitechapel branch is spilt into two areas: the front bar is perfect if you want more of an intimate catch up or to get some work done whereas the open back area has more of a lively feel with a large bar, stage and shared bench style seating.
Though the space is large, the staff are easily spotted in their laid back graphic t-shirts and were on hand to help us find a seat and to answer all of my questions.
As stated on the window that lured me in, the menu was mainly focused on pizza and pies.
I of course quickly decided on pizza.
Hailing itself as the city's first ever "cider cathedral" I felt obliged to order the cider tasting board which, since it was only a Monday night, Pablo and I shared. The boards often change giving regulars the opportunity to sample the huge variety of cider on offer.
Our server dropped off the wooden plank holding 5 3/4 pints and talked us through the day's selection, which also came with a hand written card with all the cider's details. I really love a hand pressed cider which is so sour it almost smells like urine (I know, appetising right?) whereas Pablo prefers a super sweet and light drink – so this board was perfect for us as it graduated from both ends of the spectrum.
My favourites were the hearty, all year drink: Top Of The Hill and Ashridge Blush for a cold summer tipple.
After sampling all 5 ciders I was ready for food. Brought straight out from the open kitchen my Billy the Kid pizza was placed in front of me, piping hot.
The relaxed approach continued with my food being served simply, on a wooden board with a pizza cutter.
The sour dough  base was chewy, yet crisp and  topped generously with a fresh tomato sauce, a layer of English spinach, rosary goats' cheese, caramelised onions, field mushrooms, mozzarella and roasted hazelnuts. The pizza was stacked high with toppings, but the strong base could handle it.
The flavour combination was rich but utterly delicious, I especially liked the layer of fresh spinach  between the tomato and cheese.
My only note would be that all of the vegetarian options were heavily cheese based and it would be nice to have a little more variety, or even a vegan option, but apart from that my food was faultless.
Pablo ordered The Steak Out pie which came with well seasoned thick wedges and a salad, though I think he did get a little envious of my pizza he seemed to enjoy it as there was not so much as a leaf left on his board.
As we got stuck into our food a band took to the stage and began to soundcheck for their gig later. With so many East London music venues closing down it is nice to see The Stable embracing the area's artistic background by having an eclectic line up of musical acts.
I have been saying for ages that I want somewhere to hang out in East London where the food is high quality but not fussy and which isn't a packed out pub or filled with loud city slickers – The Stable might just be that place.
Like this post why not pin it for later?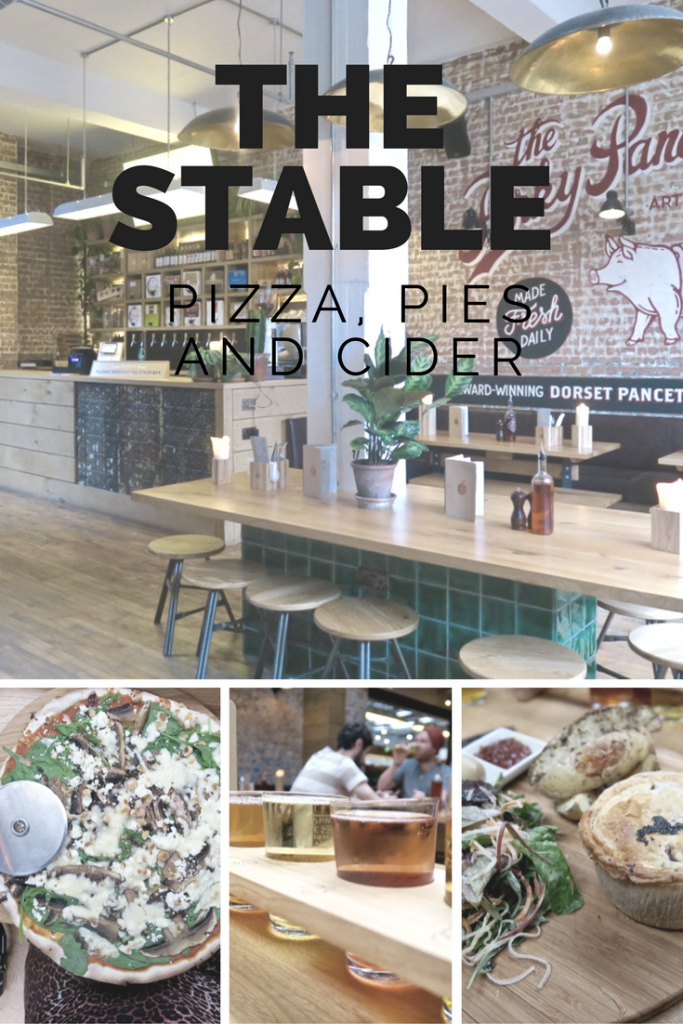 The Stable
16-18 Whitechapel Rd,
London
E1 1EW