Very few things can persuade me to head into West London, on the Central Line, during rush our, in the height of summer; but the prospect of checking out Pergola On The Roof of the old Television Centre made me want to put in the effort.
To be fair, if you want me to do anything food is a good starting point.
If you follow my foodie adventurers you will know that my style is high quality/no fuss – so a pop-up housing four of London's much loved modern restaurants in low key surroundings sounded right up my street.
Getting a little disoriented, Erica, Charlie and I were eventually reassured that had found the the right place with the help of a flashy neon sign and huge queue of hungry punters. Luckily we had been organised enough to book a table (they take reservations for groups of 6+) so only had to wait a few minutes before whizzing up 16 stories to the top of the old multi story car park.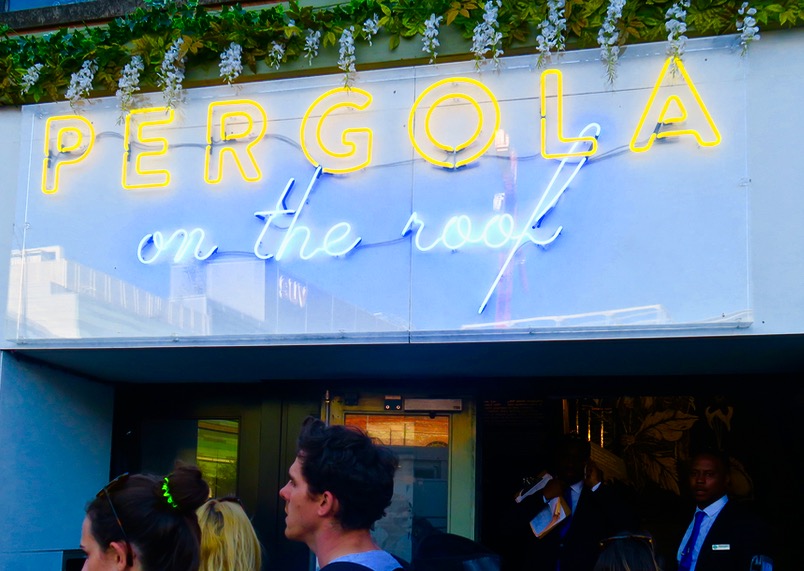 Coming out of the lift we were greeted by a white pebble covered area which in the glorious sunshine looked more like Greece than Wood Lane.
Welcomed by a host we were guided to our table within the vast pergola, which was prettily decorated with winding flowers.
The area was spacious but laid out in a way that made everything was easy to find, my first stop was (of course) the large central bar to claim my free cocktail (if you sign up here you can get one too).
Sitting sipping my fruity punch in 30 degree temperatures I honestly felt like I had been transported on a trip abroad rather than a disused car park in London.
Once Katy arrived we gave into temptation and could not wait any longer to get stuck into the food. Not being able to decide on just one of the four restaurants, we opted to have a little bit of everything.
The girls started out with Le Coq, a French style rotisserie restaurant based in Islington serving quality free range chicken and award winning potatoes. Sadly I had to miss out on this one as I am a vegetarian but the chicken with harissa and fat fried with chips, topped with scratchings which seemed to go down a treat with the rest of the girls.
For my first course I went for the deep fried Courgette Flowers stuffed with Goat's Cheese and drizzled with honey from Salt Yard accompanied by an aubergine and orange salad. The salad was light, fresh and perfect for such a balmy day but the courgette was the true stand out.
The first time I had courgette flower was at Pllek in Amsterdam, and I have been searching for a comparable one ever since. My hunt is finally over; the courgette stem was perfectly crunchy, and stuffed with warm oozing goats cheese, coated in a delicate barely batter all topped off with sweet honey it was everything I had been looking for and more.
Salt Yard brought just some of their Spanish and Italian inspired small plates to Pergola and, after this delicious introduction, I cannot wait to head to one of their restaurants to check out what other culinary delights they have on offer.
With the arrival of Milly and Jasmine it was time for the next round of food and drinks. Feeling like I had been a little too healthy with my first two choices I headed to Patty and Bun to get a generous helping of their amazing fries.
The others kept it classy with hand dived scallops with a chorizo crumb topping form Rabbit, an eatery that prides itself on seasonal produced and nose to tail eating.
At this point I was so full there was no chance of me squeezing in another bite so I simply took the time to sip my beer and enjoy the last few rays of sunshine.
The pop-up food scene is huge in London at the moment, which I am all for as I feel that it gives independent and emerging talent the ability to showcase the huge variety of quality food that is available within the city, all at affordable prices.
Though Pergola has taken a unique take on street food – hosting four much loved restaurants rather than going for a large market style space – there is truly something for every type of foodie and was the perfect place to spend a summer evening, catching up with friends.
Pergola is open Wed – Fri: 6pm – 11pm, Saturday: 12pm – 11pm, Sunday: 12pm – 9.30pm and is only around until the 29th August! If you are in London my advice would be to round up your friends, book a table and enjoy the summer rooftop before it is gone.
What is your eating style do you prefer a traditional restaurant or a little bit of everything like me?
* My evening at Pergola was complimentary however, as always, all opinions and words are my own