Spending a weekend in Berlin was a complete surprise to me, I only found out the destination for my birthday trip when Pablo shared my boarding pass with me at airport security which meant all planning and research had been taken off my hands. Every trip we have taken together over the past 9 years has been been controlled by me, so it was a new (and slightly daunting) experience letting Pablo take the lead.
Transport
We flew into Berlin Schoenefeld Airport from Gatwick with Easyjet; it was not the most glamorous airport but was efficient and well connected by public transport. The train system was pretty easy to use and it conveniently took us straight from the airport into town.
The only difficult bit was working out which tariff zone we were in. Berlin is split into 3 zones: A, B and C. Agreeing that we would buy an AB pass just to be on the safe side we purchased a day ticket for €4.70, but if you were staying longer then there is also a €30 Seven Day Pass. These passes can be used on Berlin: S-Bahn, U-Bahn, buses, trams, ferries, and with the help of City Mapper getting around was pretty simple.
If public transport is not really your thing Uber is also available, but as with all trips my favourite way to get around was on foot.
Accommodation
Pablo opted to use my favourite service Airbnb and booked the an amazing warehouse apartment in Friedrichshain – an area filled with art, independent shops, eateries and rock bars which could have not been more of a perfect location to spend my birthday.
Things to Do
Day 1 –
Our apartment was really close to RAW Gelände, a jumble of derelict buildings making up an artistic area, celebrating urban cultures through exhibitions, artist residencies, workshops, and gigs. The area also houses a climbing wall, skate park, and plenty of places to grab a beer or something to eat. Arriving late afternoon it was a great place to have a wander and plan our next few days.
Since it was our first time in Berlin we took our first full day to see some of the most common sights, making our way to Checkpoint Charlie, The Berlin Wall Memorial and the Memorial to the Murdered Jews of Europe.
Tourist attractions are not really my thing but I think it is important to visit places of historical significance whilst travelling.
Heading back into the city centre we met under Berlin's TV Tower, a huge needle that points to the sky. Surrounded by tourists this was my least favourite place we had visited so far but ended up being worthwhile as it was the starting point for our excellent Alternative Walking Tour which got its own blog post here. After 2 hours of walking we finished up our tour at colourful YAAM Beach and rested our feet, whilst sipping on a beer amongst the lively crowd.
Recuperated we continued walking along the river, taking in the art at East Side Gallery before crossing back over the Spree to make our way for some food at rock restaurant and venue White Trash.
It had been a long day so we grabbed a couple of beers and took a slow stroll home, on the way back we stumbled across one of the many vintage Photoautomats and got some snaps taken to commemorate a successful day before heading back to RAW Gelände for a nightcap.
Day 2 –
Since we had packed so much into our first day the next one we took things a little easier. After a relaxed breakfast we spent the morning revisiting Hackescher Hofe to take some outfit pictures and visit Museums Blindenwerkstatt Otto Weidt, an old factory where owner Otto Weidt protected his Jewish workers from persecution. The museum was small but housed a fascinating story about the kindness of humans and war time survival.
Taking a walk to process such a heavy tale and to look at some more street art we then headed on to check out Berlin's famous markets.
Running short of time we only managed to visit Flea Market at Boxhagener Platz which offered up an eclectic mix of food, fashion, vintage and home-ware. I wish I had more space in my luggage as this place was an absolute treasure trove, but instead I had to settle for a black iced coffee, cookie and a few patches.
That was meant to be the end of our time in Berlin but due to a hole in Gatwick's runway our trip was extended.
Day 3-
Our next day was my birthday which we spent doing a few of my favourite things, which of course started out with with brunch. Today's eatery of choice was cool cafe Silo where we had a gorgeous Australian style breakfast before popping back into the city centre to pick up a few bits from Weekday a store that I always stop by when in Europe.
Then it was onto The Ramones Museum which was another place that was worthy of its own blog post.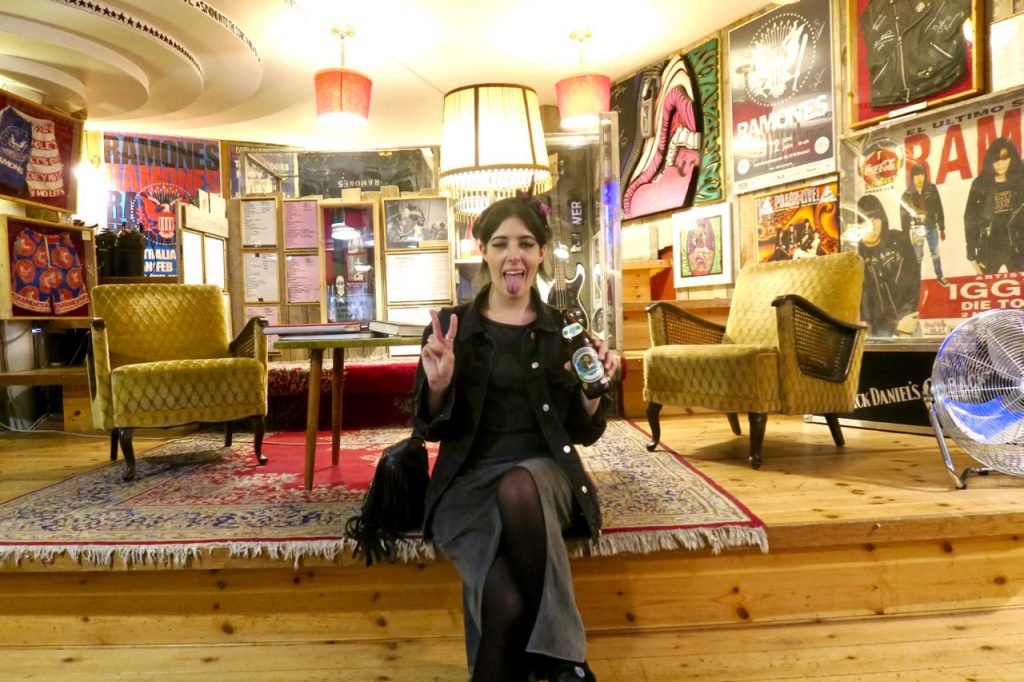 Continuing on the Punk trail we ventured to Kreuzberg to visit Coretex Records, an amazing record store packed with punk and hardcore music and memorabilia.
The rest of the day we strolled along the Spree stopping off for beers on the way before grabbing tacos for dinner, finishing our evening in Paule's Metal Eck bar.
Food, beers, shopping, rock and exploring were a winning combination for my dream birthday.
Places to Eat
I have already shared a few of my favourite places but there are so many that I am going to share the full list in a separate post so what this space…
Berlin is one of the coolest cities I have been lucky enough to visit; steeped in history, a thriving art & music scene and with a gritty independent edge, it is somewhere I will definitely be back to.