Where to eat and drink is my number one search before heading to a new place because food is one of the major joys of travelling for me. Germany is not typically known for their meat free delicacies but I was pleasantly surprised by the variety of vegetarian food in Berlin; so here are some of my favourite places that we visited on our weekend break.
This place totally warrants having its own blog post, but I had such a great time I forgot to take any pictures! With "Heavenly food and devil music" this place is my dream venue.
The restaurant White Trash Fast Food is a laid back eatery with large in and outdoor areas. We choose to enjoy the summer sun and dine alfresco.
The menus were homely, yet unusual, encompassing food from around the world including German, Asian, Mexican, French and Swiss influences. I kept it simple going for a huge homemade veggie burger served on a freshly baked organic bun with chips and a pint of the house beer – all of which were impeccable.
Our server (as well as all the other staff) oozed cool but were also incredibly friendly and, despite being rushed off their feet, were super efficient. If the restaurant was not enough the space is also a rock music venue and a tattoo shop. White Trash is such a strange mix of everything, but it worked together to create my dream hangout and I will be forever grateful to Katie Brennan for recommending it to me.
Located in Friedrichshain, Silo is a super cool coffee shop serving up super fresh Australian style food and a serious coffee selection. If you want to read more I have a full post on Silo.
Serving up high quality craft coffee and freshly baked goods in an incredibly cool setting.
The decor is bright and simple but has a few stand out features such as the fresh plant covered central sink and the huge piece of art by El Bocho. This is a perfect place to unwind or to take your laptop to and get some work done.
The Baristas also totally live up to the shop's name and were extremely happy and created a very welcoming environment.
This hole-in-the-wall sized Mexican restaurant drew me in with its colourful artwork and margarita happy hour.
Getting a table inside, we shared a selection of the contemporary Mexican style fresh food.
The mix of flavours were interesting yet worked in both the Espinacas Y Noral (a plate of 3 corn tacos topped with spinach, cactus, chile poblano and black been hummus) and Camote Y Plantano (a quesadilla stuffed with sweet potato, plantain, chipotle and caramelized red onion).
Since it was my birthday we made our way through the cocktail menu trying both Mezcal and Tequila options – my personal favourite is Eastside Hibiscus Margarita. 
A simple park side café owned by siblings from Toronto offering up freshly baked goods, amazing bagels and delicious sharing boards. This is another place which got a full review.
Right beside Ostkreuz train station we only choose to eat at 
Milja & Schäfa
because it was convenient and we were hungry, however it turned out to be yet another amazing Berlin brunch spot.
The decor is simple with wooden walls, incandescent lighting; all with modern pops of black and red, giving an air of Scandinavian cool.
Seated at the window, I choose scrambled eggs mixed with feta and sweet potato which came served with a basket of freshly baked bread. As a vegetarian (and brunch fanatic) I have eaten my fair share of eggs and these are right up there with some of the best ever!
A bar selling vegetarian and vegan street food in the heart of RAW Gelände.
The MRP bar started over 90 years ago and has gone through many changes, including being a place for elephants to be held from visiting circuses and the zoo, which explains the elephant themed decor running through the small space. The name was also inspired by the bar's history: starting out as MRP it was changed to Emma Peanut to once again give a nod to the elephant residents.
The food is simple, yet delicious with a choice of burritos, burgers, wedges and various other seasonal offerings. We shared the vegan burger, burrito and wedges – a massive amount of food for two people, but probably just what we needed to soak up all the beer we had sloshed back on day one of our trip.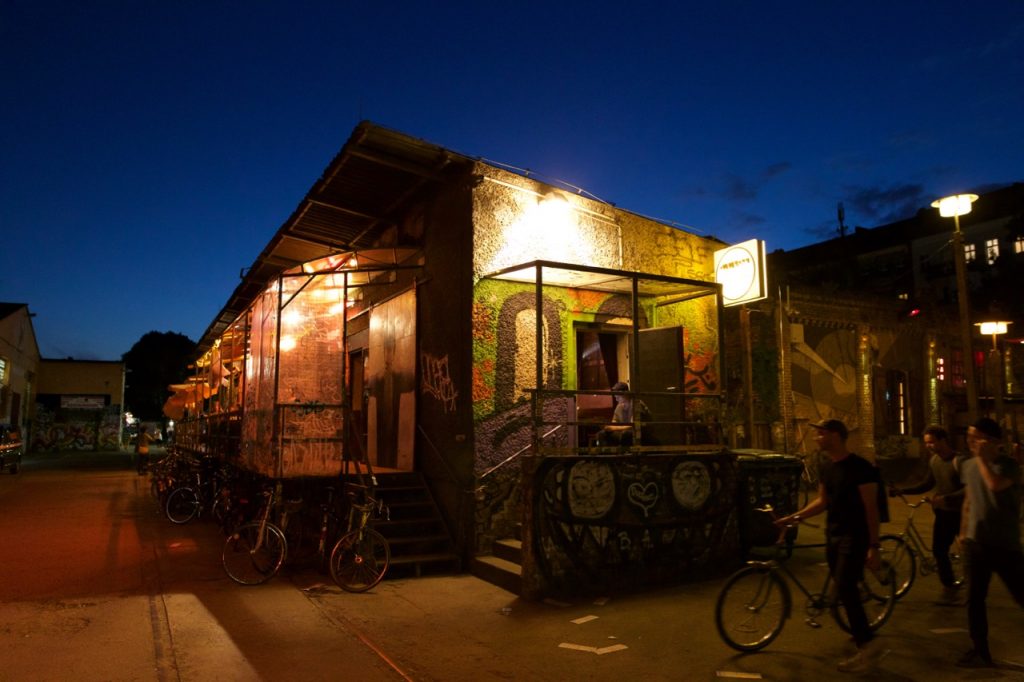 A cool café once again taking pride in their craft coffee. The space sprawls over two floors of the stunning old Aschinger building and was awash with MacBooks, people having casual meetings and those just stopping by for a caffeine fix.
Pablo and I stumbled across the cafe whilst aimlessly wandering and grabbed a quick cup of strong coffee, a fresh salad and sandwich; but is the sort of place I would have happily stayed all day due to its lively buzz.
St. Oberholz is more than just a great café, it also has co-working spaces, meeting rooms and even apartments for startups – all along side a fantastic community vibe.
If you follow my foodie adventures you will know I am all about low key, high quality places – which Berlin has plenty of.
If you like this post why not pin it for later?