Pllek is located in the heart of Amsterdam Noord, a place that I visit every time I am in the city as it is filled with art and independent businesses.
This area is so unique because unlike many other cities who bulldoze creative areas in favour of generic shiny developments, in Amsterdam Noord the community has utilised what was already there to create a unique urban landscape. Pllek is no different; the café, bar, and creative space is beautifully crafted form shipping containers – paying homage to Amsterdam Noord's shipbuilding history.
Despite being built from unusual materials, Pllek has succeeded in creating a bright, airy, and modern space that is the perfect place to hang out in, day or night. It is not just the interior that is impressive but outside there is a beach area with beanbags, hammocks and boats which is the prefect place to relax and take in the city view over the river.
The first time I visited Pllek was two years ago and enjoyed it so much that when I found out there were no plans for our group trip to Amsterdam I insisted that we hop on the free ferry from Amsterdam Centraal and grab lunch at the container cafe.
I always get a little nervous taking friends to somewhere that I have rated so highly, especially in a different country. What if it has changed or I had built it up in my mind?
Thankfully it was just as great as I remembered, but much busier. Despite its increased popularity we managed to grab a long bench in the sunshine and were served super quickly.
The menu is simple café style food such as sandwiches, salads, and pasta, but each dish is done in a modern style offering up interesting dishes, made with seasonal and organic ingredients.
On our last visit Pablo and I went to Pllek for lunch but were so impressed by the food we returned the following day for breakfast, so I had very high expectations.
This time I went for an open sandwich with creamed aubergine, cumin grilled courgette, goats cheese, pomegranate and dukkah served on dark sour dough bread. The flavour combination was rich but not over baring, the bread was perfectly dense and held the toppings without becoming soggy or losing any of its chewy texture.
When Pablo's special salad arrived I could not just stick with my own meal and as always asked if we could swap half way through. I can't quite remember all the ingredients in this one but the varied textured made for an interesting dish.
Thankfully the rest of the table seemed to like their meals just as much as I did with clear plates all round.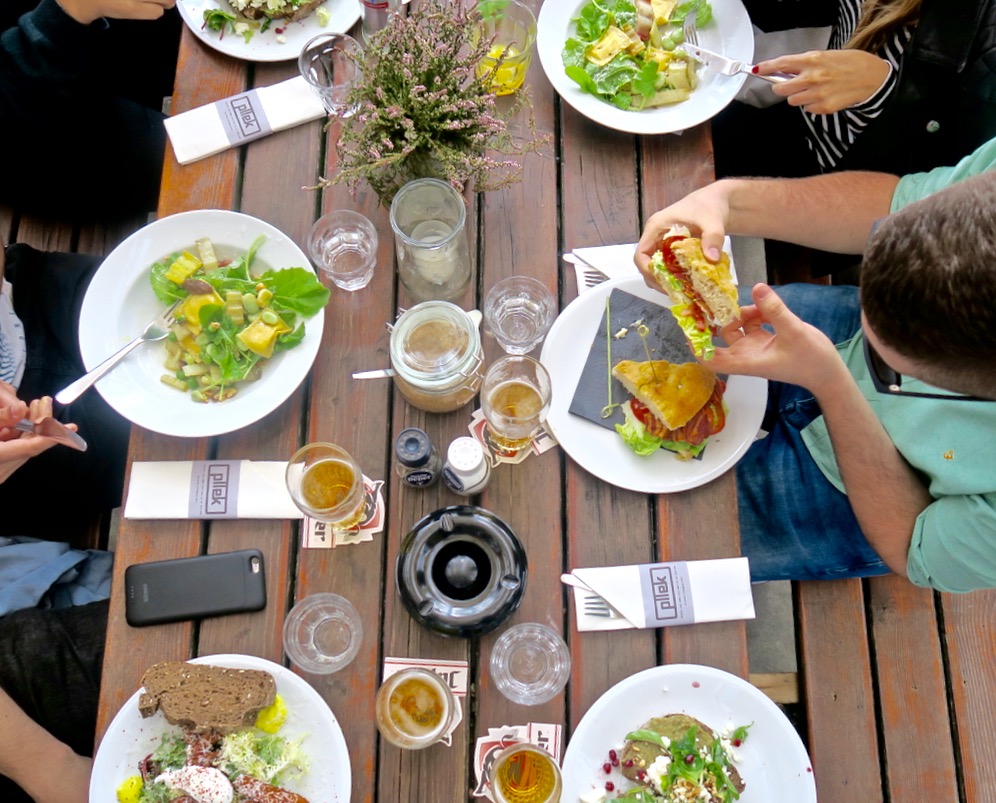 Soaking up the lively atmosphere we grabbed another beer before heading off to explore the huge warehouse and urban art in the surrounding area.
Though I have only been to Pllek to eat, they offer plenty of other events including yoga and art exhibitions. For those who prefer to party rather than relax they also have a full evening programme that takes place under the reflections of Amsterdam's largest disco ball.
I very rarely visit the same place twice, let alone three times, but for Pllek I made an exception as the food, staff and ethos are everything I look for in a dream hangout.
Pllek
 TT Neveritaweg 59
1033 WB Amsterdam
If you like this post why not pin it for later?