I haven't done a personal style post in ages and that's for a few reasons;
1) Fashion Posts Take Time
Time is something I am very short of at the moment and despite the popular belief that fashion bloggers just chuck on brand new clothes, take a snap and go, it actually takes a whole load of planning and preparation to get a fashion post together.
Firstly there is the outfit itself which also includes makeup that coordinates and looks good on camera. Then there is location, some people shoot in their room or garden, which works for them, but I am really particular about having street art featured in every fashion post so hunting out new art is another time killer.
The time of day is also important; with winter upon us there is a battle to catch the light before it's gone.
I also need to coordinate my schedule with Pablo, my dutiful boyfriend and photographer, who not only is my blogging assistant but also runs his own successful and demanding business. If I had Bernard's watch there would be way more fashion on the blog.
2) Self Confidence
I have been feeling a bit down lately and when I am not feeling great about myself the last thing I want to do is get my picture taken. Even if I do muster the courgage to step out and get snapped, if I am feeling insecure the editing process becomes a magnifying glass for all my flaws so I would rather step away from the negativity until I am back on track.
3) Fashion Costs Money 
This was a really big reason I think I felt so self conscience about posting a new look on my blog. Right now I have zero money to spend on clothing and instead have made the choice to spend my pennies on travel. This does not mean my love for fashion has gone away but looking at other bloggers with their endless ASOS hauls and fresh new outfits I felt that my outfits seemed inferior.
Then I snapped myself out of it and released that I am inspired by people's style, not their spending habits. I give no fucks if something is this season's or last – as long as it makes me feel awesome; I am sure other people feel the same. So this outfit might not be new or cutting edge but with some high quality basics in your wardrobe you can style an outfit for any occasion without having to break the bank.
I often talk about style staples on Emma Inks and these are some of my autumn favourites;
Leather trousers make me full super sassy whether I am popping to Tesco with an oversized jumper thrown on top, or on a full blown night-out. With heels and a sheer bodysuit it's hard not to feel badass in leather trousers.
Skate trainers are my go to in any season, they are comfortable and go with any outfit.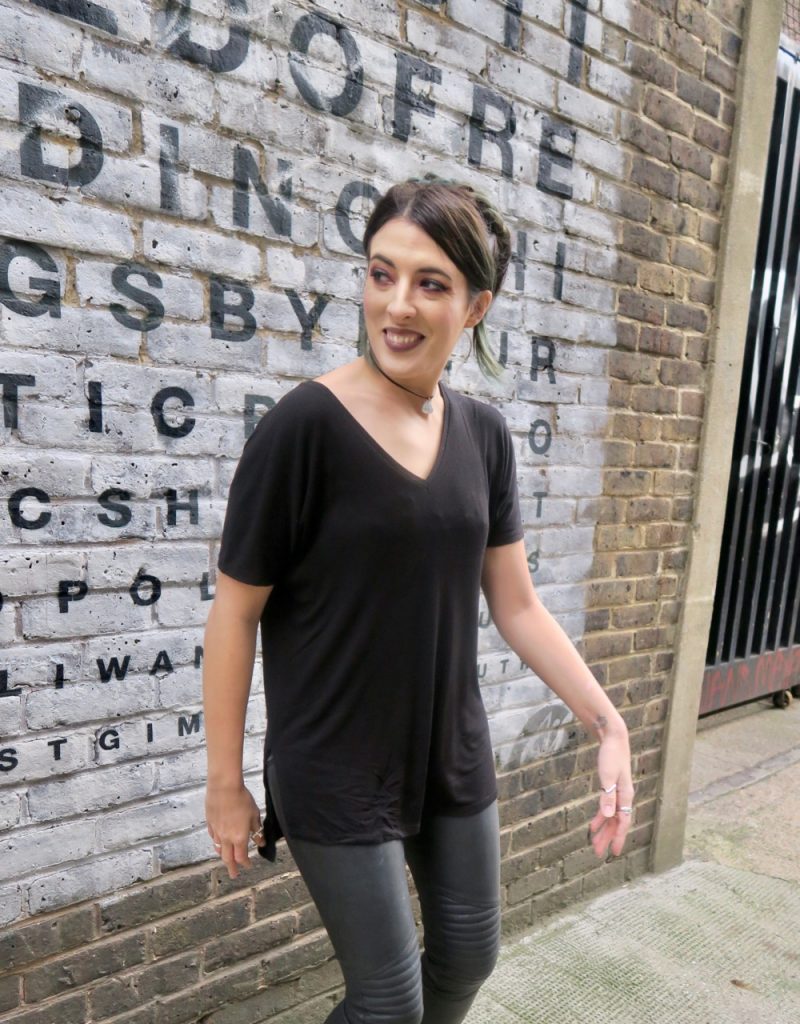 A boyfriend T-shirt is another must have item, tucked in or left hanging loose, they give an effortlessly cool vibe.
An oversized jumper laid back and the epitome of comfort. This one is from Weekday, my favourite store for basics with an edge.
A denim jacket is another classic that never goes out of style and can be layered up in winter or thrown over a dress in summer.
Sometimes is hard not to get caught up in the buy, buy, buy mentality that is thrown in our faces but I think it is important to remember that pieces of clothing come and go with the season but style is timeless. I really want to push the idea of style rather than fast fashion so am aiming towards making fashion a more regular feature, both here and on my YouTube Channel.