They say a picture paints 1000 words and this was something I had forgotten when it came to my own blog fashion photography. Getting in the habit of constantly taking pictures for my blog or Instagram, and filming for YouTube I got stuck in a rut and forgot why I was taking pictures. Images are not simply props they are a vessel to tell a story.
An early Saturday morning Pablo and I headed along to a fashion photography workshop by Holly McGlynn an award winning fashion photographer with an impressive portfolio.  We began with a quick introduction where each of us said what we did and why we were at the workshop; the class was an eclectic bunch but most of us were there to find out about Holly's unique take on photography and how to improve their own.  Then we moved on to look through Holly's work and the photographers who inspire her – it was obvious that story telling was at the heart of the images she creates. Her images are irreverent and bright in style and though they are still, they give the feeling of movement and life within the frame.
Taking in the playful images I felt inspired to add some of the fun element back into my own blog photography.
Next up we were set a challenge! To take the information she had given us and come up with a concept and shoot.
We were in Shoreditch House (a "no suits" hipster private members club) so there were plenty of amazing backdrops to choose from but after spotting a old abandoned dirty martini that had began to curdle I decided to stay where we were and go for an after party theme.
We grabbed bottles threw them on the floor and I stepped through them.
Pablo and I then worked backwards and created an entire story which went as follows;
A woman (me) gets invited to a badass party and tried to hide her loneliness and awkwardness she got wasted, hung out in the photo booth and, of course, published her antics on social media before passing out. Ok I may have taken inspiration from real life events!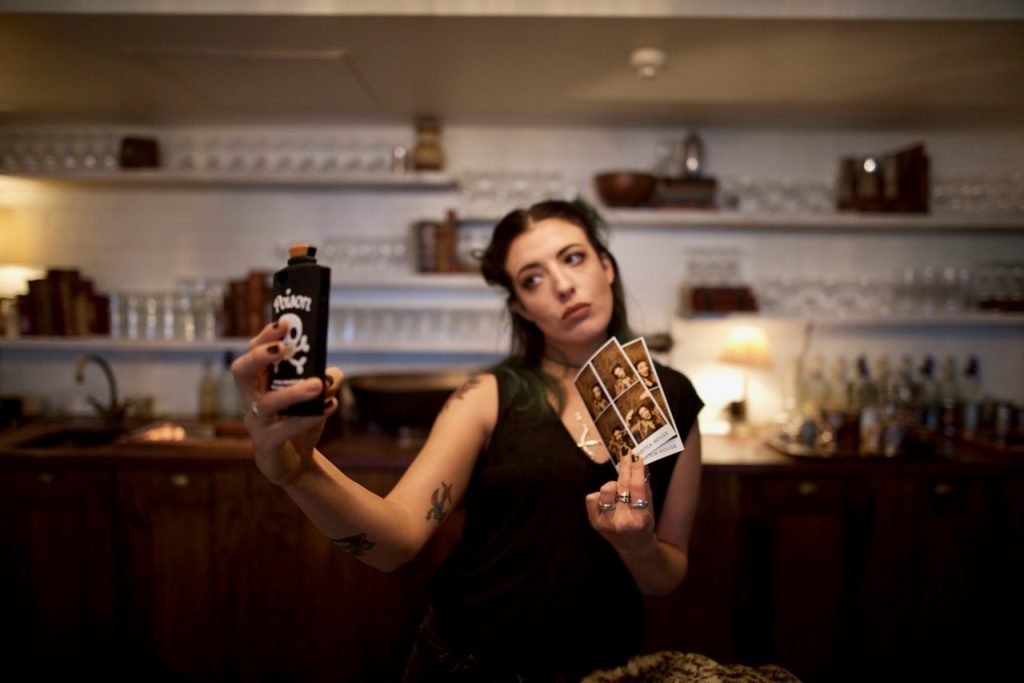 I like to shoot outfit posts because I still find them a challenge, I'm not comfortable in front of the camera, Pablo and I are not communicative with one another and they always end up seeming like a bit of a chore. Having a concept instead of working out what we want form the shoot as we go along not only gave us much more fluid pictures but was also way more  fun.
After 45 minutes of running around like idiots and throwing ideas at each other it was time to review each other's pictures. Everyone's work was completely different and it was so interesting how much the images varied yet had a strong narrative.
These might not be the most 'fashion' pictures I've done but a morning with Holly definitely lit a fire up my ass to make my outfit posts and lookbooks more of a story instead of just standing in front of a wall trying not to look cold.
Shout out to Pablo for being my photographer as always!