Though Emma Inks has only been in existence for just over two years, the idea of starting a blog began in Los Angeles 10 months before. It was my first time visiting the West Coast of America and I really wanted to share my travels in a diary style.
Since I was back where it all began I thought it might be nice to bring my blog back to its foundations and share my travel diary so you guys could come along with me on my trip.
If you prefer a quick read there will also be plenty of tips and highlight posts to come, and if you want even more I am also vlogging the entire trip.
This may seem like overkill but travel is my passion and I want share it!
Day 1, Los Angeles
Waking up in our cute little beach house in our Airbnb host's back yard I sprang up early ready to hit nearby Venice Beach; one of my favourite areas in LA. Pablo and I stayed in the area with a couple of friends 3 years earlier and spent our morning sipping on a smoothie at a beach side cafe in the blazing sunshine – a glorious way to start the day and a meal that I could not wait to repeat.
Unfortunately, we were not so lucky with the weather this time round – uncharacteristically we were met with grey skies. I was convinced that the famous LA sunshine would burn through the clouds at some point so we set off early in search of breakfast.
Stepping out of our apartment we bumped into our Airbnb host: a friendly Mexican lady with stereotypical bleach blonde hair and blinding white teeth. After a quick chat she pointed us in the direction of her favourite breakfast spot which was conveniently just across the road.
Jet lagged I was in need of a strong coffee, which I got and so much more. Superba was a cool brunch spot with excellent coffee, an in house bakery and fantastic brunch (post coming soon).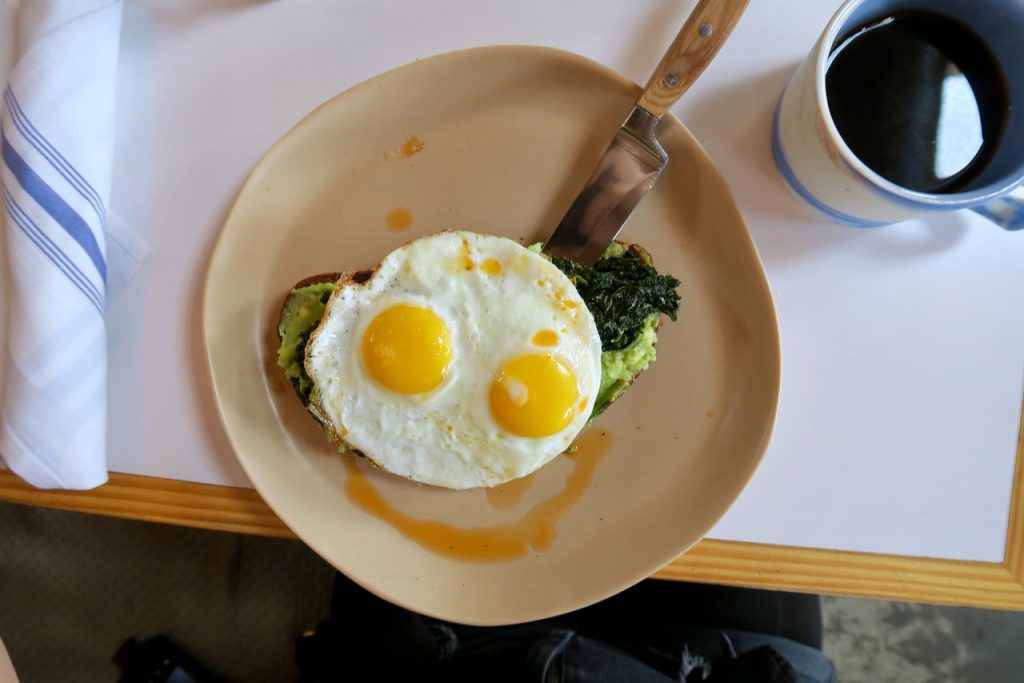 Still convinced that the weather would change we decided to walk along Lincoln blvd until we reached Santa Monica Pier. This isn't a pretty route, mainly filled with practical places like garages, grocery stores and fast food places but was interesting to see how residents go about their daily lives outside the postcard picture areas.
Taking a left we made it to Santa Monica's main shopping area where I made my pilgrimage to Sephora and Nasty Gal. Feeling pretty poor after the pre Christmas shop we didn't stick around for long and made our way to the pier instead.
There were a few tourist meandering around but there was something pretty sad seeing a rollercoaster whizzing around with no one on it, so we moved on pretty quickly.
Finally hitting the beach we strolled along passing all kinds of people; couples on holiday, guys trying to find treasure with metal detectors, surfers bracing the miserable weather to catch a wave and homeless people surrounded by their worldly possessions curled up in the sand. This diversity was what drew me to the area on our last visit but as we reached closer to the pretty little cafe I mentioned previously in this post we were greeted with the reality of Venice Beach's grittiness. Without sunshine drawing people in the beach all that was left were the permeate residents.
There were hundreds of homeless people gathered in groups or under make shift shelters. Distracted by the sunshine and excitement of my first trip to the west coast I had rose tinted glasses on, and I was shocked at how oblivious I had been to the extent of the problem on my last visit.
Making our way back towards our little hut we passed people living in rows of tents before turning onto Abbott Kinney, a cool area with indie boutiques and restaurants. The stark difference between these two areas, only minutes from each other, really struck me. I know there are similar problems in most large cities but like most things in America it just seemed bigger.
Going for lunch at cool buffet spot, Lemonade, seemed insensitive after seeing so many people struggling on the streets but it is such a mammoth problem that I felt helpless.
As the jet lag set in the heavens opened and the rain did not stop all night, so we grabbed a pizza and stayed indoors. Despite my excitement about starting our month long trip I could not shake the thought of people so close by suffering in the storm whilst I was curled up in a warm apartment.
This reality check has made me determined to pay attention to the problems in the places I visit instead of being blinded by the positives.
If you want to find out how you can help with the Los Angeles homeless crisis, the LA Times has this article with a list of resources.