Turning trash into treasure is a concept that I love because there are so many little things we pass by and, without knowing, they are in fact the foundations for the big things that happen.
Emma Inks is a kind of all over the place lifestyle blog, and that's because I draw inspirations from so many different places – I simply cannot pick a niche. I know it's a confusing blog to decipher sometimes and I think that is maybe because I am only sharing with you the big moments making it seem disjointed.
This is the reason why I am switching things up and, along with my usual monthly fashion post, you're also going to get a roundup of what's being going on in my day to day life, which will hopefully help you understand my crazy little world a little more. Don't worry if you're only here to see me posing about, I am starting of with a classic OOTD but there's also more if you want to keep scrolling.
The Location
Coming out of London's iconic Waterloo station most people head towards vibrant South Bank and while it is one of my favourite areas to spend a Saturday, there is a lesser known place that I prefer to visit when I'm in the area. Taking a left past the London Eye there is a disused rail tunnel covered in the most incredible street art.
This is not your average gallery, there is usually a distinct smell of urine in the air, and you have to clamber over last night's beer cans, but within this tunnel there is so much beauty to behold.
The tunnel was brought to life back in 2008 by world famous artist Banksy, his intent was to "transform a dark forgotten filth pit" into "an oasis of beautiful art". Nine years later and the once deserted tunnel is still used as an authorised graffiti area where artists add to the layers of paint clinging to the brick walls. The work goes from floor to ceiling and is ever changing; this perpetual cycle of new artwork is what keeps me coming back for more.
I love the idea of something ordinary being transformed into art and though it might not be everyone's idea of beauty, it's way more interesting than plain old brick.
As mentioned above, the Waterloo graffiti tunnel is one place I like to revisit. Close to the bustle of South Bank it feels very 'London', with iconic views of the Thames, Parliament, the London Eye and (of course) a million tourists. Though being in a crowd is not my favourite experience, it's a great place to people watch and knowing about hidden gems such as House of Vans and Scootercaffè means it's easy to slip away for a breather.
The Outfit
A few weeks ago Boohoo invited a small group of us along to get our DIY on and customise some of their new range of band tee's. Not only was it fun to actually take the time to get crafting I also picked up a whole heap of tips and tricks (which you can read about here) by sitting watching the other girls at work. This Nirvana number is one of my efforts and though the cuts were almost a little too revealing I am really happy with what I managed to pull off with a pair of scissors and a couple of hours.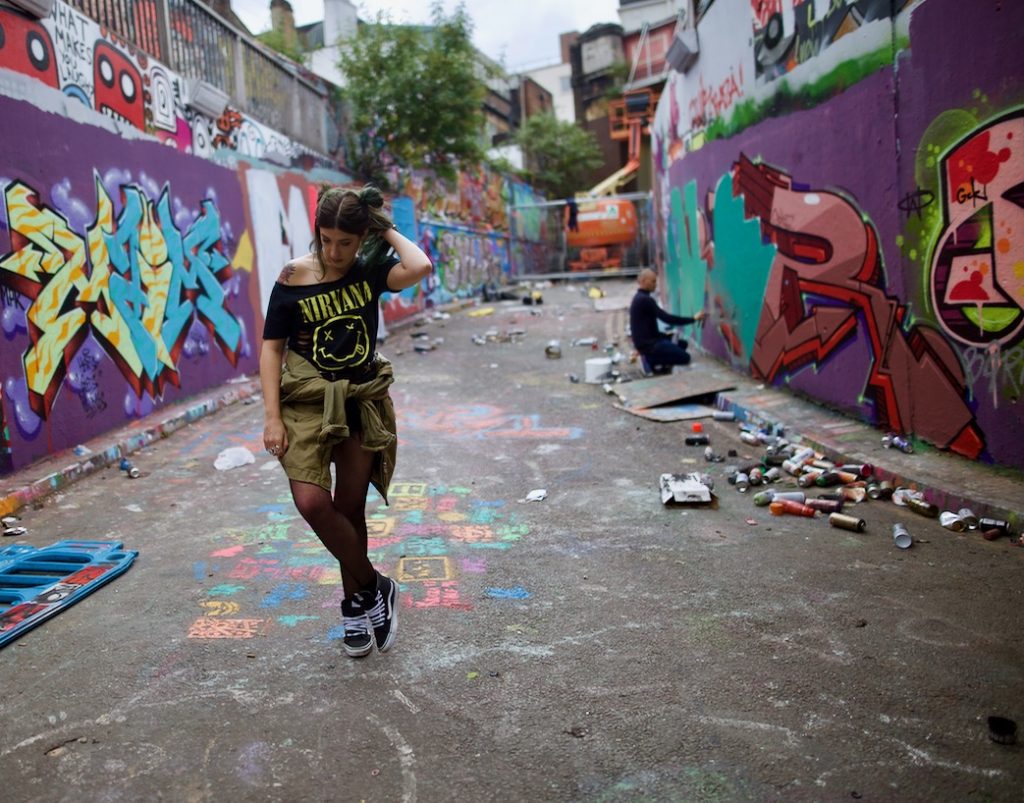 I paired this with one of my staple summer uniforms: fishnets, hotpants (also Boohoo), Vans, and a very, very old and well worn Topshop parka. I feel like I am giving off definite festival vibes even though sadly I don't have the funds to actually attend one this year.
Where I have been
These past few months have been odd for me. It's a time of transition and waiting for change which is hard for someone with practically zero patience. Soon I finish up a job I have had for seven years with no plans, which is both exciting and terrifying.
Making big life decisions doesn't come easily so I have had to cut back on travel to save money and pay off my credit card.This kind of practical behaviour goes against my nature and though I love London, knowing that I can't go anywhere for a while has suddenly made it seem much smaller and I've found it hard to feel inspired about exploring the city.
To try and muster up some enthusiasm I returned to some of my favourite old haunts to remind me why I fell in love with London in the first place.
The Waterloo graffiti tunnel was just one of the street art covered areas that I have been spending time in throughout June.
Brick Lane was the place I first felt at home in in London and despite being there every other day I hadn't actually spent any real time there in ages, so Pablo and I grabbed some beers, headed to the park, soaked up the sunshine and took in the ever changing art along the side streets. So often I storm around East London forgetting how many awesome things are right on my doorstep.
Hackney Wick; if you follow me on Instagram you will know that I have been here loads this past month. Though the area is changing rapidly with new builds being flung up left, right and centre but despite this it is still my favourite place to spend summer in London. The crowd isn't the same as it used to be but there are still many creatives in the area, also there is plenty of great beer, coffee, art, food and outdoor space to enjoy. Sadly I have a feeling that with rapid development this maybe one of my final summers in Hackney Wick, so I plan to make the most of it.
Camden; I used to go to here every weekend when I first moved to London but it's gotten so busy over the past few years that my visits have become much less regular. However, if one thing could persuade me to head north it was the invite from The Diner to try their new summer menu. With a heap of new dishes and a newly refurbished roof this is the perfect place to hang out this summer.
What I've been up to
The answer is sadly not much! Despite June being my birthday month and turning the big 30 cash is tight so we celebrated by staying a night at The Hoxton Hotel, grabbing brunch at the Towpath Cafe and wandering around London. Later in the week I had a second birthday brunch at Ozone with some of my bestest pals, the strong coffee and healthy food was much needed after celebrating another one of our friends birthdays at The People's Park Tavern the night before.
Apart from bimbling around London and enjoying every single second of the sunshine I have been working super hard on what I am going to do when I finish up work, so it's been a lot of planning and drawing to start me off on a steady footing.
What I've been buying
As you can see from my lookbook I have been wearing lots of Boohoo at the moment. I am loving their affordable rock themed range and the shorts in these pictures are so comfortable and longer in the back so are perfect if you've got a bigger booty like me.
I splashed a little of my birthday money in the ASOS sale but mainly on Calvin Klein underwear and pajamas. I know this sounds a little luxurious but I would rather have a few good pieces than a wardrobe full of items that are going to fall apart, and they are SO comfy.
I also came across a few new stores that you guys NEED to know about:
Missy Empire are an online clothing brand based on the principles of feminism, they offer up awesome high quality fashion pieces at totally affordable prices.
I also came across Tomsky Store an independent jeweller who makes the most incredible handmade pieces out of wood I'm going to feature his work in next month's post but couldn't resist spreading the word early.
Talking of love and jewellery, I also got another piece from my favourite rock jewellery store ever: The Great Frog. It's a heart shaped ring with a tattoo style love banner across it and I'm so happy to have yet another piece of theirs to add to my growing collection.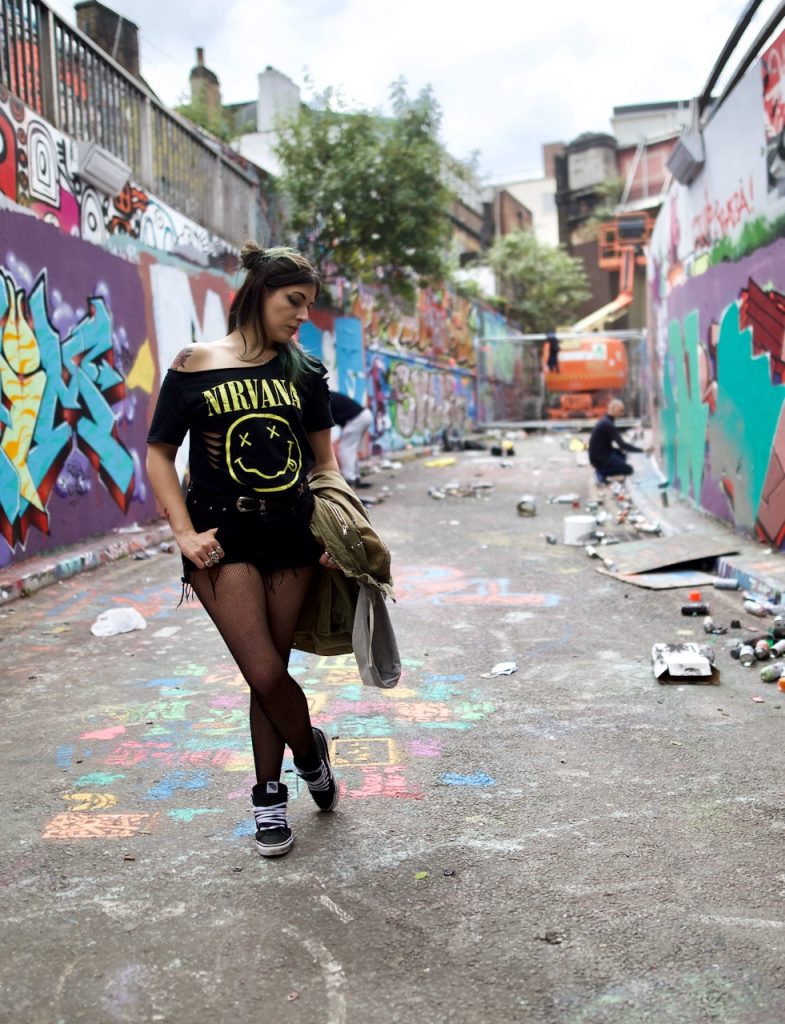 I've decided to change up my instagram a little again and make it more fashion focussed, so if you want to keep up with my messy style in real time that's the best place to check it out.
I have also picked up a few beauty bits this month as my skin always reacts terribly to the change in weather. I popped in the Deciem store in Spitalfields and got some great skincare advice as well as picking up a bottle of their much coveted foundation. I also bagged myself the glycolic acid 7% toning solution, niacinamide 10% + zinc 1% and the caffeine solution 5% + egcg which, so far, is helping to calm my angry face.
Apart from that all I got was another Kat Von D liner in trooper and my favourite clear brow gel from Illamasqua.
A little boring, I know, but fear not, I got some vouchers for my birthday and plan to do some big spending soon.
What's next
Actually speaking of BIG spending I did make one rather large, spontaneous purchase – I'm going back to New York again at the end of the month! I know that it's not the most sensible plan to start unemployment on holiday but if you read my travel story you will know that New York is a place of great inspiration for me. Also, I got a bonus from work as a goodbye gift and I would much rather live now than save it for a rainy day.
Things that are happening closer to home;
I am finally getting my hair seen to by a professional! My mum knows how much I loved my experience at Luke Jacob so as a birthday treat she paid for me to have a much needed cut and colour.
I'm getting a new tattoo from Martha Smith who did the thistle on the back of my leg, which I'm beyond excited for.
I am heading to a very special evening at The Harry Potter Studios as Charlie's +1. I have never been to the studio before so I am super excited for a truly magical evening.
Wedding season has also started so I get to celebrate the love of our amazing friends right here in East London, going by how amazing their house parties are this is going to be one hell of a soirée.
For it seeming like a super quiet month I've had a lot to say!
Hope you guys are enjoying the sunshine, let me know what you've been up to and what plans you have in the comments below