I know the term "autumnal" is overused in the blogosphere, as are posts about hot coco, cozy socks, and hygee, BUT I love Autumn. Though it brings with it rain and darker mornings, there's something a little magical about this time of year. Maybe it's the changing colours, but Autumn always feels like a transitional period for me – the year is beginning to come to a close and there is still enough time to accomplish the goals I set for 2017.
Another huge plus point for Autumn is Fashion, not only because it fits my dark aesthetic but also because it's fashion month. Now, I am not one for trend-led style, however, I do love seeing what's hitting the catwalk and, more importantly for me, street-style. I really do believe that the street and the catwalk go hand and hand inspiring one another.
As I write this London and New York Fashion Weeks are winding down. I have really enjoyed seeing some of my favourite bloggers stalking this seasons hottest styles whilst looking on trend. Though Fashion Week is not really my scene I do love following the storyline and anticipating what will be hitting the highstreet soon.
Some Autumn styles I am excited for;
Layering – Being experimental with pieces and layering them up in an unexpected way is the best way to create new looks without having to break the bank buying a whole new wardrobe for the new season. This jumpsuit from Tobi* was taken from casual summer staple to Autumn style by simply adding a layer underneath.
Autumn is leather weather – That glorious time of year when you can comfortably wear leather trousers without having a disgustingly sweaty Ross from Friends moment; and you can throw on a leather jacket on top of one layer and be the perfect temperature.
Cool Girl Hair – According to Vogue, minimal effort, tousled, cool-girl hair has made its comeback gracing the catwalks of Vivienne Westwood, Chloé, and Alexander Wang. Having blue hair is high maintenance, I rarely use heat in order to keep it in great condition; even when I do make an effort, an hour after I've left the house my usual kinky looks reappears alway making me look like I've gone for that cool girl look. Now it's on trend it might look intentional for once, rather than I've just got out of bed.
Red – 98% of the time I am an all-black-all-the-time kind of gal, but on rare occasions I have been know to add a little pop of colour into my wardrobe. Red is a colour I always come back to, whether it's on my eyes, lips, or in the clothing that I wear it makes me feel bold. My most recent red purchase was the vinyl skirt I wore in my Coney Island look-book; it makes me feel extra edgy when I wear it.
Western – Travel always inspires my wardrobe and I re-found my love for western style on our roadtrip through the midwest in January. It doesn't seem to be just Lady Gaga and I who have recently been drawn to western style with cowboy boots, cow print and cute cacti prints all on the catwalk; as seen from designers such as Tommy Hilfiger, House of Holland, and Balmain.
Leisure Suits – I'm a mega fan of incorporating sportswear into my everyday outfits – mainly because I am always on the go and need to be comfortable, but also because I love playing around with androgyny in my style. There is no way I will be going full Juicy Couture anytime soon but there is some amazing sportswear coming from Chloe, Fenty X Puma, and Marc Jacobs bringing the cool factor back to the tracksuit.
80's Wide Shoulders – I love 80's style so much! It was a time of creativity and vibrancy crimped hair, wild makeup and outfits to match. Though I will not be rocking a power suit or embracing neons this Autumn, I am pretty happy to see that shoulder pads are making a comeback – they totally work for my body shape (which I describe as an iceberg: narrow on top and wide at the bottom); a simple shoulder pad balances me out, making everything seem in proportion. My particular favourite pieces are from Saint Laurent: teaming black leather with shoulder pads to create an 80's dream combination that Cher would be proud of.
Fishnets – These are always a staple in my wardrobe but my long sleeve fishnet top is one of my favourite autumn pieces. Layered under a jumpsuit, band tee, or dress it adds texture and a rock edge to everyday items. Phillip Lim seems to agree, pairing vest tops with similar style tops on his catwalk.
Jeans – Not so much an 'on trend' item but I am so excited to be able to put my jeans back on without boiling! I am usually a skinny jean kind of girl but recently I have been swaying towards a more casual distressed, mom jeans. I'm hoping that anti-fit denim is a trend that sticks around for a while.
Boots – Another wardrobe staple I am happy to be able to wear again. High boots, ankle boots, biker boots, cowboy boot, knee high boot, I love boots!! I have made many attempts to wear boots this summer, each time ending up with hot swollen feet and blisters, so I am really looking forward to delving back into my collection without discomfort.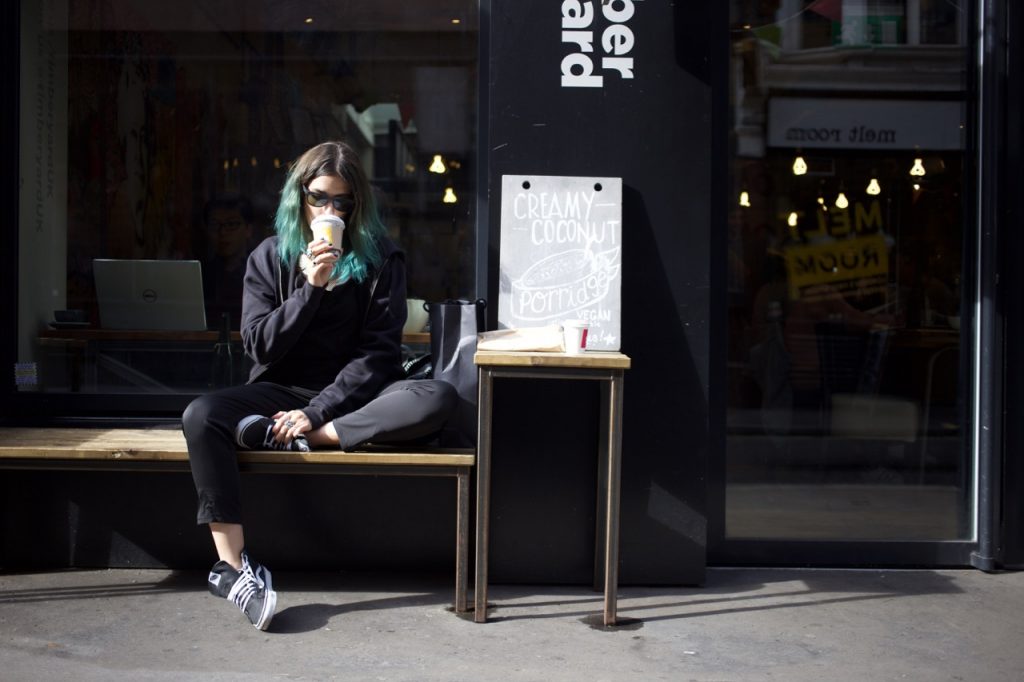 The Makeup – I'm not going to lie to you, I've been rocking a dark lip, dark eyes and bronze hues that match the autumn leaves all year, but I do get extra excited about autumn/winter beauty releases. The Naked Heat palette will remain a favourite, but I am also super excited for the Illamasqua Aftermath Collection, and Fenty Beauty everything!
Get my look – Jumpsuit from Tobi, Top From Monki, Trainers Vans, Necklace Afflecks Manchester, Hoodie The Great Frog
What about Autumn style are you looking forward to?
*Jumpsuit gifted by Tobi but, as always, all words and opinions are my own.