Last year we embarked on an amazing road trip to the West Coat of America for New Year. One year on we have stuck with the West Coast Roadtrip theme however this time in slightly colder Scotland.
I don't come back to my homeland very often but when I do I am always astounded at just how beautiful it is. Driving past lochs, hills and glens a weird sense of pride swells and reminds me how much being Scottish is part of my identity.
Staying in a house with 11 friends situated on the banks of Loch Tarbert could not be more different from the chaos of Las Vegas last year but is just as enchanting.
Sitting in such remote surroundings with no wifi has given me time – a luxury I never have in London. So swept up in city life I am used to a whirlwind of work. When I am not attached to a computer writing new posts, editing photos, reading articles and other blogs, watching YouTube, or on social media I am planning new posts, my social life and holidays now revolve around whether I think it might be blog worthy or not, and there is also my full time job! I only released how much Emma Inks had crept into every aspect of my life by being able to take the time to step away from it and not being connected.
Only a couple of days into our week break I have already been driven into Tarbert, a beautiful small fishing town, to use wifi, have blogged everyday and have not been able to sleep due to thinking about all the things I have to do.
I say have but what I really mean is want to do.
I have also had the realisation that writing is not some sort of self inflicted punishment, but is something I want to do.
Without working on my blog I am at a loss at what to do with myself. Standing outside in glorious golden sunshine, with freezing winds I was determined to get an outfit post done.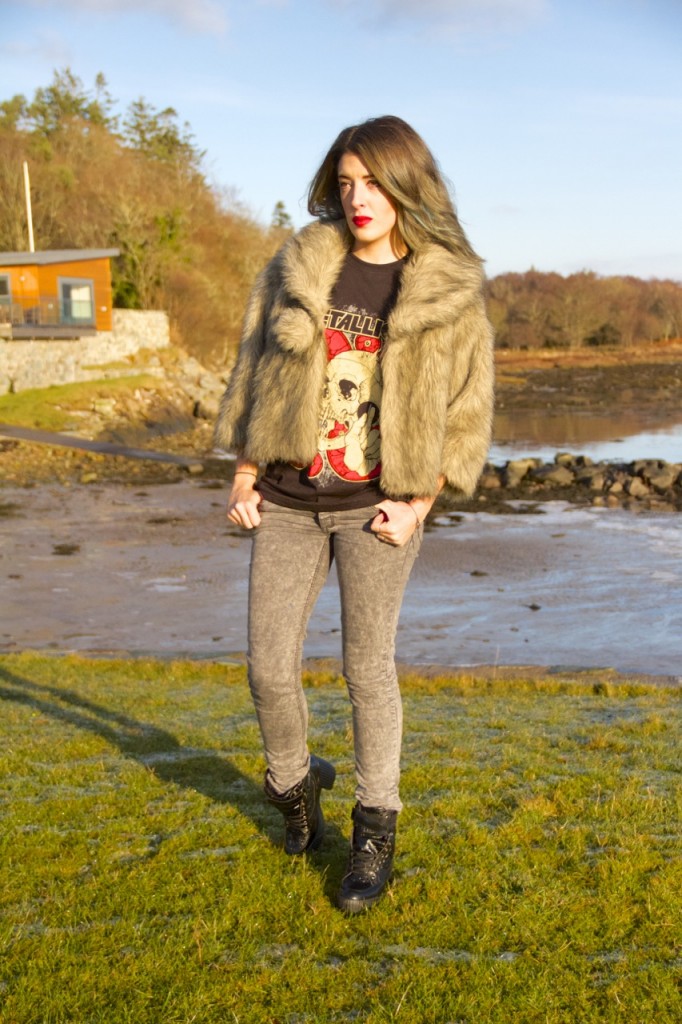 The back drop was undoubtedly stunning though my face tells a different story. I give massive credit to models who manage to hold it together in all conditions; no matter how hard I tried to relax my face was continually screwed up due to the mixture of blinding light reflecting off the loch and sea breeze stinking my eyes.
I picked up this outfit whilst in Glasgow sitting in the van at a red light. The pink Topshop "sale" signs were too much to resist and I made a dash while we were stationary, 10 mins and Metallica T-Short and Boots were purchased without a second thought.
The jeans are my standard Cheap Monday skinnys that are so comfortable and well fitting that I rarely venture to another denim brand. My faux fur jacket which prevented me from freezing to death was an old purchase from Patricia Field in New York, one of my top quirky boutiques.
T-Shirt – Topshop, Boots –Topshop, Jeans – Cheap Monday, Jacket – Patricia Field
Have any of you fellow bloggers had their lives overtaken by the need to create new content or do I need to learn how to relax?