I have done several blog posts on Oslo and I don't want to bore you with too many more but, as you can probably tell, I was a fan of the city so thought I would  share an overview of my itinerary.
As with most of my trips the plan consisted of wandering aimlessly, checking FourSquare when overly lost and taking advice from our local Airbnb host.
Transport
Flying Ryan Air and arriving late at night I was expecting a hellish journey into the city but at Rygge busses are scheduled to match the flights so it was as simple as hopping on the modern coach outside, paying around £15 (on the bus) then getting dropped at the central station just over an hour later.
This was the same procedure for the return journey, you simply have to check your flight time on Rygge-Ekspressens website and it will tell you which bus to get. There is also a train if you would like to skip the traffic, but it was more expensive.
Feeling confident after our easy airport transfer I took a tram to our Airbnb apartment instead of opting for the ease of grabbing one of the many taxis. The tram system itself is super efficient and simple to use however I did have trouble working out how to buy a ticket so took a few illegal rides which I would not recommend due to the astronomical fines if caught. The next day we managed to purchase a ticket (£9 for 24 hours, £23 for 7 days) from a metro station and grabbed the train, which was again surprisingly easy and clean.
Shopping
Though Norway is known for being incredibly expensive, food in the supermarkets was almost comparable to the UK so I opted to eat in at least one meal a day, yet another benefit of having our own little apartment. There are many supermarkets scattered throughout Oslo though I tended to stick with Rimi as I found it had the best selection.
Alcohol is considerably more expensive but if you are partial to a little drink whilst on holiday you can pick up beer from the supermarkets until 8pm on a weekday, 6pm on a Saturday. No alcohol is sold in shops on a Sunday and if wine and spirits are more to your taste then you will have to find a Vinmonopolet (state owned shops) which, though less numerous, have locations around the city centre. Due to the price and restriction I would advise to do as the locals do and stock up in duty free at the start of your trip.
We walked for miles in Oslo, starting out in the spectacular Vigelandsparken Sculpture Park then into the city centre, which was clean modern and a shopper's dream.
There was everything from high end designer to some of my high street favourites including H&M, Weekday and Monki at the same prices as the UK but in much quieter surroundings.
Though the shiny shops were of course tempting my preference was for the weird and wonderful finds at Bla Julemarket and the independent offerings in the trendy Grünerløkka area.
Since splurging was not financially viable so close to Christmas I made the decision to just window shop and spend my time visiting some of the local attractions such as the Port area and beautiful fjord.
We also stopped by the National Academy of Art…
and Holmenkollen Ski Jump which were all brilliant ways to spend an afternoon.
Eating and Drinking
Sticking with tradition, a huge chunk of my holiday revolved around eating.
I think everyday should start with a hearty breakfast – this was provided by Nighthawk Diner, a joint so popular at the weekend it was literally queued out the door.
Not being known for my patience I did not join the hoard and returned on a Monday when it was a little quieter. This allowed me to peacefully chow down on diner classics in the cool train car setting without feeling crowded.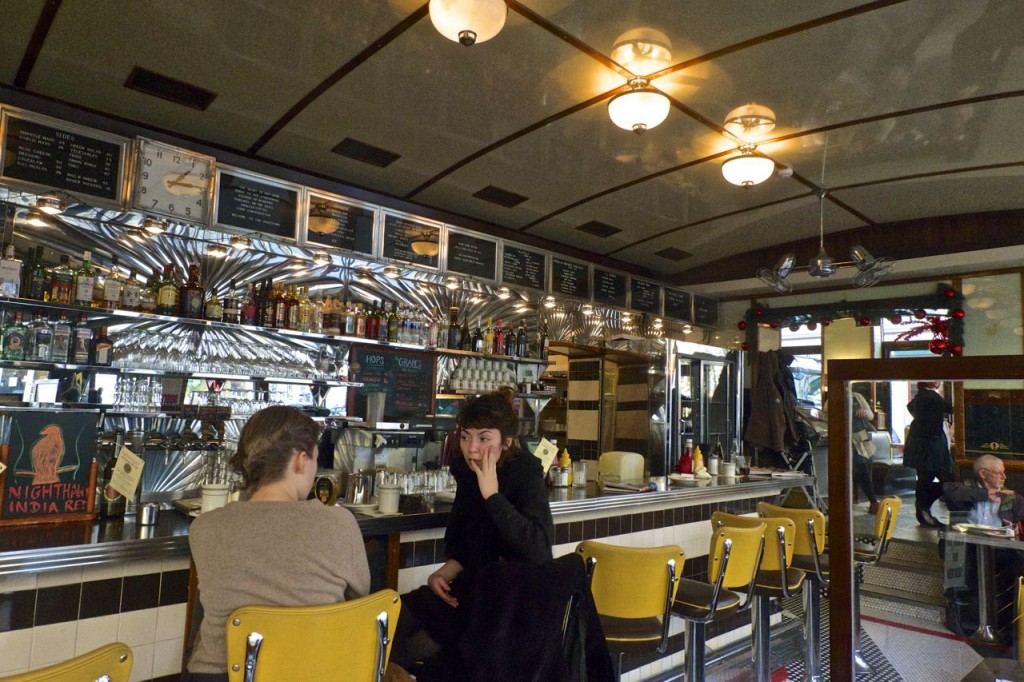 The other place I had breakfast was was Cafe Laundromat which served the same style of food but being such a superb venue got an entire post to itself.
If you are like me and require a caffeine fix every couple of hours there is a pretty decent chain called Espresso House.
Though good my preferred choice was Fuglan a cool little coffee house with filled suave students either chatting loudly or hunched over their MacBooks . The decor was like a comfortable 70's lounge with quirky details, like the Scrooge McDuck lamp I desperately wanted to take home.
For lunch we checked out Mathallen Food Hall which had a phenomenal choice of delicacies under one roof.
Being a vegetarian in Norway limited my options but I managed to grab a rather pricey but tasty cheese platter from Ma Poule, one of the French vendors that had expanded from London's Borough Market.
If the choices in the food hall are not quite to your taste then just outside was Dognvill, a classy burger joint serving up really great meat (so I was told) and a hearty veggie option made of smoked eggplant, paprika, portobello mushroom, garlic, paprika coulis, and spinach for around £15.
If like me you have a never ending appetite and still have room for dinner again Cafe Laundromat was a stellar selection for simple homely fare at around £15 or if you want something a little more exotic Tasty Thai was an authentic little place just across the street.
To finish up the evening I would highly recommend Schouskjelleren Microbrewery. Tucked underground in the cellar of Schous Bryggeri the dark setting with a roaring fire, large leather seating, and stained glass windows made me feel as if I had stumbled upon an inn that wouldn't look out of place in Games of Thrones.
Not only was the setting warm but the beer was amazing and the bar staff incredibly accommodating.
I went to Oslo to relax and celebrate my other half's birthday so didn't pack in as much as I usually would on a holiday but I hope that you find at least some of what I did come across useful.
Have you guys been to Oslo? Do you have any recommendations if I head back?
*pictures taken by myself and Pablo de la Pena from Shed.