The first time I heard Elvis I was around 8 and at my child-minder's house. I grew up around a lot of Rod Stewart, Bon Jovi, The Rolling Stones and Meatloaf but had never really heard rock 'n' roll like this before.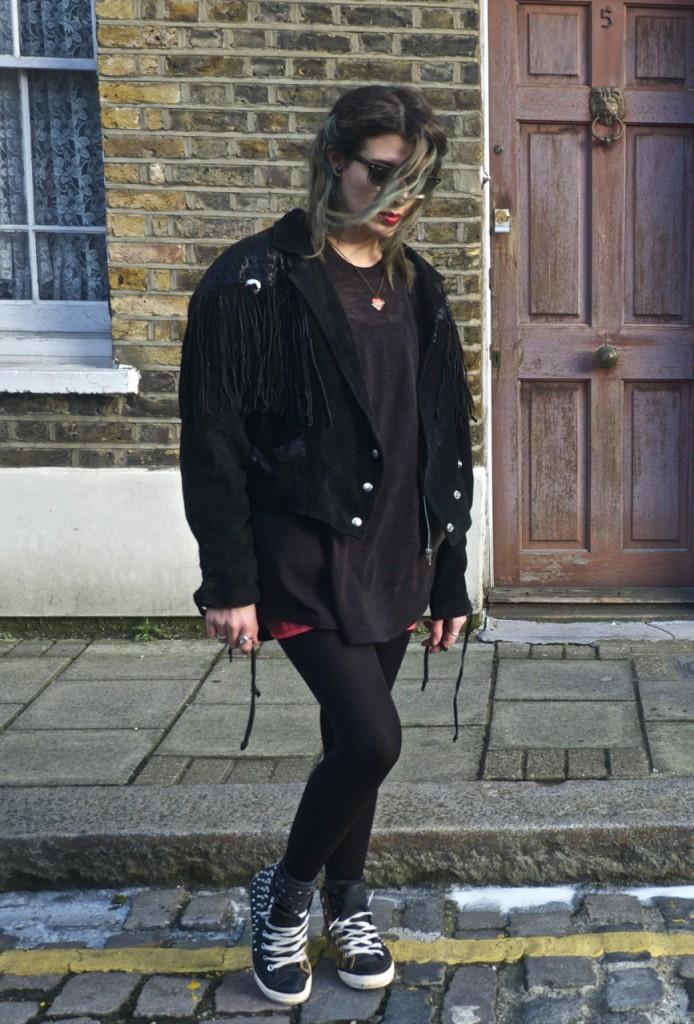 I became so obsessed with listening to the 'cool man' everyday that my child minder eventually let me have the album to keep. Although I no longer have the double cassette tape rarely a day goes by without a little Elvis in my life; whether I need something to lift my spirits, help me think or compliment my upbeat mood there is a soulful tune to fit my every need. 
It was originally the music that drew me to The King but over the past 20 years I have also grown interested in the history culture and fashion behind the man that captured so many hearts.
The day that Elvis Presley would have turned 80 I nipped into Beyond Retro just off Brick Lane and spied this fringed suede jacket, though I have a million black jackets it was just too fitting to leave behind and seemed like the perfect way to pay homage my favourite American rock 'n' roller.
(Jacket – Beyond Retro, Oversized top – Primark, Sunglasses – Ray-Ban, Necklace – Tatty Devine, Converse- Office)
This piece is such a statement that I  styled it simplistically with mainly black and a little rock flare with my studded tiger Converse and traditional tattoo style necklace.
Is there any music that you return to for inspiration?