Last weekend was the beginning of London Fashion Week, the highlight of many blogger's calendars; so in my standard unconventional style I left the city, heading to Brighton to attend one of my favourite annual events.
For its eighth year, Brighton Tattoo Convention took over the Hilton Metropole, this time for an extended three day period, drawing tattoo lifestyle lovers to the seaside town.
Though I was tempted to join for the full event there is so much I love about Brighton that I made the decision to stick with just a Saturday ticket and treat our trip like a mini staycation.
Spending two nights in our freezing, damp campervan had taken its toll on my already run down body and I was not feeling my best on the day I had been so eagerly awaiting, however as a tattoo lover if the Brighton convention could not get me out of bed then I should have been hospitalised.
Learning from my previous convention experience I got my money in advance but walking around with more cash than a drug dealer made me a little on edge so we  took a speedy walk down to the safety of the swanky seafront venue.
Arriving in time to  watch my friend get tattooed by the amazing Kim-Anh Nguyen (and offloading some of my wallet weight to her) it was time to see what the rest of the venue had to offer.
The convention is not just place to get inked but also encapsulates tattoo culture with lifestyle brands, art, books, magazines, food, music and even a barbers.
There were so many items that I wanted to take home, but I am trying to be more financially responsible this year so showed some self-restraint, only picking up the latest Anatomy issue of Things and Ink.
Along the same sensible lines, I also had no intention of getting tattooed this year. I actually convinced myself that I was going to treat the event as I would an art gallery and simply use it for inspiration.
The reality of observing so many talented artists from around the world made it much harder to stick to my guns and seemed like a wasted opportunity to not at least try and make one of my million tattoo ideas a reality.
This was my second time getting tattooed at a convention so I knew that after initially selecting which artist I wanted it would take some waiting around. Getting to Adam Cornish's stand he was already busy with a bunch of cheery lads, one of whom was getting a £ sign done on his palm (everyone has their own style).
After lingering for a while and being entertained by the blokes in front of me, I had a chat with Adam who told me to pop back in a few hours and he would sort me out with a rose tattoo as I had requested.
I am not a romantic person, and actually don't like flowers as a gift, but a rose seemed to be the right choice for me for various reasons. Though seen as being pretty, roses are made up of many layers and thorns making them complex and tough – just like how I see femininity.
This combination of hard and soft also stands for balance, something I constantly have to struggle to maintain due to suffering from the extremes of depression.
Originating from the mythology of Aphrodite, red roses are also associated with love that withstands time. I am not a "lets get married" type of girl, but valentines day marked 8 years of being in a happy relationship and though we may not last forever I think it is nice to mark such a milestone.
My less-meaningful reasons also include that a rose fits in with my other traditional tattoos and I love the song Rose Tattoo by Dropkick Murphys.
Though tattoos don't have to mean anything, and can be purely aesthetic, I was inspired by meeting some Mouri in New Zealand whose inkings told their personal journey. I think this one marks a period of stability in my life.
This was the first tattoo that had not been done straight away so I had to rationalise all the reasons above whilst I nervously grabbed some lunch at The Lion and Lobster, a cozy red coloured pub just round the corner.
Arriving back at the Hilton, my anxiety soon dissipated and I was ready to get going; placing my rose design Adam popped out for a quick cigarette before getting started.
One thing you need to be prepared for if you are getting tattooed (especially at a convention) is that you need to be accommodating and flexible. These artists work solidly for hours a day, so I am of the mindset that if they need a break, be happy to let them take it. What is an extra half an hour of hanging around when the work will be on you for the rest of your life?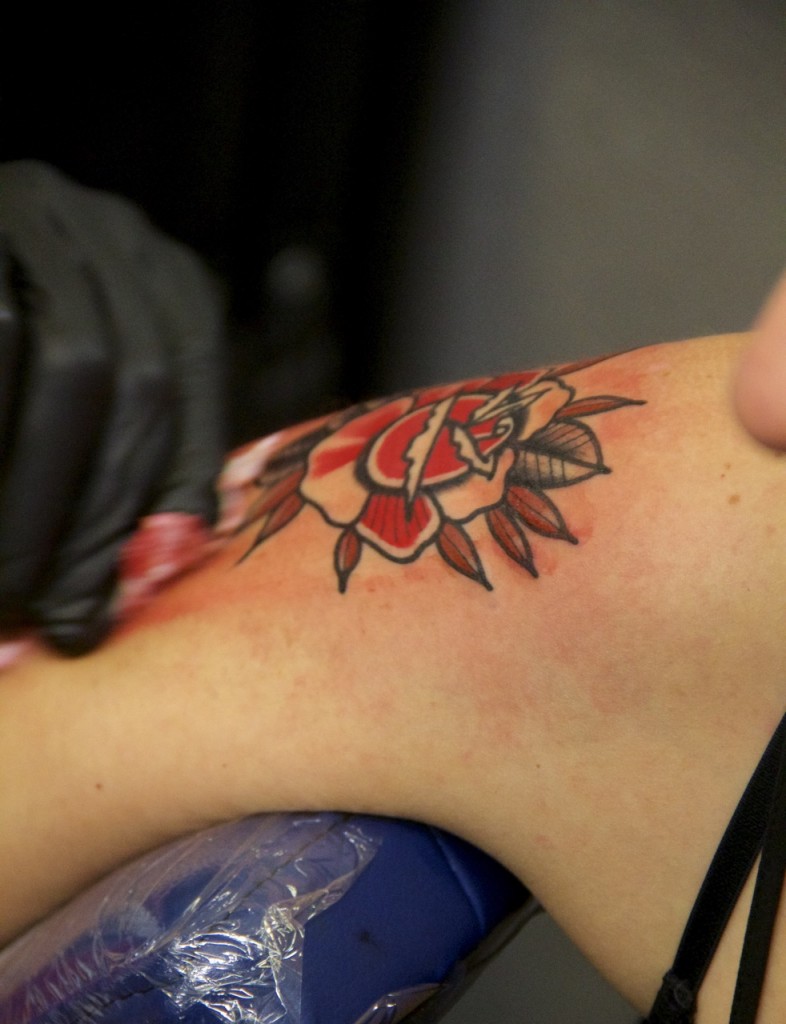 Though getting my rose done was a tad more painful than expected it was also a really fun experience, Adam is a great guy with banter to match his skill.
Buzzed from getting my new ink, it was time to grab a couple of drinks to celebrate. Taking a seat and people watching is entertainment in itself at the convention and was a perfect way to end such a successful day.
Brighton Tattoo Convention for me is a special place where tattoo lovers come together whether as an artist, designer, rock star, biker or a visitor everyone is equal under these walls and joins in celebration of a shared lifestyle.
Have you guy been to a tattoo convention? Are there any that you would recommend I check out?