As the popularity of blogging increases so does the amount of advice that is available on the subject. The most useful articles I keep organised on a Pinterest board, but even then some of it can be conflicting and overwhelming. That is one of the reasons that I jumped at the chance to attend Zoe's 'How I became a Fashion Blogger' talk at the Apple Store in Covent Garden. I hoped that by actually listening to someone else's experience, and being able to ask questions, I might be able to clear up some of my confusion.
I always get really nervous attending events so I was thankful to have Maryam accompanying me, though we had only met once before at the Spring Blogger Meet (which she co-organised with Jasmine) it is always nice to know that there is one friendly face in the room. The great thing about the blogging community is that because we are all in the same boat it is not weird to hang out with someone after only a brief meeting.
The talk lasted just over an hour and covered how Zoe started out on her blogging journey, taking the leap of giving up her successful beauty focussed site, The London Lipgloss, to allow her to the plunge into Lifestyle, creating Zoe London, how she continues to grow, maintain high quality photography and content, where she finds inspiration and how she stays motivated. I found the talk hugely beneficial so thought I would share some of the tips that I eagerly jotted down;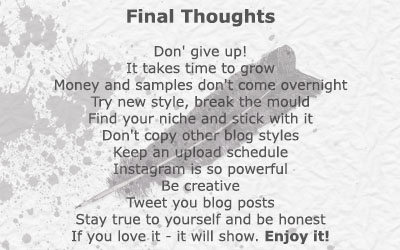 Not only did I leave the talk picking up some great advice, it also reaffirmed that I was doing at least some of the right things. Zoe presented with zero ego, was positive, yet realistic and happily stayed around for a chat after even though she was poorly.
Though she had a wealth of experience, Zoe engaged her audience by talking to us as if we are on the same level, because we are! The term 'big bloggers' is banded around a lot on social media which makes 'them' seem like an elite, untouchable group ,however at the end of the day we are all just people trying to find a way to express ourselves and share our experiences. I don't want to sound too after school special here but,one of the major things I have taken, not only from Zoe but the blogging community as a whole, is that to progress in such a new media we have to support one another and treat each other with respect no matter what following or influence we have.
I went off on a slight tangent there, but the main things I took from the talk were to stay unique, stop comparing yourself to other people, help each other out, be kind (but don't take shit), work hard, be strong minded, get organised and love what you do.
Zoe has a huge amount of useful advice on her blog so if you want further information check her out at www.zoelondon.me.
If you are a blogger, what are the most helpful tips you have learned? If you are not, are you surprised at the amount of work that goes into blogging?