I like food that is fuss free and high quality, and though I appreciate a creative flare I have an issue with making food pretentious as, for me, eating should be social not stuffy. This is especially true when it comes to traditional fast food such as burgers; eating off a white plate with cutlery just does not give me the same naughty satisfaction as getting an oozing bun wrapped in greaseproof paper,  eaten with my hands.
Initially drawn in by its simple name, Dirty Burger has a similar view on how the humble burger should be devoured and has now become one of my regular hangouts.
Dirty Burger is part of the Soho House company with four locations throughout London and another in one of my top US travel destinations, Chicago.
My personal favourite is the Whitechapel branch, being close to my house and favourite cinema, Genesis, give it a good head start but also their graffiti covered doors, low key décor and chipper staff are everything that I look for in a Local.
And I am not the only one who shares this view, even on a Wednesday night the place was packed out with people looking for their fast food fix from either Chicken Shop or Dirty Burger who share this small restaurant space.
Queueing up, the hostess asked us if we would be happy sitting at the kitchen bar though it came with the danger of potentially getting splashed when chicken was chopped. Though I am vegetarian I am not at all squeamish so was willing to take the risk of sitting in the splash zone.
Being seated at an open kitchen is my favourite place as it is the heart of the restaurant and I feel like I have got a back stage pass.
Comfortable on our bar stools beside two ornamental chickens, we took a quick look at the menu which despite taking up a full wall only has a few items.
This is another plus point for me as after a long day at work I cannot handle reading a novel sized menu and I also much prefer somewhere that specialises and does a good job rather than trying to please everyone and being substandard.
For me there was with only one Veggie option, The Dirty Cop Out, which made ordering super simple.
Whilst waiting for our food to arrive we treated ourselves to a bottle of red wine, which came served in a jug with tumblers continuing the restaurant's super low key vibe.
Dirty Burger always has a great buzz, with a full dining room and  the staff running around, getting orders out whilst cracking jokes create an energetic yet comfortable vibe.
Food dropped in front of us with minimal wait, we had napkins at the ready.
Unwrapping my veggie burger, cheese and mushrooms spilled out from the shiney brioche bun and as soon as I took my first bite, began to travel down my hands.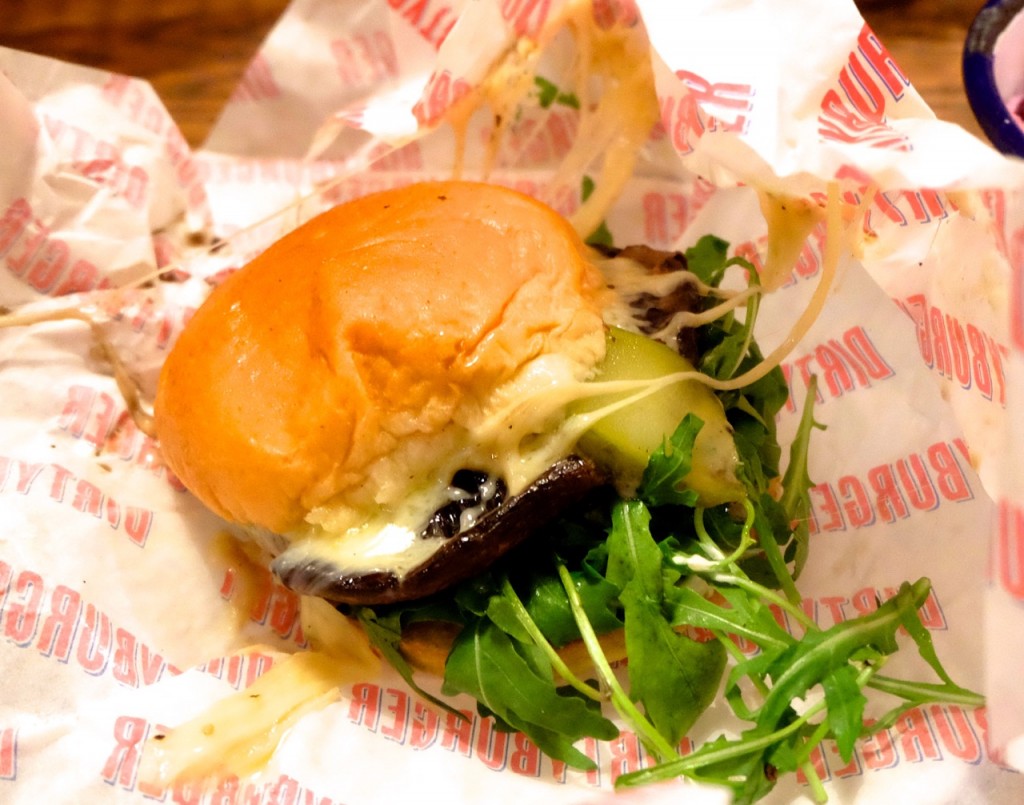 I have mentioned before that I much prefer well seasoned vegetables in a bun rather than a mystery bean patty so for me this burger is the full package and no way a cop out in my eyes.
My boyfriend also seemed similarly satisfied with his Dirty Bacon Burger, placing in his top 5 London burgers list, which is high praise indeed from a man who only last week went to two separate burger places in Shoreditch just for lunch..
Finishing up with a Chicken Shop wet wipe I cleaned myself up before hitting the cool streets of East London, feeling completely fulfilled.
This place is my ideal neighbour restaurant, accommodating, stylish and provides straightforward food that tastes great.
If you like this post why not pin it for later?