I have never thought about what bracket my personal style comes into. I just wear whatever I feel comfortable in whether that be vintage, high street, rock, punk, skate or grunge inspired. Being so eclectic has both pros and cons as I can find something I like pretty much anywhere, but buying a full outfit requires trailing around several locations or shopping online.
That is why London Edge is one of my favourite fashion events. Under one roof they manage to bring together alternative brands; in a single venue where unconventional style is celebrated.
This being my second time attending I knew that I wanted to start with, the catwalk, so made our way straight to the back of the large Business Design Centre and squeezed our way through the crowds so I could at least get a glimpse of the show.
The music was cranked and the models worked their varying looks which gave me a great feel for what was on offer and made me eager to explore.  Once again the fashion did not fail to impress and the day gave me the opportunity to connect with established and new brands.
If I shared the entire day this post would resemble a full fashion magazine so below are just a few of my highlights;
Crazy Color
I am currently using a combination of Peacock Blue and Capri Blu; it seems that I am not the only one, as Crazy Color have now released Blue Jade which combines both blues to create my custom blend. I was kindly given a sample to try out but since my colour seems to becoming increasingly popular I also used the opportunity to get some ideas for my next look…
Social Decay
This  Brooklyn born brand was high on my list to meet as I was already a fan of their rock spirited graphic tank tops. Not only did they have some awesome new products on show but the girls themselves were also hugely welcoming, and have even invited me out for a drink when I go back to New York later this year!
Sera Ulger LDN
These London based designers lured me in with their eye-catching clothing, including incredible jumpsuits, bobble hats, jumpers and reversible jackets. Made in Dalston, and with a shop in Camden (two of my favourite London areas) I have a feeling these girls have just bagged themselves a new loyal customer.
Y.R.U
Youth Rise Up are one of my favourite shoe companies creating rebellious designs that make any outfit stand out.
The Ragged Priest
I have practically lived in my The Ragged Priest studded jacket for the past three years, so think it might be about time to give it a break with one of the selection below. I love the creative flare that this brand uses in turning  ordinary everyday items into something special, with flamboyant details.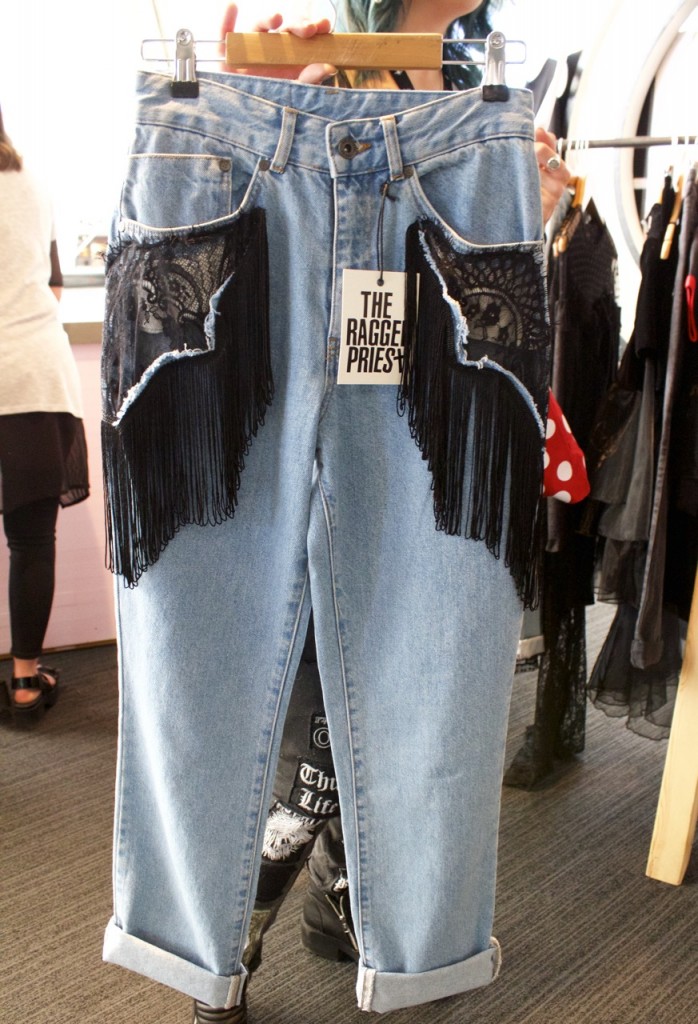 Manic Panic
Another New York brand that I adore, the Manic Panic team are always incredibly accommodating and happily talked me through their vibrant new shades of both hair and make up – which are 100% vegan. Though I had previously used their dye this year was my first experience of their make up and now is now one of my firm favourites.
Disturbia
Disturbia had another great collection of black getup, my favourites being this super cute eye popping bag and beast like jacket.
Bear Face
A brand selling high quality male grooming products may seem like an odd exhibitor to get excited about, however my boyfriend has an ever expanding beard and if you have experience of being close to a hairy face you will know that fuzz doesn't come without some TLC.
I first purchased one of their oils at Brighton Tattoo Convention and since then has remained a firm favourite in our household, not only keeping his whiskers in top notch condition but also masking last nights trapped burger have a much more pleasant aroma.
Motel
I have been buying from Motel since I was a teenager but was especially excited to take a sneak peak at their upcoming collection with one of my favourite East London tattoo artists, Grace Neutral. Along with these delicate tattoo inspired pieces was also plenty of sparkle – to add a little glitz to the party season.
If all this wasn't enough, London Edge also organised seminars with Dolls Kill Fashion Buyer Morgan Broms & Stylist Arianna Barrera and ReeRee Rockettes. Both seminars were beneficial for press, brands and buyers, giving ideas on how to run a successful business in an Internet dominated age.
The main thing I took away from London Edge (as well as a huge wish list) was the most important part of business, and I wold go as far as to say life, is to be authentically you and believe whole heartedly in what you are doing.
This advice could not have come at a more perfect time for me, as it is  nearing my blog's first birthday I was beginning to doubt myself and worried about not having a defined niche, however taking a day away from my laptop and meeting so many inspiring and driven people has definitely spurred me on to continue with this little space the way I want to and with passion.
Do you guys have a certain style that you stick with or are you experimental? Do you ever feel like you need to fit into a certain mould to succeed?
*There was also an amazing after party hosted by Banned Apparel but I feel like that is perhaps a story for another time.