It was a small exhibition celebrating women in tattooing held in Atomica Gallery that first introduced me to Things & Ink magazine and if you are an avid reader of Emma Inks you will know that it has remained a firm favourite of mine ever since. The magazine has a unique spirit and editorial style which celebrates the art and community aspects of tattooing instead of the sexualisation which is so common in many other tattoo focussed publications.
When I saw on Th-Ink (the magazine's official blog) that they were hosting another charitable exhibition I knew that I had to get down there on opening night. Last year I only managed to catch the previous Miniature Ink exhibition on the final day, meaning that I missed out on any chance of getting my hands on any of the incredible postcard sized pieces of art.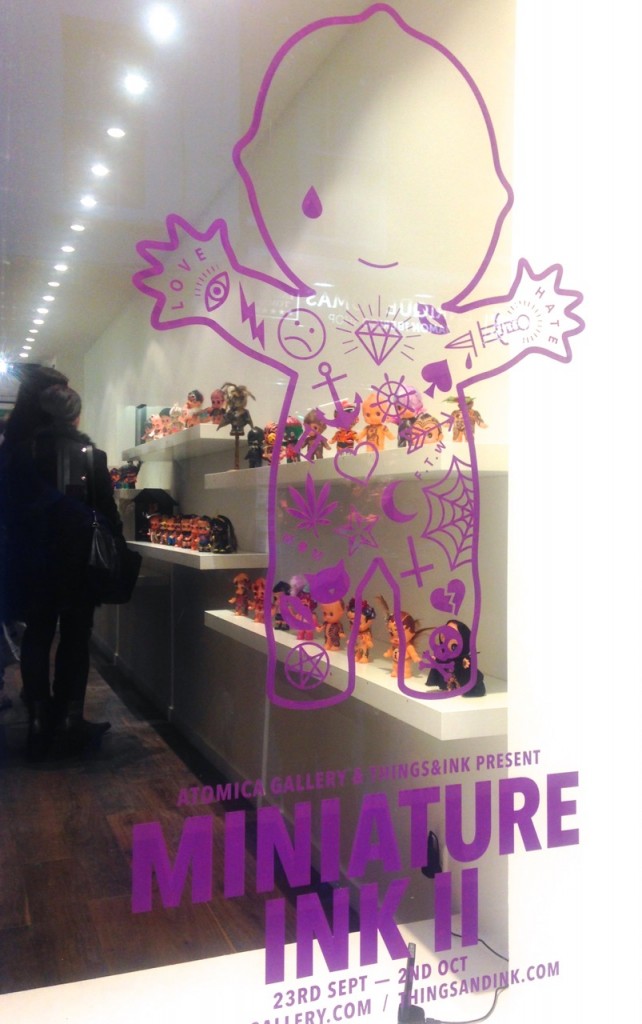 Miniature Ink II, was another group exhibition with over 100 of the world's leading tattoo artists taking part by decorating their very own kewpie – sickeningly cute dolls which were initially comic book characters based on cupid back in 1909.
Arriving at Covent Garden at 6pm for doors opening there was already a queue, giving credit to the magazine and gallery for curating such a unique event which drew in both art and tattoo crowds.
Shuffling inside the small, white, pop up space, we grabbed a complementary Sailor Jerry cocktail, before fully immersing ourselves into the ever increasing crowd.
Seeing the tiny doe-eyed dolls lined up in various poses, colours and styles once again exhibited the breadth artistic talent within the tattoo community.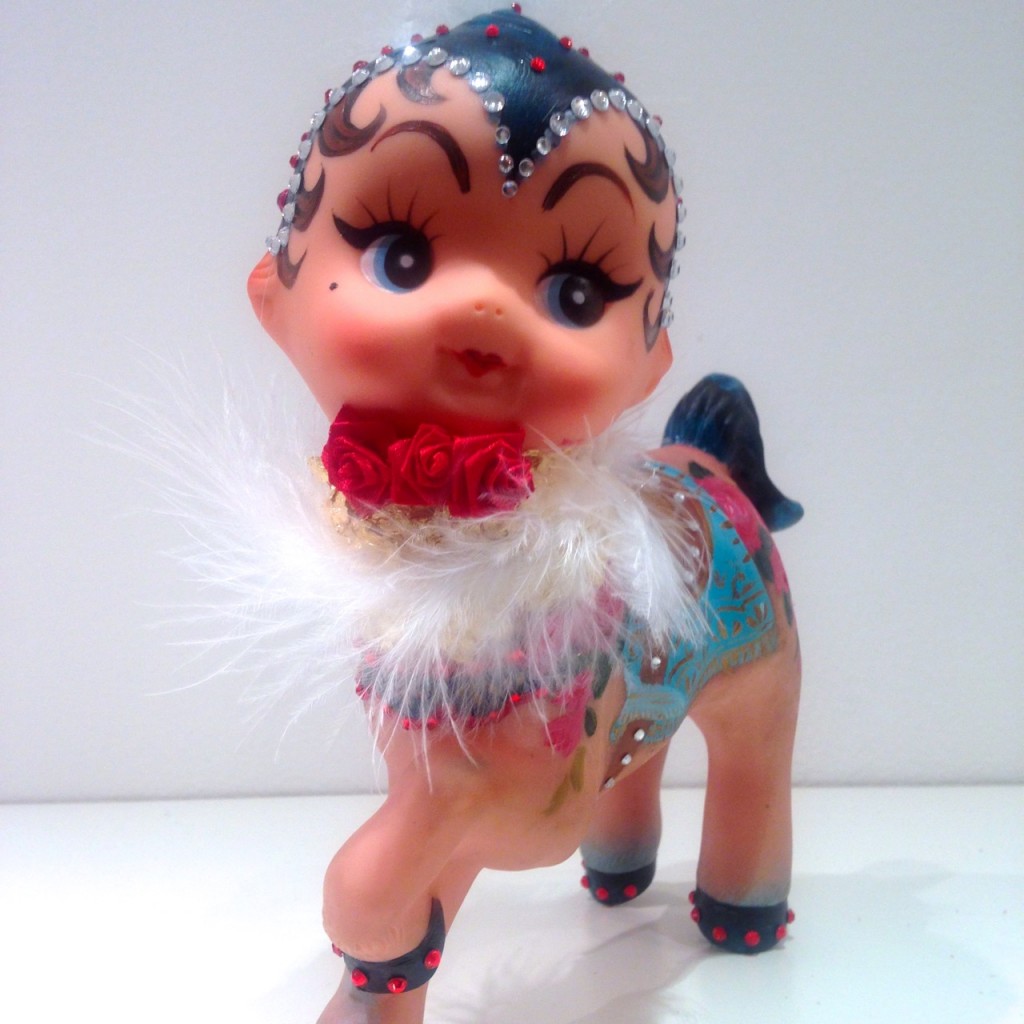 The diversity did not stop there, the crowd was also an amazing assortment of all different types of people who squeezed and contorted round each other to get a glimpse of the newly made-over kewpies.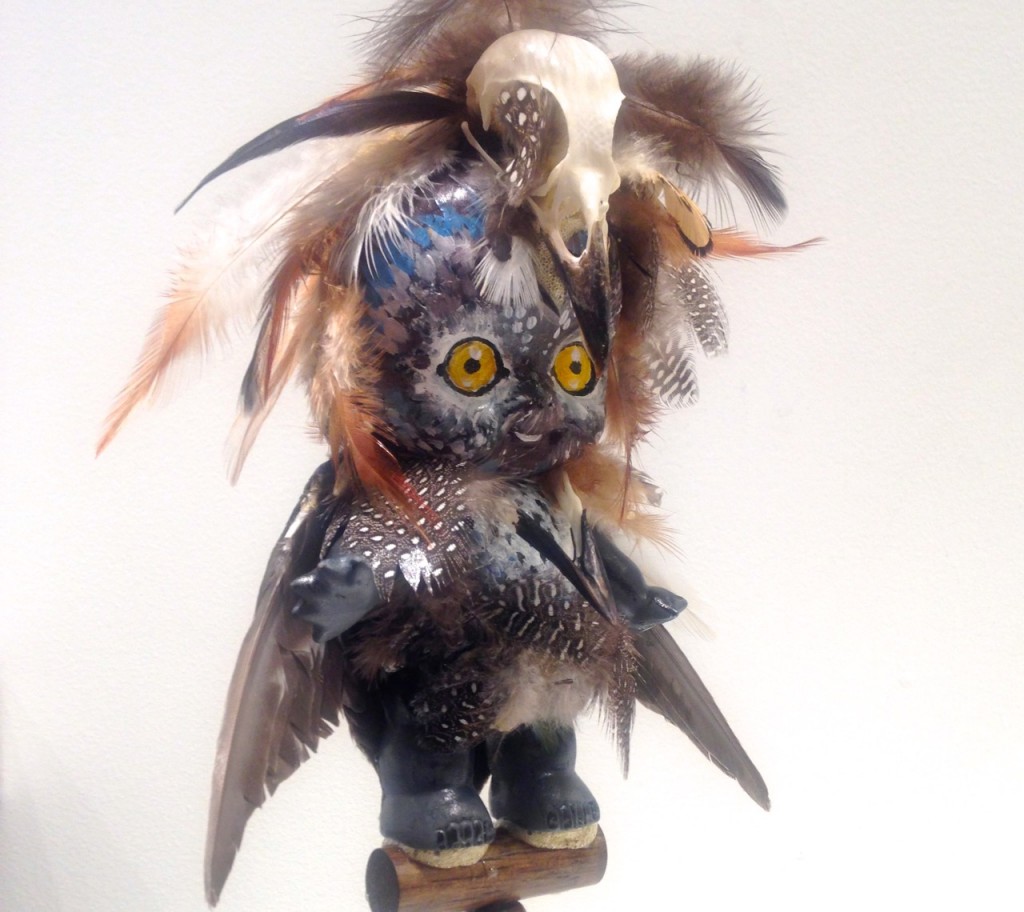 The dolls were not simply to be admired, but also could be purchased for £80 with all profits going to Battersea Dogs & Cats Home. Though a bargain price for a unique piece of art, Things & Ink were extra accommodating by also offering prints of your favourite piece at only £20.
This accessible  nature is another reason I am such a fan of both the gallery and magazine. They take an all encompassing approach, making the often daunting worlds of both tattooing and art inviting to all those who are interested. This message is not just shown in print but also personally, from my experience staff from both are always incredibly welcoming and make time to get to know their customers.
I was slightly overwhelmed by the range of talent on offer and as I procrastinated on what I wanted to purchase red dots began popping up all around me. Feeling conflicted by the amount of choice I once again left empty handed but plan to pop back in on a quieter evening to grab a couple of prints. 
The exhibition is on until 2nd October, so whether you are a tattoo, art, kewpie fan or simply an animal lover I would highly recommend dropping by Atomica Gallery to see the work of some of sought-after names in the tattoo industry (full list here) and perhaps even picking yourself up your own little kewpie to keep.
Miniature Ink II 23rd September – 2nd October

Atomica Gallery
55 Neal Street
London
WC2H 9PJ
*apologies for the iPhone photography, I had a horrible day with technology yesterday!