I say I am a snowboarder, but in reality once a year I go on holiday for a week, throw myself down a mountain then drink to try and numb my aching muscles and bruises.
Though I know that I will never be a pro it is the one sport that I have actually stuck with and enjoying following. That is why I was extremely excited to be heading down to Battersea Park on a soggy Saturday, not only to attend the Ski and SnowBoard Show (which I do annually anyway) but also to photograph the riders with Nikon.
After picking up our glossy new Nikon D5500 we headed for shelter in the comedy tent to learn some tips from award winning Czech photographer Dan Vojtech, who specialises in pictures of extreme sports and lifestyle and produces awesome work like this:
Feeling inspired by his experiences, and  amazing photography, I was ready to go and shoot.
I don't have the best track record with technology so was a little nervous about being put in charge of a box-fresh Nikon D5500 so, clutching it with two hands and strap firmly around my neck, we made our way towards the main ramp.
Arriving at our designated meeting point I was relieved to see a whole team of Nikon branded staff on hand to help us out.
Me being a  novice needed almost a complete run through setting up the camera to get the best shot of such high speed action and in grey surrounding. The entire team were hugely accommodating and instead of making me feel like an idiot seemed enthustaic to share their knowledge.
Now feeling more confident, some of us took the steep metal staircase up the ramp so that we could try and capture the riders as they flew overhead.
The experience was so exhilarating, I completely forgot about how cold and miserable it was standing outdoors.
I was surprised how quickly I felt comfortable using the D5500 as usually I am pretty apprehensive about using a DSLR as I find them a little clunky and complicated. This one was light weight, compact and had a touch screen making it easy for a heavy smartphone user like me to feel familiar with the settings very quickly.
With the first round over we took to the VIP lodge area to warm up, review our pictures and get a few more tips. I went for the tactic that if I shot lots of images quickly that I may have a few usable pictures which meant that my 4gb memory card filled up pretty quickly, thankfully Neil Freeman (training manager at the Nikon School in central London) was on hand to help me transfer my images by wifi straight to my phone, making space for the afternoon's finals.
Taking our positions on the ramp once again, director and producer Martin Privrastky spent some time helping me out with suggestions for angles and settings to try and get some more well timed shots.
Feeling that we needed a change of scenery,  Pablo and I made our way over to the other VIP area; climbing a ladder made out of skate decks we viewed the final from the top of a bus.
As I popped my head of of hatch I was hugely excited to see that pro snowboarder Billy Morgan had also picked this area as his view point. Trying to play it cool I  snapped away and pretending like I knew what I was doing instead of fan-girling too hard.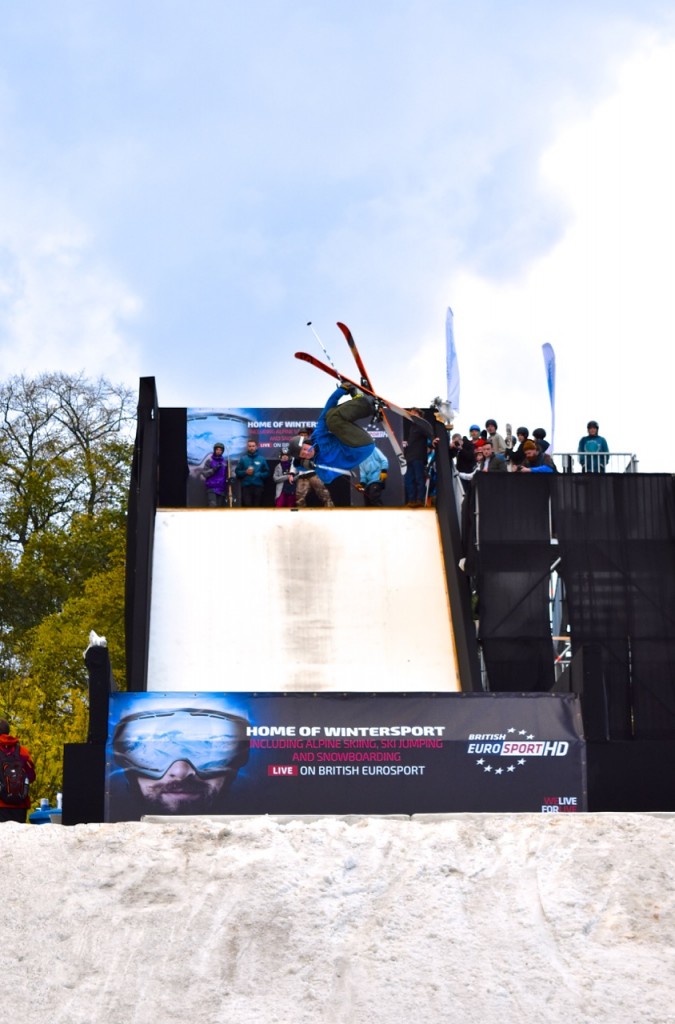 As the photography session began to wind down Dan made his way over once again to make sure that we were getting the most out of the afternoon. Every person who was part of the Nikon event showed us this level of hospitality and turned a potentially miserable afternoon into a brilliant learning experience.
Pablo and I felt the call of the mountain and took a tour around the show's many stalls to get some inspiration for our next trip, as well as getting a taste for next season's styles.
I left the event feeling even more pumped to hit the slopes again but also to improve my snowboarding so that I can take a camera and shoot my much more competent friends without killing the equipment or myself!
Are you guys into photography?  What camera do you use? Are there any sports that you are rubbish at but can't get enough of?