Hotbox started from humble beginnings as a food truck; but after building up a reputation for serving up succulent smoked meats and BBQ around London's street food markets and music festivals they have  secured their first permanent space near Spitalfields.
Being a vegetarian for over ten years this meat heavy eatery might not seem an obvious choice, however, at the weekend their doors are open to us herbivores in the form of their brunch menu.
I did have reservations (other than with the menu) when Hotbox was suggested. I had walked past the dark exterior with neon signage and was afraid that it might be a little too swanky and aimed at the city boy crowd, which is not really my scene.
I have to mention that brunch is a very loose term for me and my buddies and pretty much means drinking alcohol and eating eggs at some point before dinner.
Rushing in at 4 just as the kitchen closed, our efficient waitress was straight over to take our orders to make sure that we got fed.
Settling in at the long, rustic, wooden tables – beer in hand – soon our food was brought out and even though we all arrived at different times, they were incredibility hospitable and made sure we were all served together.
I had a large portions of Huevos Rancheros (£9), one of my absolute favourite breakfasts and this one did not disappoint with a rich spicy tomato base, runny fried eggs, creamy guacamole and densely delicious masa taco on the side.
The portion was so generous I couldn't actually finish my bubbling cast iron bowl, but as always my friends were there to lend a hand.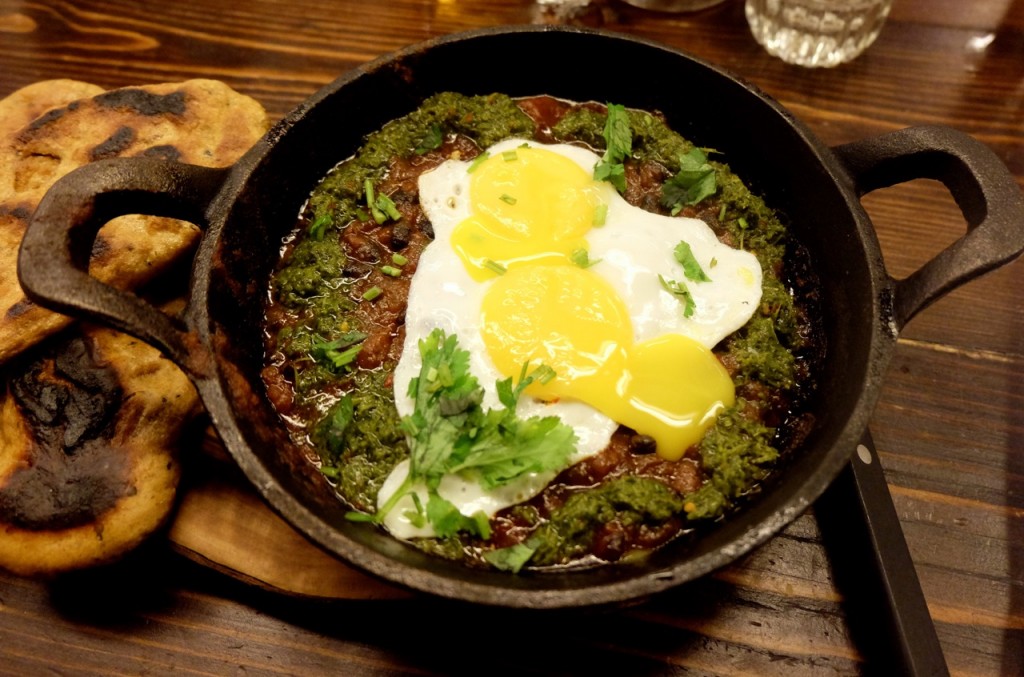 We ordered almost the entire menu between us, however the only meals I managed to snap before they were devoured were the Eggs Benedict (£7) made up of 2 Poached Eggs, Smoked Pork Belly and Hollandaise.
And the Beef Rib Taco's, which were stacked with Mushroom Tacos (£8) stacked with Crispy Shallot, Rocket, Chipotle Mayo these were eaten and approved by a real life Mexican, which is high praise in my books.
Most of the dishes were served on plain plates, or wooden boards tying together perfectly the simple yet stylish industrial feel.
With  music playing at just the right level, friendly staff and laid back dark interior this was the perfect place to have a laid back but stylish brunch. Even though service was winding down for the afternoon there was still a great ambience and, if I was a meat eater, would absolutely be heading back to sample their dinner menu.
All round a great place to brunch, concentrating on food and service with a sprinkling of style making it a perfect addition to my East London brunch list.
Like this post why not pin it for later?
Hotbox
46-48 Commercial St,
London E1 6LT
020 7247 1817