Now that Halloween is a distant memory, I feel that it is a suitable time to get excited for my second favourite holiday, Christmas.
Though like the Grinch my heart grows during the season to be jolly, I still maintain my own unique style and way of celebrating and that is, of course, by rocking around the Christmas tree. What I mean by that is that I listen to a lot of The Darkness 'Don't Let The Bells End' on my way out to party with friends and family.
As I previously mentioned, I am not into the present aspect of Christmas and prefer to just spend time catching up with the people I care about. This means that December involves a lot of socialising, which of course I love but by the time it gets to Christmas Day I have often reached burnout point and just want to relax in an oversized jumper.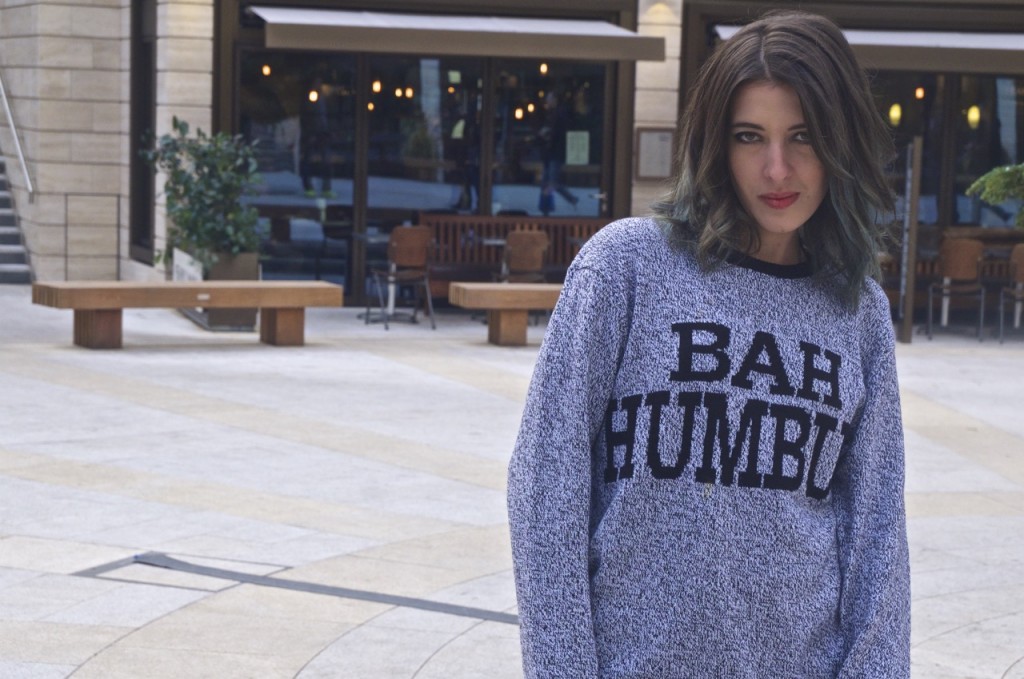 This Bah Humbug (£12) one is from the men's section, but a label never puts me off; it is super soft and is perfect for hiding seasonal over indulgence.
Even though I love a low key Christmas Day, with everyone back home visiting their families you never know what unexpected plans are about to unfold so I still like to keep my look stylish.
I pretty much live in black skinny jeans, and Christmas Day is no different. These skinny shimmer trousers (£16) are slightly more dressy with subtle snake print and biker zips which are perfect if someone wants me to pop down the pub with no previous notice.
Also like many, we have a spread out family so have two Christmases, which means versatility is key.
Being back up north in Scotland the temperature is much colder than in London, so even when popping out to the car I wrap up warm. This huge tartan scarf (£10) is perfect for keeping cosy, as well as  representing my homeland.
As you can see, I still like to keep my standard rock style even over the festive period; but for those of you who like things a little more fancy or fun George at Asda has plenty on offer for the entire family.
What's your Christmas style? Do you prefer full blown seasonal sparkle? Embrace jolly novelty? Or, like me, go with a versatile style ready for any occasion?
*These items were given to me free of charge from George at Asda, however I picked them myself and wouldn't share them if I didn't love them. Also, as always, all opinions are honest and content is my own.