After a late arrival into Newark, then a trek across New York to our Brooklyn Airbnb, we woke up really hungry and ready to explore. A quick trip on the Subway to Morgan Avenue we stepped out of the station to be greeted  by sunshine and street art. I was in my element but still starving so we ducked into Tutu's, a cozy corner restaurant and bar only 3 blocks from the subway station. 
Squeezing through the small glass door we were greeted by the  friendly staff who were tucked away behind a large vintage looking bar.
Guided to our small wooden table by our server we slipped into the tight bench seating and immediately ordered coffee.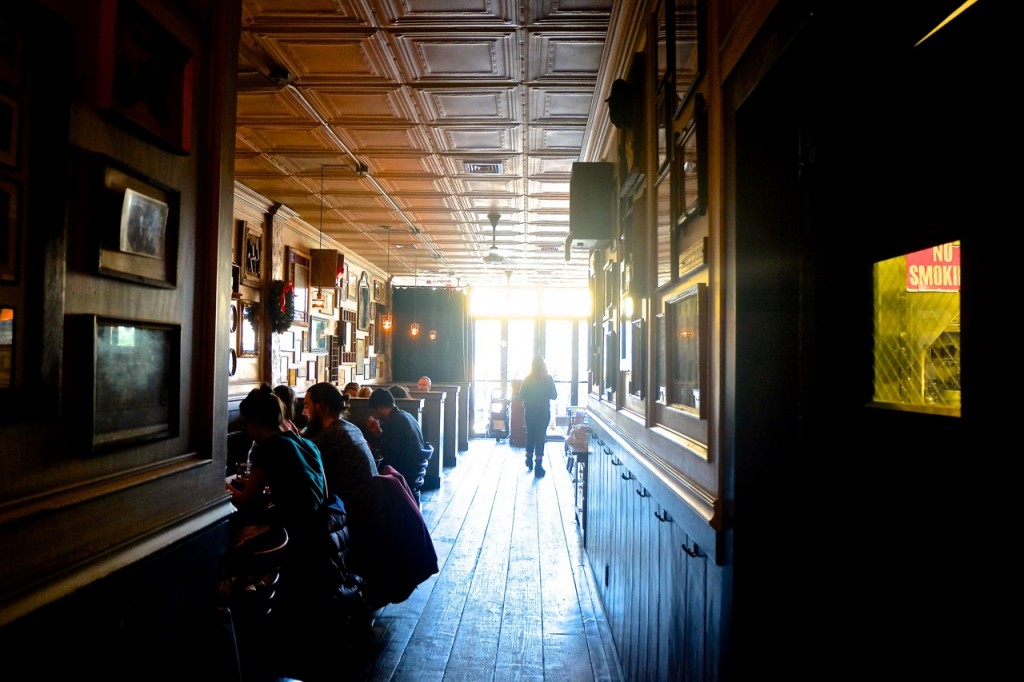 Still tired from travelling, I was so grateful for the speedy delivery of our  black coffee, which came in  miss-matched mugs.
The decor was homely yet vintage cool with retro images covering the walls, rough wooden tables and floors giving off a rustic vibe. This place was compact and as the room began to fill we were sat close to our fellow diners which gave a warm neighbourhood feel rather than  being intrusive.
Brain now functioning after a dose of strong coffee, I was ready to order.
The brunch menu was designed to be high quality yet perfect for a hangover, with each dish being paired with one of their beers or custom cocktails for the perfect hair of the dog combination.
As always, I wanted everything so we shared a couple of dishes.
First up was the Farmer's Plate, a delicious, well balanced breakfast  made up of two poached eggs, spicy citrus-kale, overnight tomatoes & crispy smoked paprika homefries.
The second dish was eggs and grits, which was like a delicious cheesy potato porridge topped with perfectly poached eggs and a healthy side of kale.
The menu changes regularly to keep customers coming back for more, but no matter what dishes are on offer they strive to provide super fresh wholesome American cuisine.
The menu is not the only thing that changes on a regular basis; The Varet wall of the restaurant has a rotation of talented artists who display their varying artwork, tying in with the area's creative community.
The name Tutu's comes from the Hawaiian name for grandma and they have definitely managed to pull off that homely vibe you would expect from Grandma's house, with hearty dishes and incredibly welcoming staff .
Tutu's is not cheap but if you are on a budget they offer $10 beer and burger from 4-8 on Monday – Friday, making the grooviest grandma's place in town accessible to everyone.
Tutu's 
25 Bogart St
Brooklyn, NY 11206