When I asked for advice on where to eat in Brooklyn one place came up on  everyone's list and that was Roberta's for pizza.
If you a regular to Emma Inks you might have notice that I take my pizza obsession seriously, so had very high expectations when I told that it was the best in town!
Despite this being my first time staying in Brooklyn it was not my first pizza experience here. A couple of years ago Pablo and I travelled over an hour on the subway to follow Man v Food's Adam Rickman's footsteps to L and B Spumoni Gardens and though their pizza was square and deep dish it left a wonderful taste in my mouth, meaning that any other place had big shoes to fill.
Morgan Avenue became our go to subway station for great food whilst in Brooklyn, so it came as no surprise that Roberta's was just round the corner.
One of the reasons I love following local recommendation whilst travelling is that you find places you might simply walk past normally. Roberta's was no expectation; situated on a street covered with corrugated sheets and graffiti which, as a tourist, you could easily mistake this pizza place as being closed.
Venturing into the red doorway I was delighted to see that it was open and that the area's urban art feel continued inside, with stickers and quirky art throughout the large room.
I had been warned that Roberta's was hugely popular so either to get their early or be prepared for a long queue, but there was no way did I think that it would already be filling up at 11.30am on a Tuesday morning. Though surprised I also loved the anything goes attitude of the customers who follow my mantra that pizza and cocktails are acceptable at any time of the day.
Sitting at wooden bench style seating we were handed menus which from the first glance I knew we had made the right choice for our final meal. Simple, one-sided and with an awesome devil illustration in the corner it couldn't have been more up my street. There were some breakfast option available, too, but since it was our last day we decided to say goodbye to my favourite city in style by ordering pizza with a side of cocktails.
Pablo went for the Bloody Mary which had one hell of a kick! I was a tad tamer and choose a green juice with gin which was super refreshing and I could at least pretend I was starting the day healthily.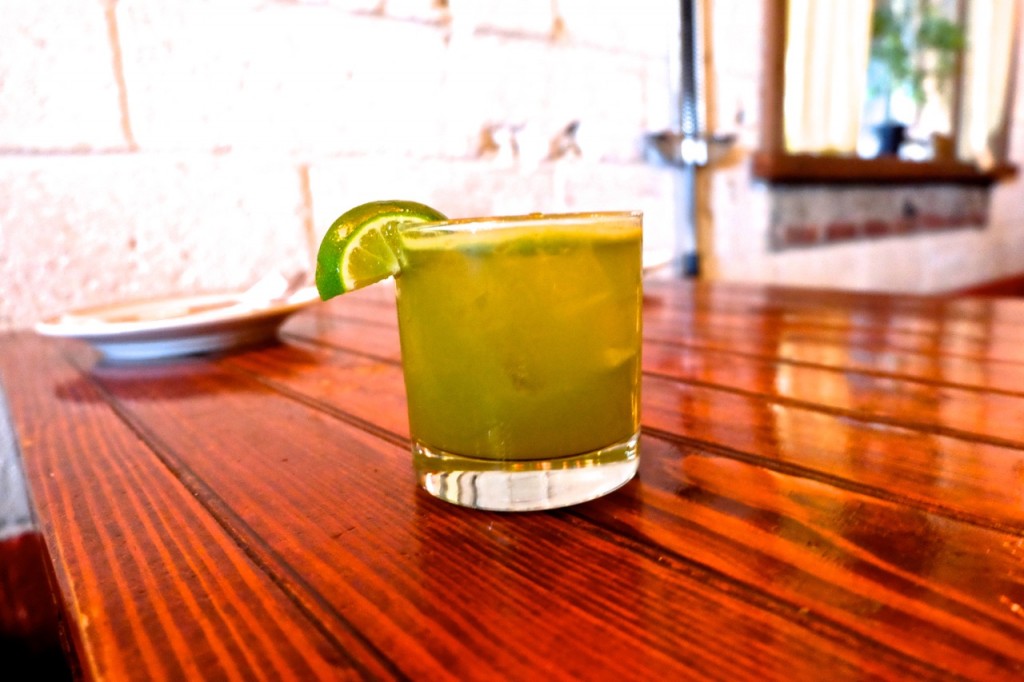 Sipping on my gin and juice,I sat back and took in the bustling surroundings, the open kitchen churned out pizzas as people kept piling in through the door.
The staff were run off their feet but were all so cool they didn't seem to break a sweat. They were super attentive, constantly topped up our water and checked if we were doing OK.
Our pizza was delivered bubbling, straight from oven on a hot metal tray and I am pleased to report that it really did live up to the hype.
I have never in my many years of eating copious amounts of pizza sampled a base that literally melted in my mouth, the topping was tangy, cheese perfectly melted, crust crispy and had the perfect amount of topping.
In fact, we loved it so much there was a quick debate whether we should order another one but since it was technically still breakfast time we uncharacteristically showed some self restraint.
Despite the pizza being completely polished off I was having such a lovely time that I was not quite ready to leave, so took a wander around the rest of the warehouse style space to the small garden and bar areas.
This entire place seems effortlessly cool but secretly has an amazing eye for detail taking the graffiti style from the outdoors all the way through to the bathrooms and fitting in with its surrounding with industrial finishings.
This meal was an expectational way to finish off another incredible trip state-side so if you don't mind waiting for food that is truly special, served up in a low key surrounding then I could not recommend stopping by Roberta's more.
Like this post why not pin it for later?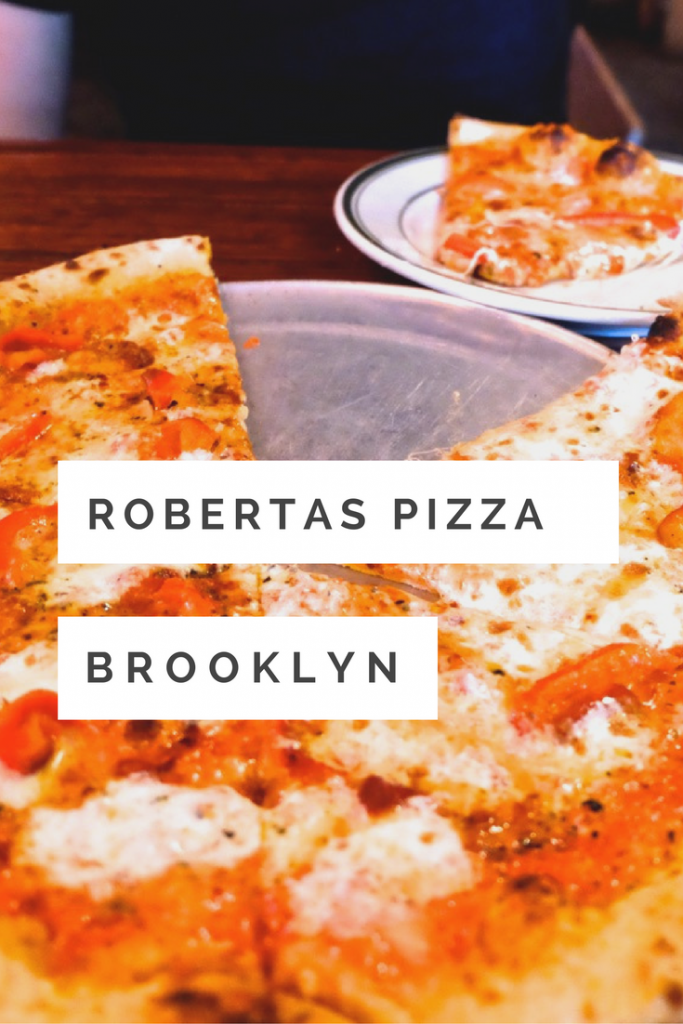 Roberta's Pizza
261 Moore St, Brooklyn, NY 11206,