After a year in the making, Mosley the East London based fashion and textile brand is now available to purchase – and I couldn't be prouder.
I am not going to go through all of the extraordinary things Mosley creator Lyndsey has achieved this year but seeing the canvases that I admire every time I am at her house transformed into a business is just one of them.
Each product has been hand illustrated by the endlessly talented, soon to be Mrs Mosley, then printed onto quirky silk scarves and cushions.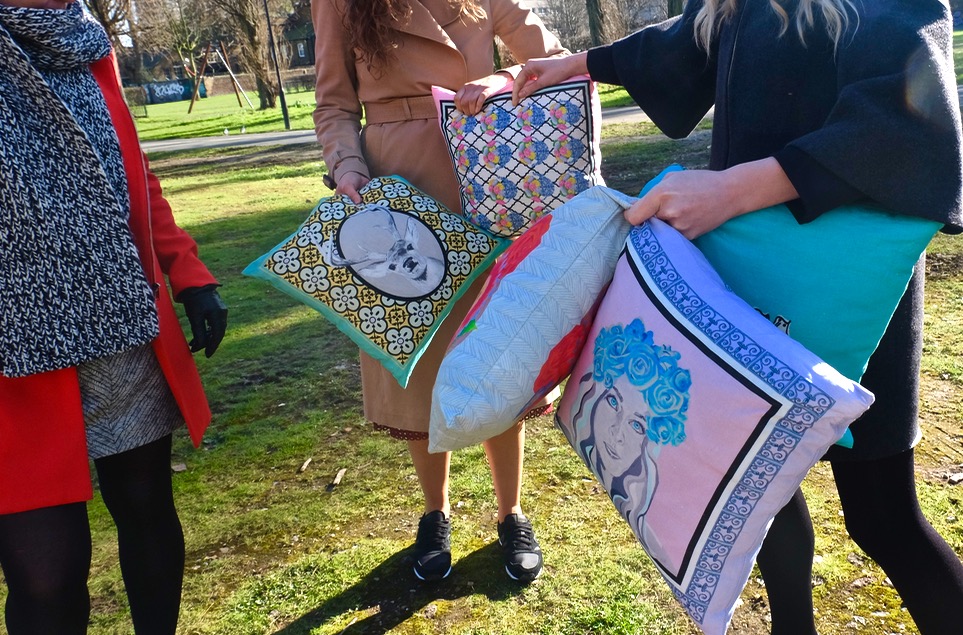 I know that Lyndsey worked tirelessly to find the right suppliers and quality material. Spending days being the weird girl in high end stores stroking and touching all the scarves and cushions to make sure her products were of a similar quality.
I don't thing many people can truly comprehend the amount of drive and dedication it takes to start a high quality brand so I was thrilled to be invited  along to the first official Mosley shoot and get a preview of the product range.
Meeting for a quick coffee on Brick Lane early one Friday morning, a gang of us headed down to The Nomadic Community Garden and, directed by Lyndsey, we put our various skills to use to create the content for the Mosley website.
I mainly stood around in awe, watching professionals at work and occasionally holding a vibrant cushion above my head to be photographed.
Though I didn't participate as much as the others, collaborating on such a fun project with a bunch of talented ladies was an awesome experience.
Lyndsey moves quickly and the very next day after shooting she set up her stall at Backyard Market just off Brick Lane. I have no doubt this is just the beginning of Mosley and I am happy to say that I was there when it all began.