After our colourful taxi journey into southern Mumbai I could not wait to jump right into the action and explore the city, since we only had one night we choose to stay in The Regency Hotel located in the Fort area which had close proximity to many of Mumbai's main tourist spots.
On arrival the staff could not have been more accommodation, providing us with a welcome drink and snacks whilst checking in, then carrying our bags up to the room. We were upgraded to the new annex and had a large room off the main road which though did not have much of a view was the perfect place for a decent nights sleep.
Not having enough time to work out our own route we grabbed the trusty Lonely Planet and started out by following their suggested architectural walk. The jaunt took around 1.5 hours and allowed us to take in some of the city's most impressive colonial era and art deco buildings, including Chhatrapati Shivaji Maharaj Vastu Sangrahalaya, The High Court, Gateway of India, and Marine Drive.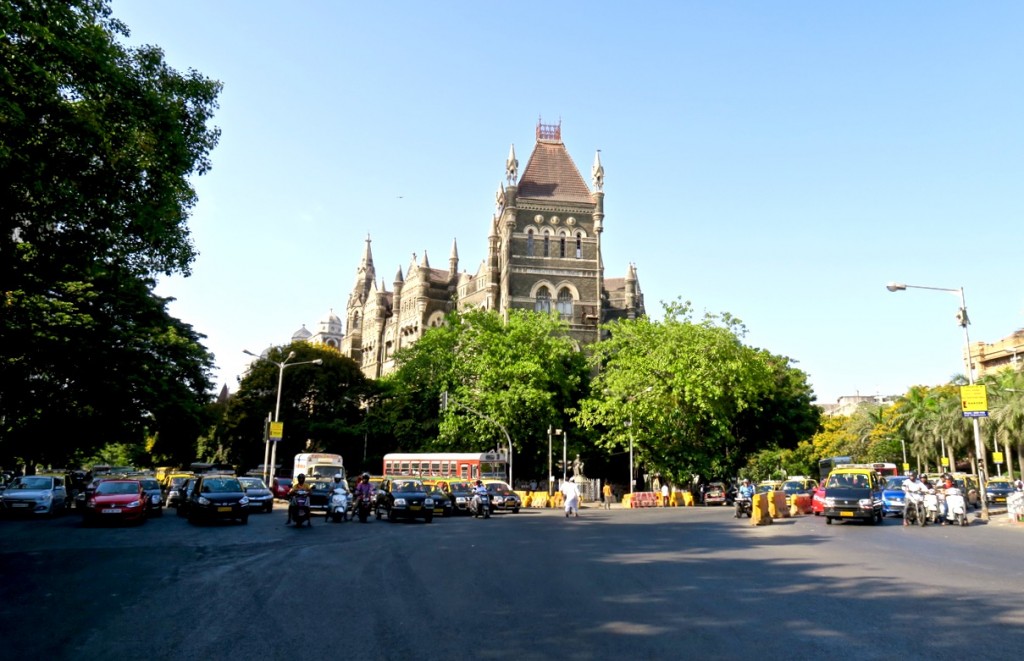 Half way through and we needed a break from the sorching heat; we took a break to cool down in Food for Friends, a cute little café serving up salads, cakes, and coffees tucked in the back of a fully air conditioned book shop.
Sweat dried we took on the rest of the tour and headed for the Gateway of India, a monument built to commemorate the visit of British Monarch, King George V and Queen Mary in 1911, which now stands as a grand reminder of the British Empire and is one of Mumbai's top tourist attractions.
The streets became increasingly busy, but bustling along at the same pace as locals it was not overwhelming. Walking past art galleries, small shack-like markets and archways, we made our way down to the attraction. At the entrance Pablo and I had to separate for security checks; these were put in place as a result of this stunning site being attacked by terrorists twice in 2003 and also being the disembarkation point for the gunman who attacked the near by Taj Mahal Hotel in 2008.
Once searched, Pablo and I met up in a cluster of colourfully dressed people taking pictures. Taking in the grandeur of the gateway, stunning architecture of the Taj Mahal Hotel and watching people hop on and off the colourful boats, I began to notice that we had become an attraction ourself.
People began by staring and then sneakily taking pictures but when they saw us smiling at their paparazzi style photos a group of teenagers mustered up the courage to ask if they could be photographed with us. This continued throughout our trip to Mumbai and, though strange to begin with, it was a fun experience and a nice way to get chatting to the inquisitive locals.
5 minutes of feeling like a Kardashian over we continued our stroll towards Marine Drive where we  stumbled across Oval Maidan, a park where locals played cricket or relaxed in the shade of the palm trees. By this point  India's extreme heat was getting to me and I could not fathom how people were playing sport without dropping down dead!
Ready to melt into a puddle of sweat we reached Marine Drive which gave stunning city views and a much needed breeze. As the sun began to set the crowds descended on the area, all looking to get that last glimpse of the haze covered sunshine.
Now a manageable 28 degrees we found the energy to explore some more of the city's busy streets and markets before heading to Café Mondegar for dinner.
Positioned on a street corner I was automatically drawn in by the quirky illustrations, which continued inside the cool café and even made their way onto the plates and napkin holders.
The place was absolutely rammed with people but this didn't prevent our waiter being super speedy and chatting through the menu with us. We went traditional ordering a couple of curries, naan, jeera rice and, just in case we couldn't handle the spice, a side of riata. Sampling real Indian food, and sipping on the first of many Kingfisher beers whilst classic rock tunes blared out from the vintage juke box, I could not have been in a happier place.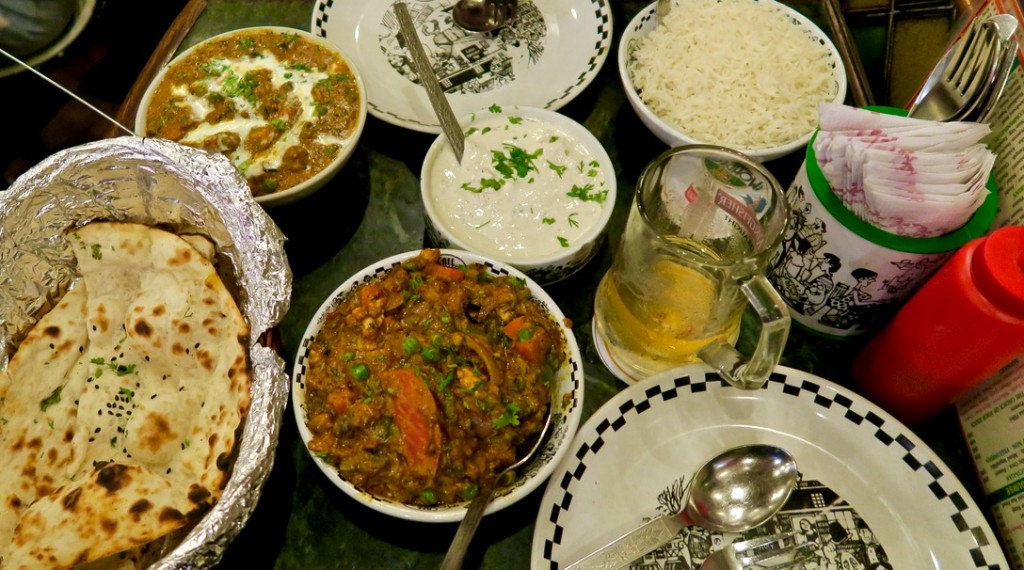 Working off some of the delicious feast we walked back down close by to Gateway of India before making heading back towards our hotel. The final stop on the way home was Chhatrapati Shivaji Terminus, one of the business station's in India and a UNESCO World Heritage Site.
Traffic swirled around the stunning, illuminated structure and stood out like a grand beacon compared to the surrounding buildings.
Getting back to The Regency I felt satisfied that we had packed in as much of Mumbai as possible without rushing it.
Starting a trip in a city can often be an intimidating prospect, but after jumping in at the deep end in Mumbai I could not wait to see what else India had to offer.
If you had one night in a city how would you spend it?