If you read this blog often you will be aware of my adoration for East London, the problem is sometimes the areas cool factor can be intimating. Recently I starting taking a full day off my office job to work on creative projects and though I have been to almost every café in Shoreditch and the surrounding area, going alone set my anxiety on edge. Every Friday I would pack up my bag and then make an excuse on why I could not go and work outside my flat, but everything changed this week.
Whilst visiting Yelp Future Food Festival I got chatting with The Canvas Café and discovered it was one of the few places I had not yet had a coffee in near Brick Lane. After explaining the cafe's happy ethos I was passed a piece of delicious raw vegan cake which sealed the deal and the first day I had free I packed up my laptop and left the house ready to work. Knowing that sometimes social anxiety gets the best of my good intentions Pablo came and met me for lunch making sure I was settled before leaving me and my grubby Macbook to it.
The Cavnas is a social enterprise that launched as London's first ever happiness café in 2015. Stepping through the door I could already see this was much more than just your average coffee shop and was a collaborative space. The walls were decorated in questions with answers scribbled underneath by customers, and a chalk board calendar advertised the varied events programme including: comedy, yoga, food, and film.  Taking a seat at one of the mismatched tables we browsed the menu, which was also written in bold behind the main counter.
The dishes served were all home-made, seasonal, locally sourced and as well as the main menu there were daily changing specials available. We went for the vegan spicy chickpea & avocado sandwich and avocado, chilli & lime on toast both served on Dalston based bakers The Dusty Knuckle's sour dough.
Both plates were simple yet delicious, the avocado was perfectly ripe and creamy and the bread was the right balance of chewy and crusty. To treat ourselves further we finished off with two Soy lattes which were large, well presented and frothy.
The entire meal for both of us came to a reasonable £16 and and was of a much higher standard than many of the café's more expensive neighbours.
When placing our food order I was not sure if I would feel comfortable enough to stay all day but on my next visit I will definitely be going for the £10 workers meal deal where you can have lunch and two coffees or two soft drinks.
The selection of fresh food and drinks were specifically designed to stimulate body and mind and after lunch I felt ready to get blogging. Some of my anxiety regarding working from a café was based around not knowing how long it was appropriate to stay for. Canvas cleared up this grey area by making it obvious that people werwe welcome to stay all day whether they had one coffee, or a full meal. Another way in which the café made life easier for workers was by ihaving super fast wifi over both floors. Great coffee, perfect avocado and fast internet is my dream set up for a productive day of blogging.
Feeling brave enough to stay, Pablo went back to his office and I switched to a window table with a power outlet. Opening my laptop I felt instantly ready to type, not only had I been fuelled with comforting healthy grub and energised by caffeine, but I also felt inspired by my creative surroundings.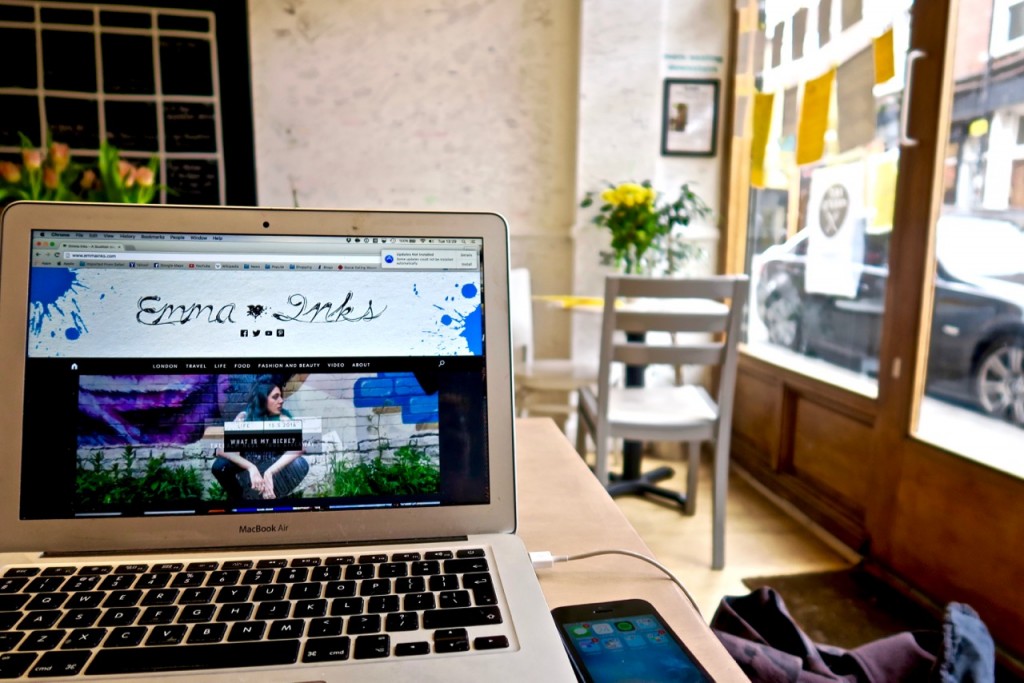 Determined to get some work done I had my headphones in, but in between tracks I could here people chatting to each other. Not the people that they came in with but to customers at other tables. PEOPLE IN LONDON WERE COMMUNICATING WITH STRANGERS! Somewhere that can create an environment where people in London can let down their barriers down enough to talk to one another was truly something special in my eyes.
Taking my headphones off for a break I noticed the staff member from the Yelp event had slid into the table next  to me and was battling with Twitter gifs. Knowing the social media struggle all too well we quickly got chatting and a regular from two tables up soon joined in. London can be a lonely place at times and having a quick conversation with such open people was a nice change from the usually insular attitude I have become accustomed to.
Before I closed my laptop and called it a day I took a wander down to the mindfulness space which can be rented out for events. The basement space, though lacking light, had the same character as the upstairs with a feeling of homeliness and fun. The Canvas Café is definitely my new favourite spot to work from but also has much more to offer than just a desk for the day.
What do you guys look for in a workspace?
The Canvas
42 Hanbury St, London, E1 5JL
020 7018 1020 | hello@thecanvascafe.org