Looking out of the plane window the sprawling buildings of Mumbia transformed into greenery as we got closer into Goa's Dabolim Airport. This was the first sign that we were approaching a completely different side of India.
Safely landing and retrieving our bags we exited the small, military run, airport and attempted to find our ride. Seeing Pablo's name scribbled across a piece of A4 we made our way through the crowds of other taxi drivers. As we approached our chauffeur, he scrunched up his hand written sign, and greeted us with a huge grim, shook both of our hands and gestured towards his car.
Now on day 4 of our trip in India this was the first time that a man had acknowledged my existence, before this interaction people had only directed conversation towards Pablo. As well as the scenery and attitude to women, another difference was the upbeat music being played in the car, everywhere else had been silent but this driver was blasting out party tunes and seemed to be particularly fond of LMFOA. It was not quite the tranquil atmosphere I had expected from the hippy home of India but it seemed Goa was a more modern part of the country.
Just as the sun set behind the tall palm trees we pulled up to La La Land, our accommodation for the week. The staff ran out to our car with two very enthusiastic dogs, took our bags and checked us in. The chilled out music, burning oils, fairy lit trees and hand painted inspirational signs was exactly what I had expected from Goa, and kind of reminded me of a mini version of the Greenfields at Glastonbury.
Paperwork all in place we followed the smiley staff member up the winding tree lined path to our hut. Somewhere between Booking.com and arriving to our accommodation I had it in my head that we had a room on the beach with a garden view, instead we were immersed within the jungle. I was a little disappointed to begin with, but once we ventured out and realised that the Patnem beach was only a two minute walk away those negative feelings soon disappeared.
We did not want to be in the heart of the action but close to it, so on the recommendation of friends who had just spent three months in the area we choose to stay in Patnem, the quieter of the two main beaches in Southern Goa. Wandering along the beach at night it was even quieter than I had expected, we had not yet seen another person except the La La Land staff.
After about ten minutes we spotted some lights at the centre of the beach, following signs of life we came across a few people enjoying dinner and drinks out the front of the shack-like restaurants. Each eatery was almost identical, so we went for the safe option and pulled up seats at the one which seemed most popular; on this occasion it was Namaste. As soon as food hit the table we made some very cute mooching dog friends, who sat silently watching us eat the delicious naan bread and curry we shovelled into our mouths.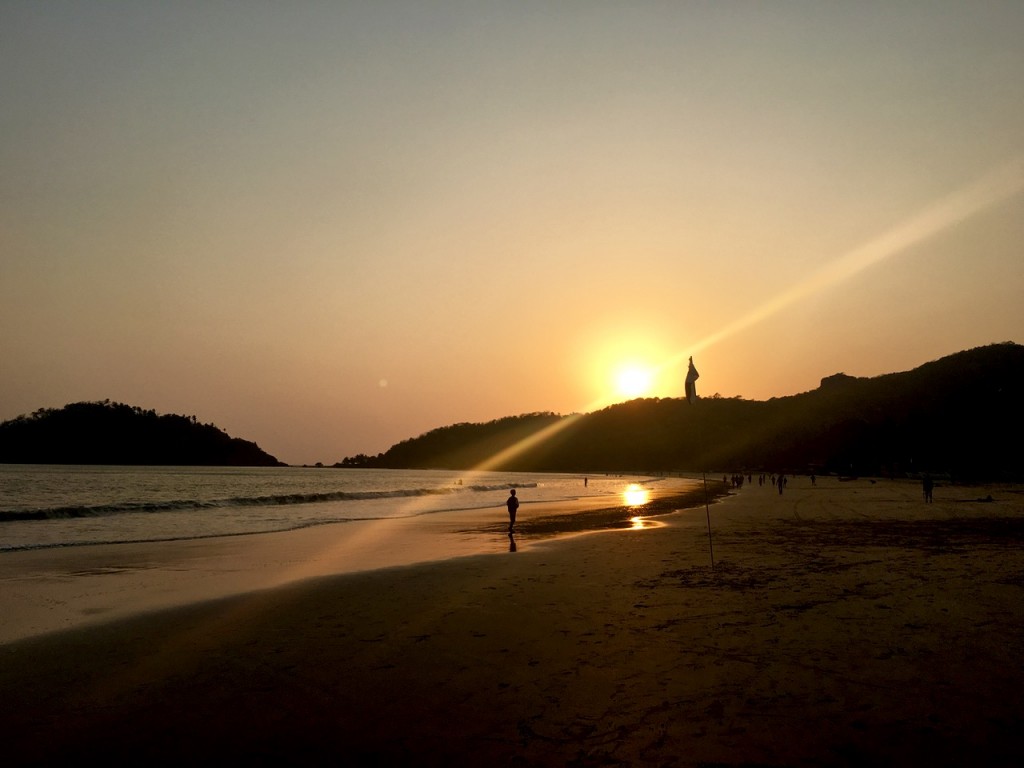 Already feeling like I had found my own personal paradise, we sipped on a Kingfisher beer and watched lanterns being let off into the star filled sky.
The next morning we took forever to get going after a disturbed nights sleep. When booking our Goa accommodation we thought we would be fine with just a fan due to the sea breeze. Being set back in the between trees, however, there was no air and not even the giant fan could help circulate the balmy air.
Another thing I did not take into account when picking a garden view room was the wildlife. Between the dogs, monkeys, insects, and birds it was like being at an animal party. The most rambunctious guest was the crow who, at around 4am, got a little too lary and started smacking itself off our window so loudly that it could not be ignored. This did not stop all week but, strangely, we got used to our wild neighbours.
Feeling a little hazy we stumbled out into the heat for the first time. Although fresher than the city there was a sticky humidity in the air, this soon subsided as we stepped onto the breezy beach and dipped our feet in the sea.
The Patnem beach was even more stunning during the day but I learned very quickly that, even though gorgeous, it was also a vicious environment.  The picture perfect sea was wild and even just paddling along the waters edge there was a few times I almost got swiped of my feet.
The breeze lured us into a false sense of security and  cooled the temperature down enough for us to think it would be OK for our pasty Scottish bodies to sunbathe in. Lying on our towels (and making some more dog buddies) we lasted an entire 15 minutes before I noticed Pablo starting to turn pink.
Deciding that sunstroke on day one was not the best plan we retreated into beach bar Nirvana for some food and shade. The front of the bar was made up of four bays scattered with cushions covered in patterned sarongs, which soon became our favourite place to spend our days.
All the restaurants that lined the sand looked the same but Nirvana was our top spot in Patnem. The menu had a decent selection and everything (including the salad) was prepared using mineral water, making it stomach friendly. Another major reason this became our top hangout was the main waiter, who was incredibly inviting and called Pablo chief (a nickname I think he was hoping would stick).
After grabbing some lunch and rehydrating we felt adventurous and took a walk along to the more lively Palolem. It was only a 20 minute jaunt but felt much longer in the afternoon heat, and we soon regretted our terrible timing.
Feeling like we had been on a full blown trek, we had little time for the shop owner who tried to coax us into his roadside store. As we got closer to the beach the density of these similar stores became more abundant, and the owners approaches became more zealous. Their energy was infectious and soon my sweaty tiredness turned into enthusiasm.
Everything at Palolem was an amped up version of our almost deserted beach. This larger neighbour had more shops, restaurants, and way more people.
Wandering along the sand we stopped off at a Tapas bar to give our stomachs a break from spice for one meal. Though the beach itself was pretty quiet, most of restaurants were full of people cooling off which made me feel less like a wimp for my lack of tolerance to the temperature.
As the sun began to go down more and more people appeared, playing cricket, football or fearlessly diving into the giant waves. Feeling like we had had quite enough exercise for the day we strolled along the sand letting the warm water lap at our toes as the sun set.
Sweaty and salty we opted to hop in a auto-rickshaw back to La La Land rather than walking, of course the driver tried to charge us double for the journey but not being aware that I am a savvy traveller (and always ask a local how much things should cost) I haggled down to 100 rupees. The £1 journey was worth every penny and we arrived back to our hut in no time at all.  Still feeling a little tired we once again dined along in the peace of Palolem beach.
I absolutely loved our first day in Goa, it was exactly the vibe I hoped for but could not wait to see what else the area had to offer. I soon learned that visiting at the end of the season meant almost everything was wrapping up and there was very little for us to do.
The lack of activities set me into a panic – doing nothing is the opposite to my usual pace of life and I went into a spin worrying that we were wasting our time sitting around with no plans and, more importantly, no wifi. The only solution I could think of was packing my bag and looking for somewhere else to go. Pablo, always being the calm one, told me not to be rash and to sleep on it, stroppily I slammed the Lonely Planet down and crawled under the mosquito net into bed.
The next day we went for breakfast and decided to stay.
Much of my life is controlled to keep the balance between depression and anxiety, so trusting myself to let go enough to relax was a difficult experience, but once I embraced my surroundings I felt clearer than I had in a long time. People often talk about finding themselves in Goa and, though I would not go that far, it was the perfect place to reboot.
After a few days I relaxed into the pace of life, each day melted into the next, following a similar pattern. We spent our time, reading, writing and talking with jewellery sellers along at Cafe Nirvanna whilst hiding from the sun during the day.
In the evening we switched up the routine slightly by picking a different beach restaurant to dine at each night.  By the end of the week we concurred that Nirvanna was the best place to relax during the day, Cuba served up the most delicious biryani and Dropadi was the place to go for a more upmarket meal.
The most eventful things that happened in our week stay were: two dogs having a 4 hour wrestling match on our porch and Pablo and I having a passionate discussion about what we want from life.
We could have joined in with the party scene (which due to a 10pm curfew on noise is made up of giant headphone discos) but instead we embraced the tranquility and kept our evenings low key.
I always thought a beach holiday was my idea of hell, however, taking time out to do nothing meant that I was given the opportunity to see things differently. I disconnected from my phone and was able to fully appreciate the simplistic beauty of my surroundings.
Despite visiting at completely the wrong time of year, and being much less active than my original plan, our trip to Goa was an unexpected success and is somewhere I would love to go back to for a prolonged period of time.
Have you guys been anywhere that you unexpectedly fell in love with?