Dalston is one of my favourite areas in London for a fun night out. Stepping off the Overground the area looks like your average high street, but behind narrow doors and hidden in basements there are always new and exciting places to discover.
Meeting some of my favourite blogging babes Erica, Claire, Milly and Ashleigh at Dalston Junction we took the short walk up to Rio Cinema, a lovely Grade II listed independent Art Deco building. The location was not selected at random, or because I hang out there, but because the inspiration behind Little Nan's Rio Bar is owner Tristan's Little Nan who used to sell sweets in the cinema and party in the building's basement back in the 1930's!
As we walked up to the entrance (which looked like a fire exit) a charming young chap asked "Lady Erica?" before leading us down stairs past a crackling TV and tie dye balloons. I didn't have huge expectations for Little Nan's, having been to more than my fair share of popup bars I thought we would be presented with the usual slap dash decor and a fun, but not very well thought out, concept.
I could not have been more thrilled as we turned the corner and were greeted with a Spice Girls shrine surrounded by lights. Weaving though the corridor things only got more exciting with 90's posters, dolls, lights, leopard print and other random artefacts covering every inch of the basement bar.
This Nan's parlour looked like it belonged to Baddie Winkle (if you don't know who that is she is everything I want to be when I grow old disgracefully) it was a mad mixture between carnival, a 90's teen bedroom and a groovy grandma's place.
Enthralled by our surroundings we ran around like excitable teenage girls, photographing as much as possible and pointing out memorabilia from our past.
Eventually managing to grab our attention we were shown to our seating area and talked through the cocktail menu, which had some cracking titles like Sexy Frank Butcher. Still feeling overwhelmed by the detailed decor we could not make up our minds what to order and instead asked to be brought a selection of rum, vodka and gin based teapot cocktails.
Waiting for our drinks to be made we got to pick our very own cups from a pin board , this was almost as hard as making a drinks choice with so many quirky designs to choose from. Erica and I opted for volume over design with a mug and a milk jug whereas the others were a little more classy and choose traditional vintage tea cups.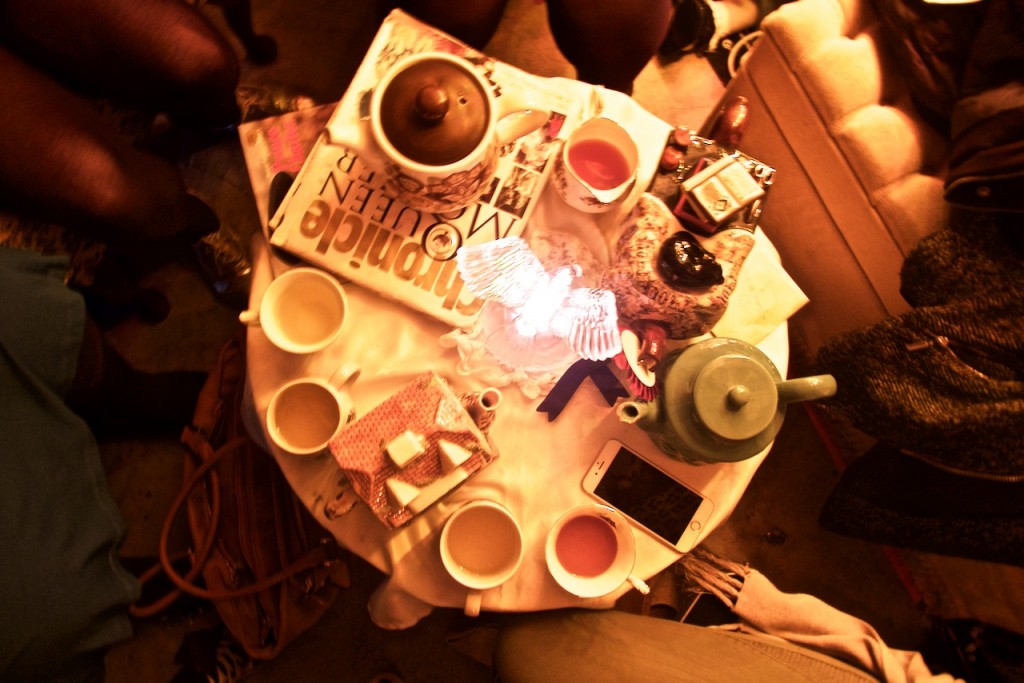 Soon our drinks arrived in four equally kitch teapots, flatlay out the way it was time to get sampling our adult 'tea'.
Cocktails are not typically my style, I find often find the bars that serve them a little pretentious, the flavours are too samey and the pricey ridiculous for a small fancy juice. However Little Nan's I could get behind, each cocktail was completely unique in flavour and the surroundings screamed fun.
As for the price, for a bottomless 2 hour time slot it is £39 per person – Including bottomless teapots of Little Nan's signature cocktails, Little Nan's Prosecco cocktails, Beer, Wine, Teapots of Spirit and Mixer plus unlimited 90's Pic 'n' Mix, and Fairground Popcorn.
Or if you you are not feeling as thirsty you can opt for a pay as you go option.
Even without alcohol I was so ampped up I could not sit still and kept getting up to take in more of the room, the walls were so plastered with posters and collages every circuit I did I found something new. There were so many cult references which influenced my childhood and teenage years that I felt completely at home amongst the clutter.
Managing to sit down long enough to finish a mug of gin it was time to take another wander and sample the pick and mix. The selection had so many classics that I acted like a kid in a candy store and stacked my little vintage saucer high.
Sugar high and alcohol consumption at their peak we had a sing along to some of the epic 90's tunes that were blaring, before heading through to the fancy dress room to have a brief boogey whilst delving into the fancy dress box.
Though this might not be your traditional Grandmas pad, it was just as welcoming and filled with nostalgia.
If you want to have a cocktail fuelled trip down memory lane you will need to get in quick as this bar is only around until the 14th August.
*Our night at Little Nan's was complimentary but, as always, this fact does not change my opinion.