After sampling some of Berlin's famous beers I woke up hungry, lucky for us our Friedrichshain Airbnb was within walking distance to many highly rated brunch spots.
Today's eatery of choice was Aunt Benny; owned by siblings originating from Toronto they offer up simple baked goods inspired by their mother, as well as simple savoury options and sharing boards.
Arriving early on a sunny morning the place was already filled with locals but I managed to squeeze into the large sharing table whilst Pablo ordered.
The interior was small with a modern minimalist Scandinavian feel with a mixture of hard concrete, wood and metal mixed with natural aspects like canvas, leather and plants breaking up the cool with comfort.
The centre piece of the room was the large counter and a hand drawn blackboard wall displaying the day's fresh food offerings.
The weekend menu consisted of sharing boards, a variety of bagels and freshly baked goods. I went for a bagel as they always remind me of the city I think I belong in – New York. Because the food is all freshly made (and it was queued out the door) we had a bit of a wait for our brunch to be brought out but this gave us a chance to plan the day over a freshly squeezed orange juice.
If you do run short of conversation, or are dining solo, there is no shortage of quality magazines to flick through.
My bagel arrived just in time to compliment my strong black coffee. Living in East London and being a frequent visitor to New York I am serious about bagels and thankfully this one lived up to my standard; it was served warm super fresh and had the a generous sprinkling of seeds to add texture. It also came served with a small side salad and super light cream cheese with black olives which was the perfect balance of creamy and sharp.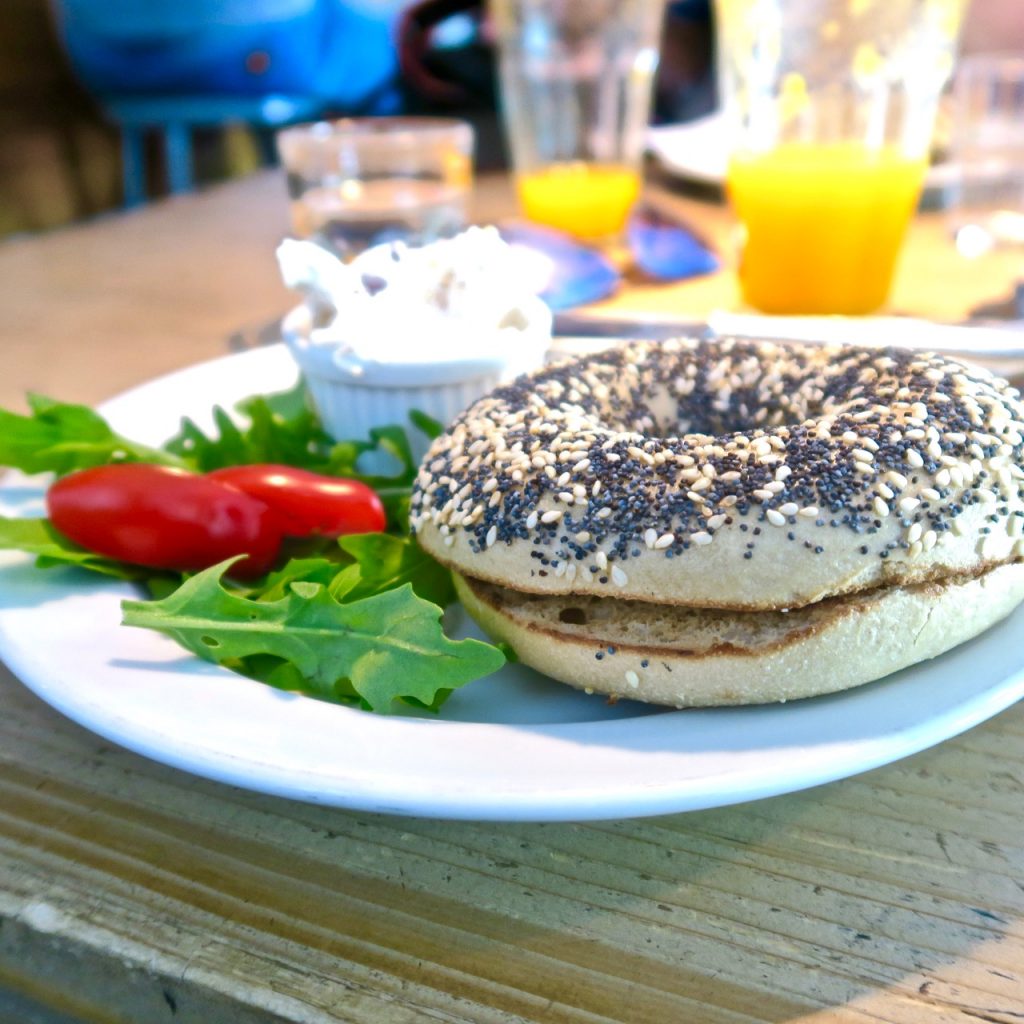 Pablo went for a tomato, mozzarella, and pesto panini which was crisp on the outside and beautifully melted on the inside. If gluten free or vegan there are also plenty of delicious options for you to enjoy.
This place was obviously a neighbourhood favourite with a mixture of professionals typing away on their MacBooks, families who have popped over from the park opposite and friends simply hanging out.
Aunt Benny is the sort of place that you would feel entirely welcome to chill out in all day but also offers takeaway options if you are in more of a hurry.
Like this post why not pin it for later?
Aunt Benny
Oderstraße 7
10247 Berlin
Germany